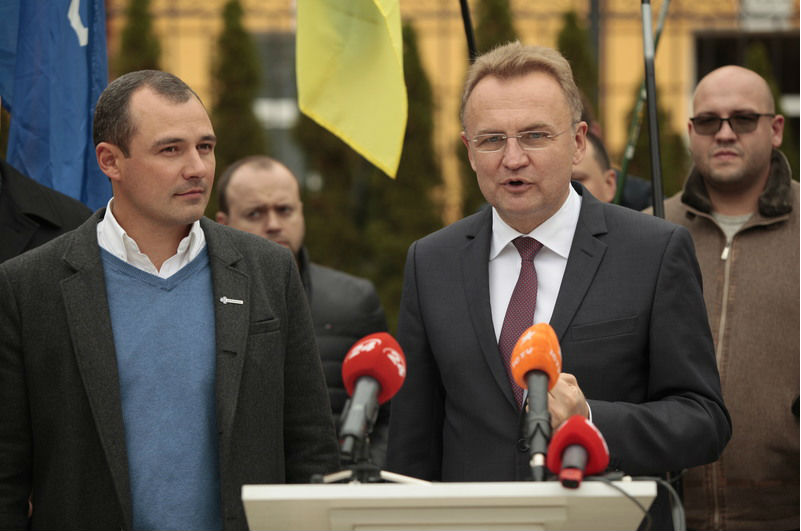 Ukraine's presidential race is in full swing, even though the official campaign period has not yet begun. At this point, incumbent President Petro Poroshenko and former Prime Minister Yulia Tymoshenko may make the second round; no candidate is expected to take 50 percent in the first round. If elections were held now, Tymoshenko would take 12.9 percent while Poroshenko polled second at 8.4 percent. Interestingly, Ukrainian comedian Volodymir Zelensky and rock star Svyatoslav Vakarchuk would receive 7.9 and 7.6 percent respectively, which points to society's deep fatigue and distrust of the old faces.
For Poroshenko and Tymoshenko, it's a do-or-die race. Both have been in politics nearly twenty years and the loser will find it difficult if not impossible to recover.
Poroshenko hasn't yet announced that he will seek a second term, but his team is already active and Poroshenko's billboards are everywhere. Poroshenko's key slogan, "Army. Faith. Language. We go our own way," tries to present Poroshenko as an effective commanded-in-chief who is capable of uniting the nation on a platform of traditional values defending it from any kind of external aggression particularly from Russia.
Faith is something that may benefit Poroshenko. The Ecumenical Patriarchate of Constantinople recently recognized Kyiv Patriarch Filaret as the legitimate head of the Kyiv Patriarchate, which paves the way for autocephaly and makes local parishioners less dependent on Moscow. As a result, Poroshenko's ratings may grow.
Poroshenko can point to progress in the Donbas as well. Over the last few months, Ukrainian armed forces have liberated number of villages from combined Russian-separatists forces.
His main rival, Yulia Tymoshenko, announced her presidential campaign in June.
Tymoshenko is trying to refresh her political image by bringing activists, veterans, scholars, and fresh blood into her campaign. She desperately needs to distance herself from her past, including the controversial gas deal she signed with the Kremlin in 2009, her attempt to create a broad coalition with President Yanukovych's Party of Regions, and other ambiguous activities which created serious threats to Ukraine's democracy.
Another serious challenge Tymoshenko faces is people. Most of her team left when Yanukovych imprisoned her in 2011. She considers many traitors and will likely exact retribution if elected. At this point, Tymoshenko desperately needs new leaders capable of filling holes among her former team members.
But there's more to the race than Poroshenko and Tymoshenko.
On October 9, the Lviv-based political party Samopomich led by Lviv Mayor Andrii Sadovyi joined forces with Vasyl Gatsko's Democratic Alliance. In 2014, Samopomich did unexpectedly well, taking third with 10.6 percent of the vote. Today, its fortunes have waned and the party may not make the parliamentary threshold. Sadovyi's ultimate goal is to preserve his party's influence by keeping his numbers in parliament, and he's not really a serious contender for the presidency. Some experts don't think he really wants to leave his beloved Lviv.
In May, Anatolii Hrytsenko, head of the Civic Position, allied with the Alternative party, a small party led by 30-year-old former MP Yehor Firsov. Recent polls show that Civic Position party could expect 6.2 percent. Such an alliance is meant to increase both parties' presence in the next parliament.
Six months out, the big questions remain unanswered. Will pro-Russian political forces nominate a single candidate and if so which one? Will Zelensky or Vakarchuk actually run? Who would be the Kremlin's preferred candidate and what role will it play in the elections? Will the Ukrainian church receive its autocephaly from Constantinople and what impact will that development have on the elections? Who will Ukraine's oligarchs support?
Stay tuned.
Mykola Vorobiov is a Ukrainian journalist. He previously served as an Austrian Marshall Plan Foundation Fellow at Johns Hopkins University SAIS in Washington, DC.