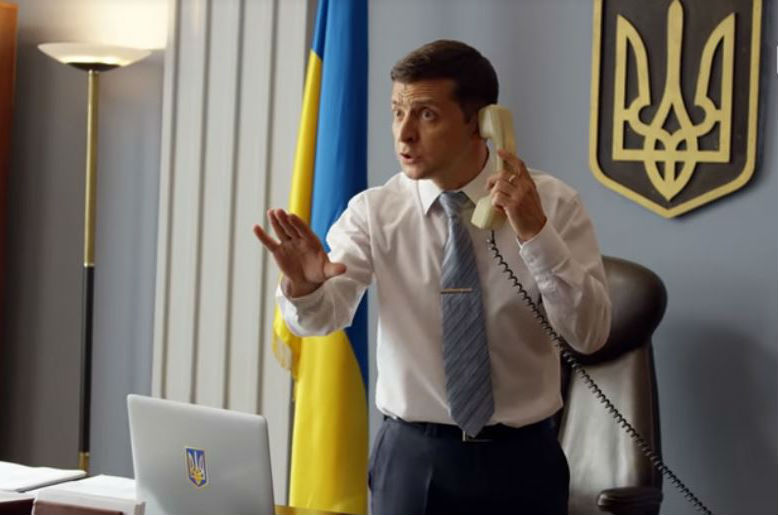 On billboards throughout Ukraine is the phrase, "The president is the servant of the people." But is this the teaser for a TV series with the same title—or a serious political campaign for its star, who may or may not be running for president?
On the most viewed series in Ukraine, Servant of the People, the famous Ukrainian comedian Volodymyr Zelenskyi plays an honest schoolteacher who becomes president and fights corruption. In real life, Zelenskyi is undecided but ranks second in recent polling among potential presidential candidates.
Zelenskyi hasn't presented a policy platform, and that's worrying, says Oleksiy Koshel, the director general of the Committee of Voters of Ukraine. "People are ready to vote for an actor without knowing his position on key issues like Euro-Atlantic integration, reform agenda, or war with Russia." According to another survey, people support him instead because of his personality and because he is a new face.
His political satire also resonates with the public. "I don't think people see his candidacy as fiction. They see his portrayal of our current problems as more real than the political advertisements from other candidates," said Razumkov Center sociologist Andriy Bychenko.
UkraineWorld, VoxCheck, and Slovo i Dilo have demonstrated that Ukrainian politicians frequently fail to deliver on their promises and often manipulate facts.
Supporting people who have never held office and haven't even explicitly declared their candidacy says all you need to know about the public mood. Ukrainians are disappointed with politicians, and this disenchantment is reflected in the polls: 82 percent of surveyed Ukrainians see the economic and social situation in the country as bad.
"All potential candidates have a low level of popular support. For the first time, there is no clarity on who can become the next president of Ukraine. In the past, there were usually two or three favorites," says Bychenko.
But Viktor Andrusiv, executive director of the Ukrainian Institute for the Future, sees this as a potential advantage. "With such deep distrust of the political establishment, 2018 is a chance for a Ukrainian version of Emmanuel Macron," he said, pointing to Macron's outsider status before he was elected president of France.
People are desperate for new faces, and this can explain why Zelenskyi is in second place. Another celebrity, Ukrainian singer Sviatoslav Vakarchuk, also has some support, though his numbers are significantly dropping due to his hesitation to declare.
This is not the first time a person outside of politics has run for office. The mayor of Kyiv, for instance, is the world famous boxer Vitali Klitschko.
Today, however, society is divided on whether the president should have prior governing experience. In September, 43 percent of people surveyed said that he or she must be experienced, while 44 percent disagreed.
This is a new phenomenon. "Ukrainian voters have always been conservative in their choices. Previous presidents and candidates in the second round have either been former prime ministers or they have had extensive experience in public administration," noted Koshel with the Committee of Voters of Ukraine.
Zelenskyi and Vakarchuk could turn to experts to compensate for their perceived lack of knowledge about politics and policy. But the outsiders haven't begun building a network of experienced advisors or even genuine grassroots support. "Neither Vakarchuk nor Zelenskyi has created a strong organization or a movement," said Andrusiv.
Another problem facing Zelenskyi and Vakarchuk is that their supporters are mainly young people between eighteen and twenty-nine years old, and, to a lesser extent, between thirty and thirty-nine. These are usually less active voters. During the presidential elections in 2014, only 44 percent of people between eighteen and twenty-nine voted, although some caution that this race might be different; Zelenskyi may mobilize youth.
And their voters are fickle. Compared to other potential candidates, these voters are more willing to vote for someone else if Zelenskyi and Vakarchuk don't run. And another survey revealed that many of Zelenskyi and Vakarchuk's supporters don't really believe they can win.
Nevertheless, the appealing message of change and novelty is being exploited by other politicians as well. Yulia Tymoshenko, who leads in the polls, is proposing a new economic course and rebranding herself as a modern politician who talks easily about blockchain and Linux.
According to the polls, people see increasing tariffs, low salaries and pensions, and inflation as the most important problems they personally face. As a result, other presidential contenders, including Oleh Liashko and Yuriy Boyko, also often talk about the economy and people's well-being. Their main strategy, playing on the disillusionment of Ukrainians, is to criticize government authorities.
Meanwhile, incumbent President Petro Poroshenko is focusing on improvements in the military, the Ukrainian language, and faith. "Army, language, and faith are areas where positive changes are easy to see and understand for potential voters," explains Koshel. The army is stronger than before. The Ukrainian language occupies a bigger share in public life. And the Ukrainian Orthodox church was recently granted independence from the Russian church.
But a majority of voters are still undecided. Only 37 percent of people surveyed in August 2018 had made their final decision. Election season has just started. Now the fun begins.
Ruslan Minich is an analyst and journalist at Internews Ukraine and at UkraineWorld, an information and networking initiative.