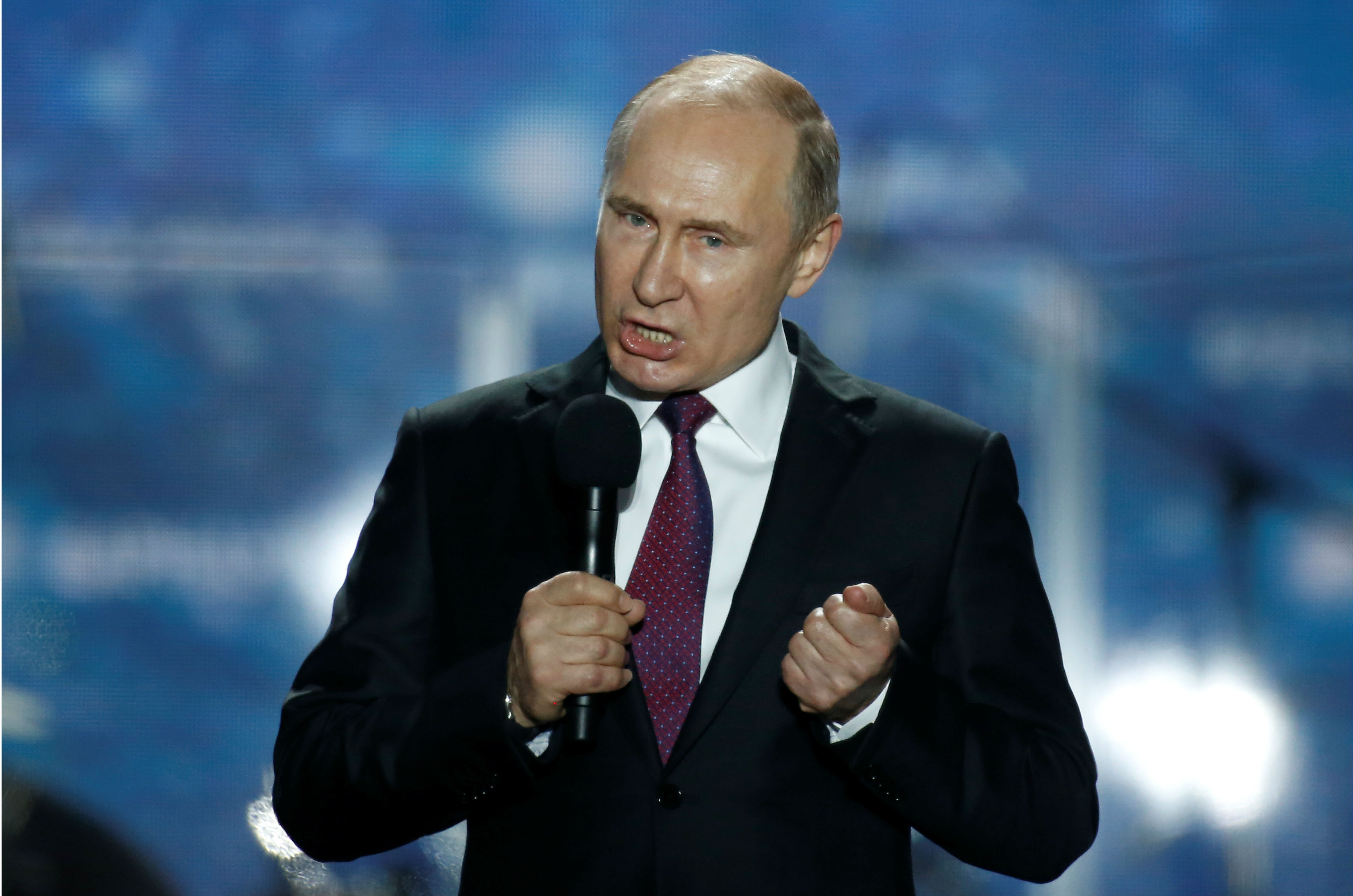 For the second time in less than a month, a ceasefire in eastern Ukraine was agreed to. The pause in shooting was to have gone into effect just after midnight Thursday, March 29.
That's not particularly unusual; many ceasefires have been declared since the conflict began in the spring of 2014. And like the others, it failed to hold. The previous ceasefire started on March 5, and within hours the two sides began firing at each other.
However, recent trends suggest that the intensive cycles of violent firing following a ceasefire are declining. "Recently it has become possible to significantly reduce the average number of ceasefire violations to one of the lowest levels over the past two years," said Martin Sadjik, the OSCE representative to the Minsk Contact Group.
Does the decline in violence suggest that Russian President Vladimir Putin is in the mood to head off further sanctions? After facing an unprecedented united backlash in the West in response to Russia's suspected involvement in the nerve agent attack against Sergei Skripal and his daughter, Putin evened the score by expelling Western diplomats. He may now be showing a desire to soothe nerves.
There are plenty of reasons for the Kremlin to push for calm in eastern Ukraine.
Putin and his immediate circle have two major fears in response to the attack in Salisbury, England. First, that the World Cup being hosted by Russia this summer may face a boycott by a united front led by the United Kingdom. Second, that the United Kingdom will introduce targeted financial and travel sanctions against oligarchs closely associated with the Russian president. While this is considered the "nuclear option," well-placed sources say Prime Minister Theresa May could very well enact such sanctions.
There are other factors that may make Putin weary of continuing his covert backing of the rebels in Donetsk and Luhansk. It's become increasingly difficult for Russia to cover up the high body count coming out of the Donbas. In recent months, both foreign and opposition Russian media have been digging up information on rebel casualties, figures which are highly embarrassing for Putin. A recent article in Russia's Novaya Gazeta provocatively stated that while Ukrainians have the freedom to bury their war dead openly and with dignity, Russian families are relegated to furtive burials with little information about how and where their sons died.
It is also no secret that the stakes of Russia's involvement in eastern Ukraine are becoming more costly, and will require more sophisticated and expensive technology. At any time now, the US-supplied Javelin missiles are set to make their appearance on the Ukrainian side of the frontline. Experts say they can destroy all but the most sophisticated Russian tanks.
Some might cling to the belief that Moscow has no interest in deescalation and that its longer-term objective is to link up the occupied eastern territories to create a land bridge with Crimea. But that theory has been largely debunked, especially since the conditions for that type of advance were already ripe many months ago.
To be sure, Putin is not a leader prone to backing down in response to external threats. But with little to show to his electorate in terms of economic wins as well as unplanned shows of weakness such as the horrific fire in the Siberian region of Kemerevo which claimed 64 lives—the majority children—he needs to project a strongman image that plays into the Russian psyche and its desire for victory, and regain control over Russia's most significant imperial outpost. Even with a pliant media, it's becoming increasingly difficult for RT and other state-run media to justify Russia's involvement in eastern Ukraine.
And with the debacle in Salisbury, which has Russian fingerprints all over it and has triggered a costly Western backlash, Putin may be tempted to orchestrate a dignified withdrawal from the Donbas that will earn Russia a reprieve from further Western sanctions.
After all, who would've believed a few weeks ago that US President Donald Trump—who may very well have been punted into office with the help of Russian election meddling—would sign off on the expulsion of dozens of Russian diplomats and the closure of the Russian consulate in Seattle?
At some point even the most despised dictators feel the need to act nice and curry favor. Now may be the time for Putin to make a rare act of contrition and head off further bloodletting. Exiting the Donbas may be just the right blood-clotting agent.
Michael Bociurkiw is a global affairs analyst and a former spokesperson for the OSCE.