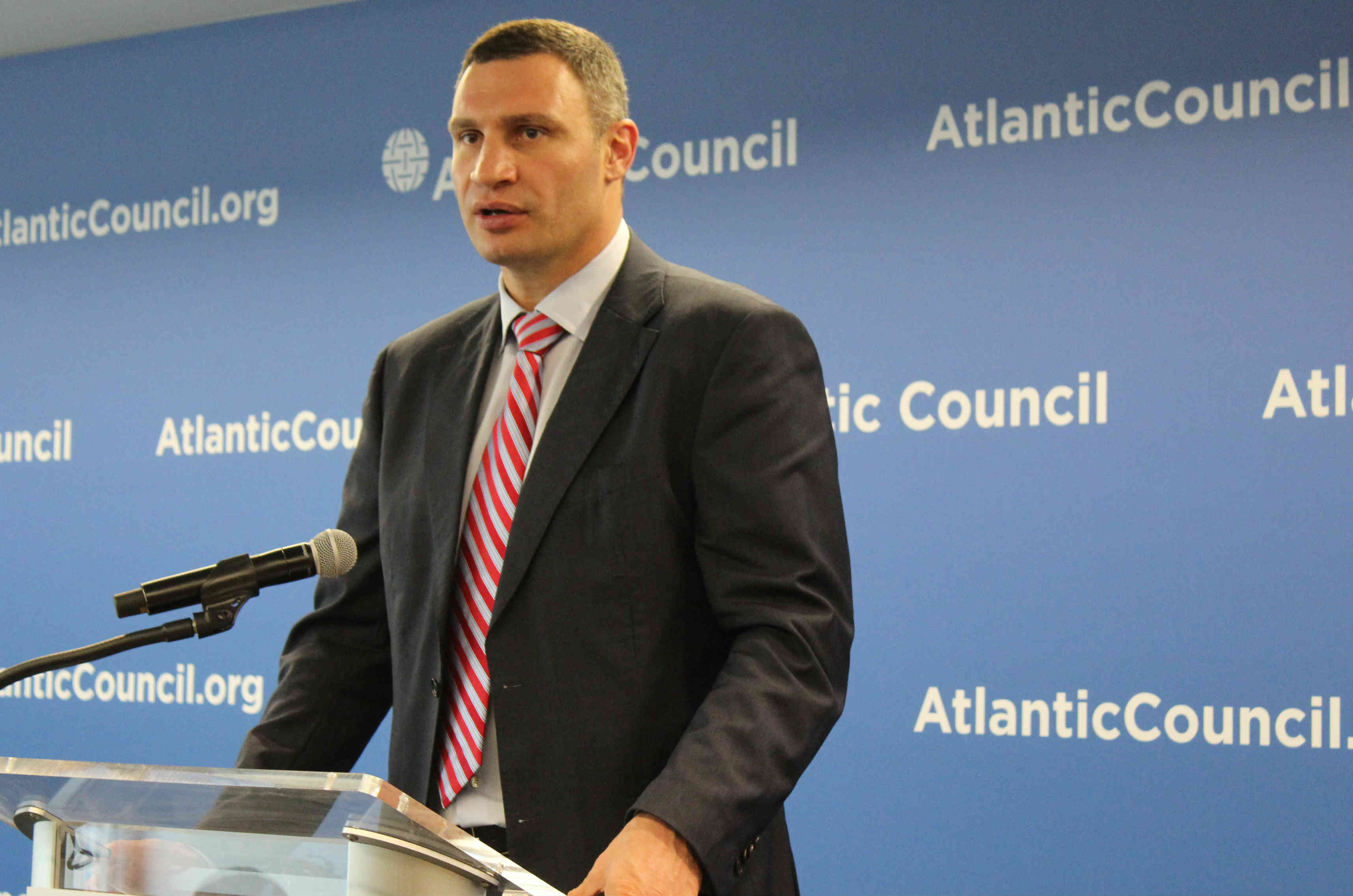 Kyiv Mayor Vitali Klitschko is no pushover. The former professional boxer turned politician has never been knocked down in a professional boxing match. Known for his powerful punches, Klitschko's 87 percent knockout rate is the second-best knockout-to-fight ratio of any champion in heavyweight boxing history.

Klitschko, who earned the nickname Dr. Ironfist for his intensity in the ring and desire to earn a doctorate at university, has applied the same killer instinct and drive to cleaning up Kyiv after the Euromaidan protests left parts of the Ukrainian capital in ruins. At a press briefing at the Atlantic Council on April 27, Klitschko said that his main goal is to build a modern European democratic country. Make no mistake about it, Ukrainians want "to be part of the European family," Klitschko said. "More than 80 percent of Ukrainians…want a European standard of life."
As a professional boxer, Klitschko observed his opponents and assessed their weaknesses before landing the winning blow, and he's done the same for his country and city. Corruption is his target now. "Without destroying corruption, any reform in Ukraine [won't] work."
The country has established an Anti-Corruption Bureau and set up a hotline for ordinary people to report everyday graft. Changing an ingrained culture of dirty deals will take help from everyone, he acknowledged.
The corrupt system was built over twenty years, and it's not easy to dismantle. While acknowledging the difficulty of rooting out habits formed over decades, Klitschko radiates energy and optimism as he reminds listeners that "Ukraine and Kyiv have huge potential."
"We're serious about reform, and we understand we have time pressure," he said. He insists that the real issue with reform is not how but when.
Klitschko wants to implement reforms "as fast as possible," but the speed of reform depends on assistance. He doesn't dwell on the point and graciously thanked friends of Ukraine for their moral, political, and economic support. He's in Washington for five days to encourage investment in Ukraine and to meet with top US officials.
He sees the Czech Republic, Hungary, Poland, and Slovakia as realistic models of reform. "We can do it exactly the same way."
In contrast to the ghastly images of orange fireballs on the Maidan, the central square in Kyiv, and masked fighters all-too-common in the press, Klitschko tells another story. In 2014, high technology exports from Ukraine exceeded $800 million. Major technology companies, including Samsung, NetCracker, and Aricent, have located research and testing facilities in Kyiv. The city's universities and technology institutes graduate more than ninety thousand students every year, making the city's workforce one of the strongest in the Eurasia region.
Klitschko stressed transparency and the need to create equal opportunity for small and medium-sized businesses.
In the last year, corporate taxes have been slashed from 23 to 18 percent. Kyiv's procurement process is now online, and the city has streamlined the process for registering foreign representative offices in the city in order to attract investors. In other words, the city is open for business.
The Mayor is big on electronic government. He's interested in e-budgets and setting up e-tickets for the transportation system.
When asked what his message would be for Ukrainians in the east and those who fought on the separatist side when the fighting ends, his message is simple. "We have a dream to bring peace back to the country." He also adds, "It doesn't matter which language you speak, which nationality, which region you live in…everyone wants to live with good standards of life."
"The key to uniting the country…is economic success," he said.
The Mayor gives President Petro Poroshenko good marks. "It's a very difficult time." He's doing "as good as possible." He agreed with Poroshenko's decision to fire billionaire Ihor Kolomoyskyi as Governor of Dnepropetrovsk Oblast. Kolomoyskyi stepped over the line; in March he dispatched his armed militia to Kyiv to seize the headquarters of Ukrnafta, the largest oil and gas producer in the country, and Ukrtransnafta, the government pipeline company, after the parliament changed the rules on shareholders.
In spite of the serious issues that Klitschko deals with every day and the time pressure that he feels, he hasn't lost his sense of humor. As he exited the elevator, he paused to sign an autograph for the guard, who had a color printout of boxers Wladimir Klitschko and Bryant Jennings from their April 25 fight in New York City.
"Wait, that's my brother," he said and laughs.
He signs it anyway. And throws an exclamation point in for good measure.
Melinda Haring is editor of UkraineAlert.