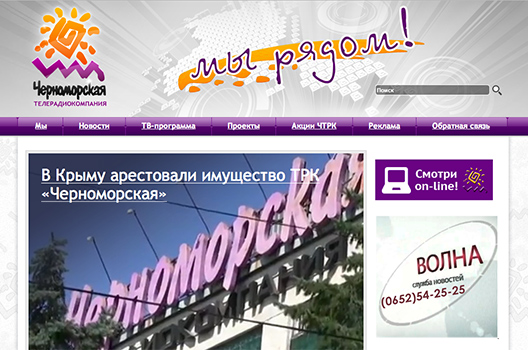 Shutdown Virtually Completes Muffling of Crimean Media
On August 1, police in Crimea entered the headquarters of the Chornomorska Television Company to shut it down, virtually completing Russia's silencing of all Ukrainian and independent media on the peninsula five months after its invasion. The Moscow-backed authorities had already halted other Ukrainian broadcasts and have progressively been constricting Chornomorska ("Black Sea") since shortly after the invasion, in early March.
At Chornomorska's headquarters in Simferopol, police and court bailiffs removed all cameras, microphones, computers and other broadcast equipment, and sealed the building. They also seized the equipment of the Center for Journalistic Investigations, housed in the same building. The Center, a non-profit media watch group, is the only one of its kind in Crimea. It specializes in investigative reporting and produces documentaries for Chornomorska.
Chornomorska's shutdown effectively completed a Russian takeover of media in Crimea, said veteran Crimea journalist Volodymyr Prytula. In March, Russia silenced the broadcasts of all six Ukrainian stations in Crimea. The Tatar television channel, TRK, has censored its own programming in hopes of avoiding a shutdown, he said. Many of Crimea's journalists, including Kateryna Serhatskova of the newspaper Ukrainska Pravda, and Chornomorska senior producer Oleksander Yankowsky, have left. Crimea's "self-defense units," the Kremlin-backed, armed, Russian ethnic militants, have followed and threatened journalists. The crackdown on media extends to dissidents, several of whom have been arrested and sent to Moscow for trial on terrorism charges.
Signal Removed, Owner Banned
Shortly after Russian troops invaded Simferopol in early March, authorities removed Chornomorska's broadcast signal from the air, replacing it with the Russian state-owned and controlled Rossiya 24. In July, they removed Chornomorska's broadcasts from all cable networks on the peninsula.
Chornomorska TV, established in 1993, broadcasts news programs, political and social talk shows, investigative documentaries, as well as entertainment and children's programs. It is owned by Andriy Senchenko, a member of Ukraine's parliament from the pro-European Batkivshchyna party, whom Crimea's Russian-run administration has banned from entering the peninsula.
The authorities provided no legal explanation for closing Chornomorska, according to Yankowsky, its senior producer and anchorperson. "We were told that Russian military ordered this, but no one ever showed us any documents to this effect or official orders," he said.
OSCE Criticism
Dunja Mijatovic, the representative on freedom of the media in the Organization for Security and Cooperation in Europe, condemned the closure of Chornomorska in a statement, saying the continued pressure on independent media in Crimea amounts to censorship in the face of which independent journalism can't function.
Chornomorska has filed suit in a Crimean court, demanding that its broadcast signal be reinstated. The court has yet to set a hearing date.
In May, the official Crimea Radio and Television Transmission Center, which administers broadcasts in Crimea, filed a suit against Chornomorska, claiming it owed some $80,000 in fees. Without holding hearings, a Simferopol court ordered that the channel's transmitters be seized. But the police and bailiffs went further, removing all broadcast equipment and sealing the building.
Chornomorska's lawyer, Andriy Bezpoyasnyi, said in a phone interview that the company had already paid the fees, and that the equipment seized is worth much more than what the authorities said was owed.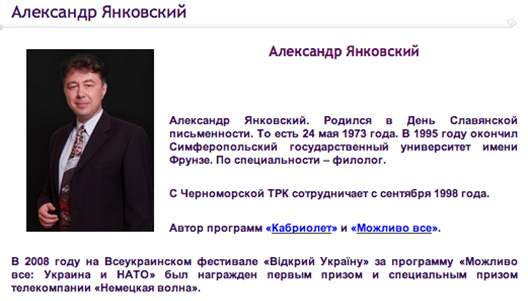 Oleksander Yankowsky's page from Chornomorska's web site. Yankowsky hosted a talk show and an auto test-driving program; he is one of several Crimean journalists who have fled the peninsula.
Yankowsky, a forty-one-year-old Crimea native, has worked for Chornomorska for more than sixteen years as a journalist, producer and television presenter. Crimea's pro-Russian militants and political leaders made it a challenging place at the best of times for pro-Ukrainian media, he said in an interview from Kyiv, where he continues to broadcast on the internet from an improvised studio. "I've lived with these people for forty years and I understand that nothing here will happen in accordance with the law," he said. "Realistically I don't think our channel will be able to continue operating in Crimea."
"I've been to press conferences in Crimea where I have asked officials why they don't accredit us to official events and the response was 'if you stop using phrases such as 'occupied Crimea' or 'annexed Crimea,' we'll think about it and maybe you can attend,'" Yankowsky said.
Yankowsky believes that the Chornomorka's troubles are part of a determined campaign to cleanse the Crimean airwaves of everything that is even remotely pro-Ukrainian, reducing Crimea's news offerings to only those broadcasters who dutifully toe the Kremlin line.
"A typical local newscast on television in Crimea today," says Yankowsky, " will start with the horrors Ukrainians are inflicting on their own people in the civil war – they call the military campaign against Russian backed separatists a civil war – and the rest of the program is filled with stories about how wonderful life is in Russia."
Yankowsky says the closing down of media freedom in Crimea is taking place without any word of protest from journalists at the region's remaining, pro-Russian channels. "I am very shocked that not one channel, not one television or media company spoke out against this attack on us, no one said this move was violating freedom of speech," he said. "We were all colleagues, yet no one said a word."
Irena Chalupa covers Ukraine and Eastern Europe for the Atlantic Council.