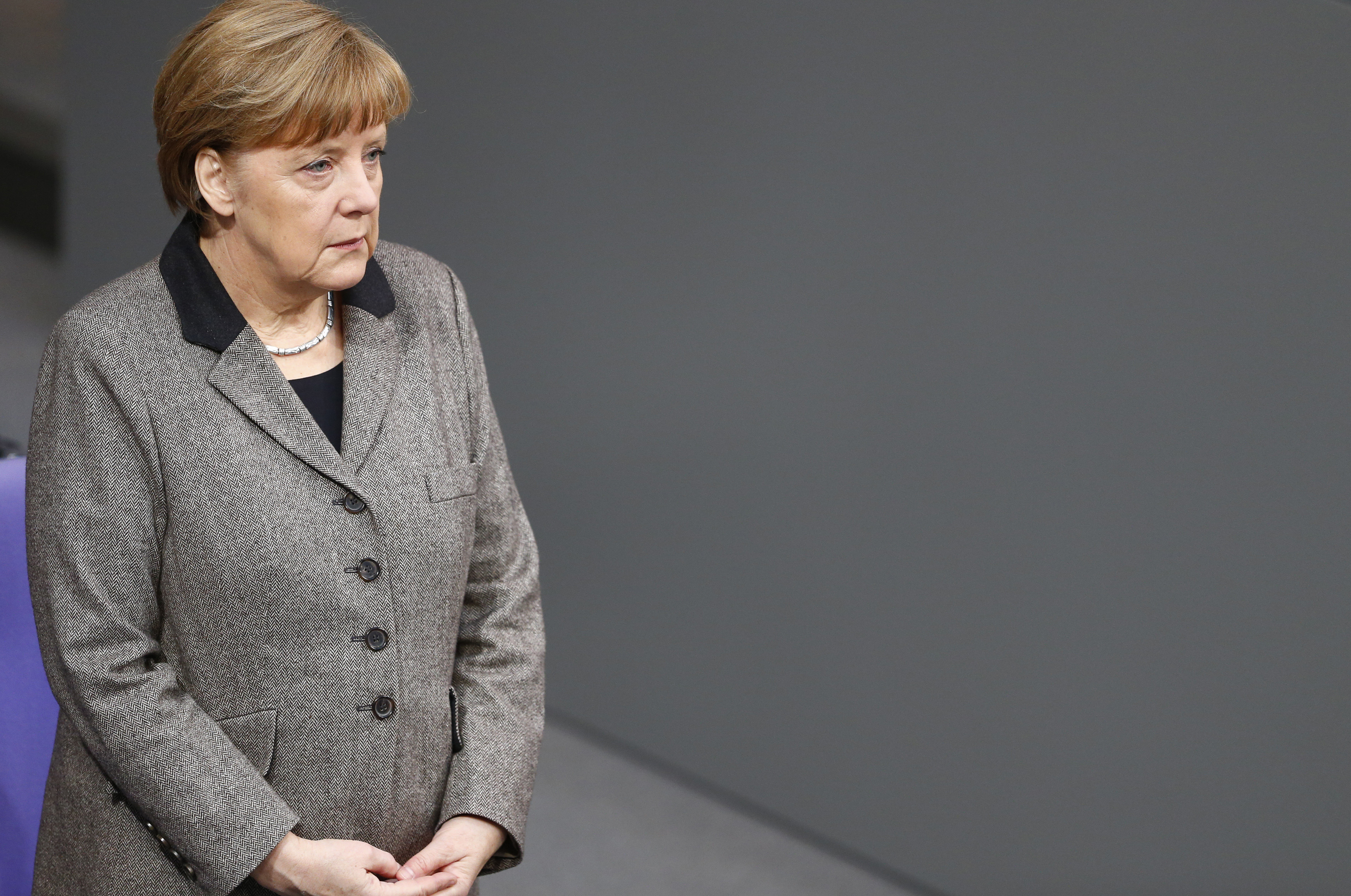 On March 19, delegates at the European Union Summit in Brussels agreed to extend tough sanctions against Moscow—until year's end if necessary—to get Russian President Vladimir Putin to implement the Minsk II ceasefire. Under terms of that deal, signed on February 12, EU sanctions won't be lifted until Ukraine takes back full control of its border. And that's a problem for Putin.

The Kremlin still aims to destabilize Ukraine so that it cannot pursue democratic and economic reform and ultimately join the EU. To do that, Moscow needs to be able to move more fighters, money, and equipment into Ukraine. Without those things, the "rebellion" in the East would wither. At the same time, continued sanctions—especially in light of low oil prices—are accelerating Russia's economic freefall. In January, the International Monetary Fund projected that Russia's GNP would drop by 3 percent this year, which is precisely why the Kremlin needs to have at least the EU's sectoral sanctions removed.
Putin's apparent plan was to make major military gains in Ukraine by May so that he could then lay down his arms down for awhile, before the EU reconsiders its renewal of the annual sectoral sanctions in July and September. He would then ask his European friends—especially Cyprus, Greece and Hungary—to push for lifting the penalties. Since under EU rules the renewal of sanctions requires consensus, the Russian President reasoned that he had a fair chance of success, even though EU precedent has always been to renew sanctions if the initial reason for imposing them—in this case, Moscow's ongoing aggression in Ukraine—remains in place.
On March 19, though, everything changed. Initially it seemed that no decision would be taken at this summit. French President François Hollande was reportedly firmly against extending sanctions at that time, arguing that by the next quarterly summit in June, the EU would have a better sense of how the Kremlin was observing the ceasefire.
Well-informed observers credit German Chancellor Angela Merkel and European Council President Donald Tusk of Poland with changing Hollande's mind and convincing EU leaders to extend sanctions. This is consistent with Germany's position since at least last fall. Ever since the September signing of Minsk I, Berlin has insisted that Moscow implement the accord before the EU eased sanctions. Pictures of a clearly unhappy Putin meeting in Milan last October with Merkel, Hollande, and British Prime Minister David Cameron were clear indicators of this.
Yet the Chancellor's firmness on sanctions has its peculiarities and soft spots. Moscow and its proxies regularly violated Minsk I; its most flagrant violation began after the Orthodox Christmas on January 7. During this offensive, separatists nearly surrounded Ukrainian forces at Debaltseve. In response, Merkel and Hollande negotiated a new ceasefire, Minsk II, that was considerably more favorable to Putin's aggressive designs than its predecessor, which in theory gave Ukraine control of its border with Russia right away.
Minsk II only calls for that by the end of 2015—granting Moscow ten more months to shovel in equipment and fighters. Minsk II also permits the "Luhansk and Donetsk People's Republics" the right to maintain their own security forces, as well as a veto over the constitutional change Kyiv must pass under terms of the ceasefire. That gives Moscow a measure of control over Ukrainian political developments.
In other words, Germany and France rewarded Moscow's breaking of the ceasefire by midwifing Minsk II. Even so, its terms were not favorable enough for Putin and his agents to actually observe them. From the first minute, they violated the ceasefire by seizing Debaltseve. They then made a show of "withdrawing" some of their heavy equipment. Ironically, according to legend, the original Potemkin villages were built in Novorossiya—the very place where fighting now rages. But Moscow reportedly continues to aid its proxies in Ukraine; Western observers at the front have spotted T-90s, Russia's newest tanks.
There may be some logic to Merkel's negotiation for the watered-down ceasefire. She must contend with weak EU partners that complain about the economic damage such sanctions are inflicting on Russia. By putting in place the more lenient ceasefire, she can point out to these interlocutors that she is ready to compromise. But even when Brussels makes things easier for the Kremlin, Putin's aggression continues. Paradoxically, the less stringent ceasefire terms make it easier for Merkel to renew the sanctions. That is an irony lost on Putin.
John E. Herbst is Director of the Atlantic Council's Dinu Patriciu Eurasia Center. He served as US Ambassador to Ukraine from 2003 to 2006.