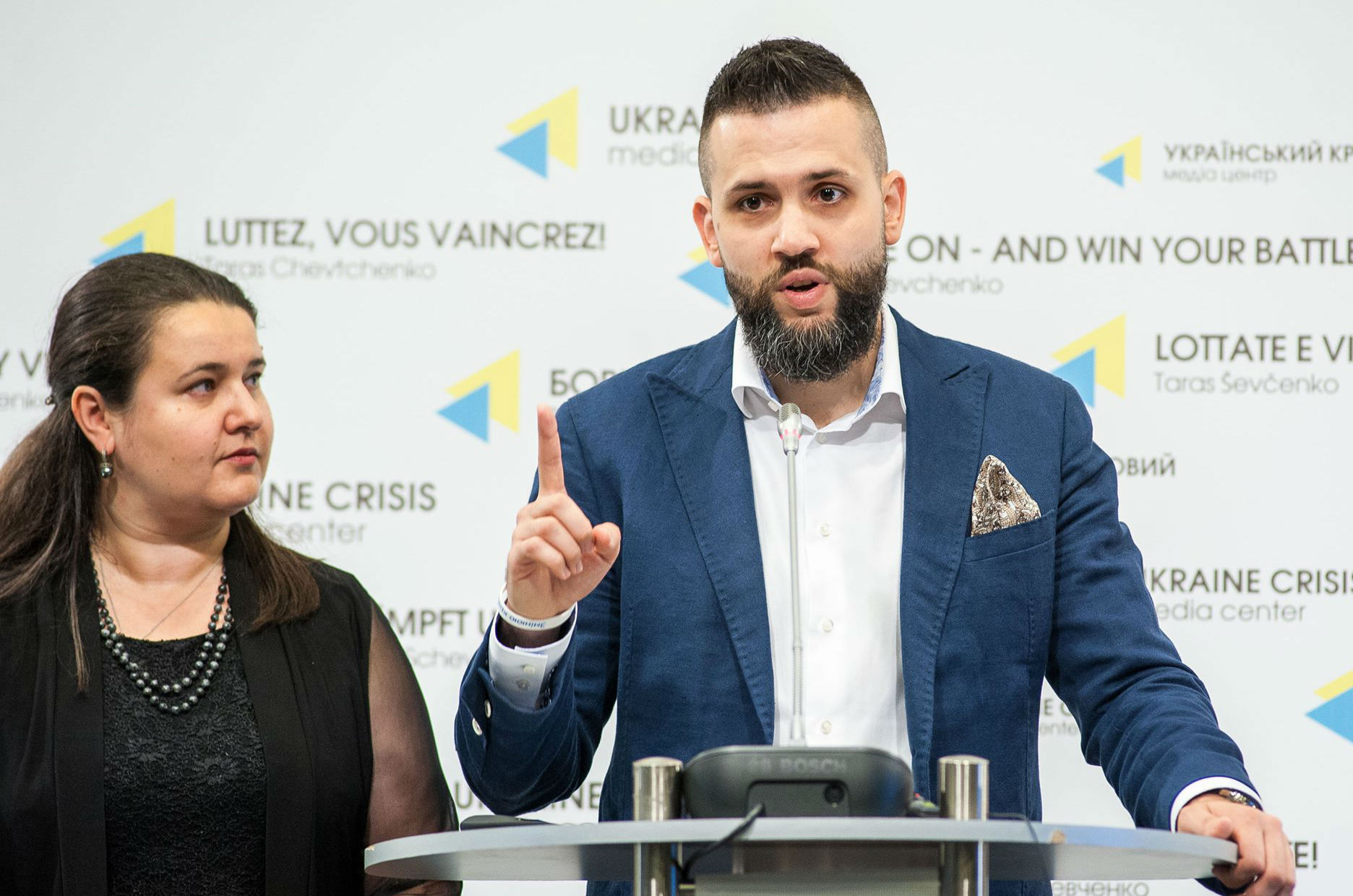 One day in September 2013, when Maxim Nefyodov, a managing partner at the investment firm Icon Private Equity, was leaving his office on Rylskiy Lane, he witnessed a funny scene. Accompanied by eight bodyguards, President Viktor Yanukovych's odious ally, Yuriy Ivanyushchenko, was walking from an office building to his luxury SUV.
To Nefyodov this spectacle looked amusing. "Why would anyone live like this to be so afraid?" he thought.
A chance encounter with Yanukovych's close ally made Nefyodov think again about Ukraine's macroeconomic indicators, which had especially worried the firm's partners in the past year.
Just six months prior to this encounter, Icon decided to exit from Ukraine's private sector. The firm's portfolio was 40 percent invested in domestic companies.
To put it mildly, the country was moving in the wrong direction. "The figures were illustrating this vividly," Nefyodov said. [He is now Ukraine's Deputy Minister for Economic Development and Trade.] Three years later, he's displaying figures from a public procurement website on his iPhone. He's delighted with these figures.
"Just look, the ProZorro e-public procurement system has already saved 3.17 billion hryvnias (approximately $120,000,000) while hosting over 170,000 tenders," he beams and takes a sip of beer. We're meeting late in the evening at one of Kyiv's restaurants.
The new public procurement system is considered to be one of the landmark reforms in Ukraine during the last two and a half years.

To many, the thirty-two-year-old technocrat Nefyodov has become the symbol of professional reform implementation.
"I'm just consistent," Nefyodov speaks modestly of himself.
On December 10, 2013, he was among those who came to hold the defense lines on Independence Square (Maidan) in Kyiv when the regime tried to demolish the tent city of protestors.
He will never forget that winter.
Back then, he often put on his snowboard helmet and went to the Maidan after work.
On February 18, one and a half hours before the Trade Unions Building was set on fire, he and his friends brought medical supplies to the building, [which became Euromaidan's headquarters]. He barely escaped being beaten by pro-Russian titushki [street hooligans supporting Yanukovych]. "Fortunately, these were Kyiv titushki. I knew how to handle them. I'm from Troeshchiny district," the deputy minister jokes.
That same day, he saw someone instructing several well-built men near a luxury SUV, parked on the same Rylsky Lane.
"This is a clash of civilizations. No one understood how this would end for us. But we all knew that this was our chance, and we must stand strong until the end," he said.
He is also discussing the introduction of the ProZorro e-public procurement system: "Stand firm and don't back down until you achieve results."
Ready for mobilization

In fall 2014, while continuing to manage the firm, Nefyodov closely followed the situation in eastern Ukraine.
He did not attend the military science department nor was he ever interested in military affairs. But he never stopped thinking that simply transferring money to volunteer foundations was enough.
By the end of the year, some of Nefyodov's peers began working for the government. Among them were Natalie Jaresko, the Minister of Finance, formerly chief executive officer at Horizon Capital, and Andrey Pivovarskiy, the Minister of Infrastructure, with whom Nefyodov had worked for five years at Dragon Capital.
"I had a clear sense then that there is a window of opportunity. This looks very similar to investments. There is a time when one should join the project and a time when one should exit it. The main thing is to seize the right moment," Nefyodov says.
It was important not to lose momentum. And so he started sending text messages to his former colleagues and new public officials saying: "If you need me, I'm ready to volunteer."
Nefyodov says that fixing an inefficient government is not much different from what he did in the private sector. In both cases, one has to analyze the existing business processes and make them more effective.
A graduate of the economics department [at Kyiv National Taras Shevchenko University] who began working in the finance industry when he was nineteen-years-old, he understood how to do project management.
He was born into a family of intellectuals. His mother is a professor of advanced mathematics at Kyiv Polytechnic Institute, and his father specializes in computer algorithms. At four, Maxim was given Twenty Thousand Leagues Under the Sea, and by then, he could read fluently. He began elementary school in third grade, skipping the first and second grades since there was no need for them.
When he was fifteen-years-old, he was accepted to the department of economics at Kyiv National Taras Shevchenko University. He graduated summa cum laude.
He began his career at Golden Gate Business. The next four years he worked at Dragon Capital. And, in 2010, he became a managing partner at Icon Private Equity.
Nefyodov envisioned good prospects for himself in the finance industry. Back then he knew for certain that he would someday tell his children how he earned his first million.
"I don't understand corrupt officials. They are prepared to bend the whole country and relinquish a place in the history books for the sake of buying a yacht, which they won't even use. They're ill-educated and not competitive in a global world," Nefyodov said.
In fall 2014, he seriously thought of what he would say in ten years when asked the question, "What were you doing when the war was on?"
Meanwhile, Boris Lozhkin, the head of the Presidential Administration of Ukraine, was searching for future ministers for the government. One of the individuals who was carrying out the search was Vladimir Kolomoets, a partner at the headhunting firm Pedersen & Partners.
One Sunday evening, Kolomoets called Nefyodov and offered to introduce him to Aivaras Abromavicius, then Minister of Economic Development and Trade. Prior to that, Nefyodov had already met Andrey Pivovarskiy, then Minister of Infrastructure, and planned to join his team.
"Pivovarskiy already has deputies, and I don't," said Abromavicius.
A few weeks later, on February 18, 2015, Nefyodov was appointed as a deputy to Abromavicius.
Having worked for less than a month in the ministry, the newly appointed government official met with friends over a beer.
"If you think we have government, forget it. It doesn't exist. I checked. We have to build it from scratch. Instead of a government, we have a cargo cult. We built a plane from branches and stones and then blame the pilot for its inability to fly," he described the system's backwardness.
The people with their values and convictions make the system, Nefyodov said.
Since Abromavicius and Nefyodov came to office, the number of officials working in the ministry was cut in half, although the first purges in the ministry began under Pavel Sheremeta, the first Minister of Economic Development and Trade after the Euromaidan revolution.
The funniest thing, according to Nefyodov, was firing people wearing Patek Philippe watches with an official monthly salary of 5,000 hryvnias (approximately $190).
One of the key tasks Abromavicius assigned to Nefyodov was to bring order to public procurement.
Nefyodov knew that there was a volunteer project developed by the civic platform Nova Krayina that works in this specific area. He called Valery Pekar, a founder of the coalition.
It's Time to Join the Government
By the time of the meeting, the future Deputy Minister Alexandr Starodubtsev, formerly a volunteer of Nova Krayina and a co-founder of the Maidan Open University, gathered a team of volunteer developers. They had already been developing an online platform for public procurement.
Andrey Kucherenko, an employee at Ernst & Young, who was introducing similar systems in big companies, was among its volunteers. Thanks to his experience, a beta version of ProZorro came to life.

Georgian consultants, Tato Urjumelashvili and David Marghania, who were developing a similar system in Georgia, helped the team upgrade the platform.
Since there was no legislation requiring government agencies to use the online platform, the project, initiated by civil society, was likely to fail. Dmitry Shimkiv, deputy head of the Presidential Administration, pushed the team to launch the system on below-threshold tenders less than 100,000 hryvnias [approximately $3,800] for the purchase of goods and less than one million hryvnias [approximately $38,000] for the purchase of services.
"Stop hiding. If you want to reform the government, you should become the government," Starodubtsev told Nefyodov at the first meeting.
He practically brought the ProZorro team into the ministry.
In March 2015, Starodubtsev became the head of the public procurement department at the Ministry of Economic Development and Trade.
"To avoid the slow-down of public procurement reform, we had to take up all the key positions," the deputy minister said. People with the ability to influence decision making are critical to the reform process.
To make the reform succeed, Nefyodov's team had to take over the position of the director of a state company called Zovnishtorgvydav. The company was publishing the only magazine about public procurement and was responsible for running the online platform.
Nefyodov's team had to fight with the director of the company for several months. But in the end, after another ministerial audit, the director was terminated from office.
Alexandr Nakhod, who managed to work as deputy financial director at Interpipe, Ukrtelecom, and in the agricultural sector, mobilized his resources to get this position.
In December 2015, the ProZorro system was transferred to the balance sheet of state-owned enterprise Zovnishtorgvydav, later renamed as ProZorro.
Nakhod's motivation is similar to Nefyodov's: "I realized that I'm much more effective in public service than on the battle front."
In May 2015, Nakhod started working at Zovnishtorgvydav.
He invited people from the private sector and ProZorro volunteers to fill 80 percent of executive positions.
During interviews, Starodubtsev and Nakhod told candidates right away that there was little money but plenty of interesting work. The three key questions asked in an interview were: "Do you have a financial cushion? What did you on the Maidan? And what do you think about the country's current situation?"
Most people who came from the private sector call their participation in ProZorro professional volunteerism.
"I saw Starodubtsev's post on Facebook, in which he invited us to apply to ProZorro and even left his phone number. I thought what an interesting public official and called," said Nadezhda Begun, who had worked as a marketing specialist at Kyivstar for ten years. She started as a volunteer helping ProZorro with marketing and organizing events and then joined the team full-time.
Starodubtsev said that people who came from the private sector brought the culture of success to the public procurement department. But before that a bureaucratic culture prevailed in all levels of government. Nevertheless, some of the old-timers who embraced change and were willing to be result-oriented remained on the team and took over the regulatory framework. This allowed the newcomers from business to focus on reform.
The current director of ProZorro, Nakhod, was also able to attract professional volunteers. For example, good pro bono lawyers now consult ProZorro. The ProZorro ecosystem has a few dozen experts who provide different services to the team.
The government did not finance public procurement reform.
International donors funded the project, giving about $600,000 to implement various stages of the reform. Moreover, according to Nefyodov, donors were willing to contribute at least $900,000.
Most of the expenses were for server hosting and technical support, but user training and promotion also cost a considerable amount.
It's not enough to bring companies into the system; we also have to teach them how to use it effectively.
Nevertheless, recognition of ProZorro's importance is growing. For example, after running a "Bribeman" antihero information campaign under the slogan "The e-system defeats the Bribeman. Transparent public tenders," the number of online visitors from the regions increased by 30 percent.
ProZorro can be compared to a social network of buyers and suppliers. It has an administrator of the central database system. The system is connected to private online platforms, which automatically show information about tenders.
Suppliers pay between seventeen to 1,700 hryvnias (approximately $0.65 to $65) per tender. The online platforms get about 60 percent of this amount; the rest goes to ProZorro earnings.
By the end of 2016, the team plans to start investing in human resource development, including salary increases for staff. Managers now make about 10,000 hryvnias (approximately $380) per month, while chief specialists make about 6,000 hryvnias (approximately $230) per month.
ProZorro is a platform based upon open code. "We did this on purpose, so no one could usurp the system," Starodubtsev said. Moldova has already shown interest in the code.
In May, ProZorro won the World Procurement Award in the public sector category, [which is the most prestigious award in the procurement industry]. The Ukrainian system surpassed the entries of the UK Ministry of Justice, the Australian Department of Education, and the US presidential administration. All of them were shortlisted in the competition.
This is an important victory point for ProZorro fighters.
"We were well aware that people who make millions in schemes with public procurement will make every effort to fight us. That is why we are acting judiciously without undermining anyone's specific interests. We make ProZorro a new norm. All of the tenders will eventually go only through the public procurement system," Nefyodov said.
The team's tasks for the near future are "to institutionalize and become stronger by establishing laws, regulations, and judicial rulings."
Can ProZorro's Success Be Scaled Up?
The ProZorro team divides everyone's roles and responsibilities.
"Nefyodov is the front man. He did most of the PR and political lobbying. He spoke with government officials, attended committees, and discussed the laws needed to be adopted for the system to work," Starodubtsev said. He spends a lot of time on the project's architecture.
Nefyodov cuts through all the bureaucratic red tape.
The ProZorro team is jokingly called a cult. But there is a large grain of truth in this joke.
In the joint office kitchen, which used to be the office of Zovnishtorgvydav, young people are vividly discussing the purchase of mops by a Kyiv hospital. Given the vague description of the item, the hospital found a loophole in the ProZorro e-procurement system and bought fifty mops for 123,000 hryvnias (approximately $4,700).
The ProZorro staff are rejoicing like children because the story made it into the media. Perhaps this news will attract the private sector. The more suppliers there are, the greater the competition and better conditions there will be. Competition is the best control over purchasing transactions.
"The competitor goes to auctions, knows the subject well, and understands written terms for a specific supplier. At the same time, he may file a complaint or leave a comment on the website," Begun explains.
The staff at Transparency International process these requests.
This week, Nakhod announced his resignation as the general manager of the ProZorro company.
Begun is one of the candidates for his position.
She is confident that the state company will become the first effective public IT company that provides high-quality service.
"We are productive not because we have a brilliant plan, but because we work harder than the others," Nefyodov said.
He loves working in public service, and it is clearly within his grasp.
But back in May, Nefyodov told Ukrayinskaya Pravda that he was going to return to business. Why? The answer is simple. The cash reserves he had in February 2015 are running low.
Nevertheless, when Prime Minister Volodymr Groysman formed the new government, Nefyodov's candidacy for the position of Minister of Social Policy was discussed for almost twenty-four hours. Nefyodov seemed ready to limit himself to bread and water for the sake of experiment.
"The Ministry of Social Policy is one hell of a challenge. There were so many things there that needed to be reformed and more importantly to show prompt results," he said.
But then, behind the scenes, politicians said this about Nefyodov: "We don't understand him," which actually meant no one from the old guard understood who he was.
In the old guard's world, everyone has connections.
"Who am I? I am a hipster from the Maidan," Nefyodov joked.
In the new order of domestic politics, everyone is a volunteer.
"You know, on December 10, I went to the Maidan and met my son in the crowd. I was very pleased that without pre-arranging we found ourselves in the midst of historical events," Eugene Nefyodov said, describing his son.
He considers Max an ordinary guy and said that all of his friends are professionals, fluent in English, with a global vision and yearn for change in the country.
But only a few decided to go into public service.
Max Nefyodov is one of the first ones who nonetheless took a risk.
Anastasiya Ringis is a journalist at Ukrayinska Pravda. She studied digital journalism at Kyiv-Mohyla Academy. This article was originally published in Russian by Ukrayinska Pravda and was translated by Vera Zimmerman.