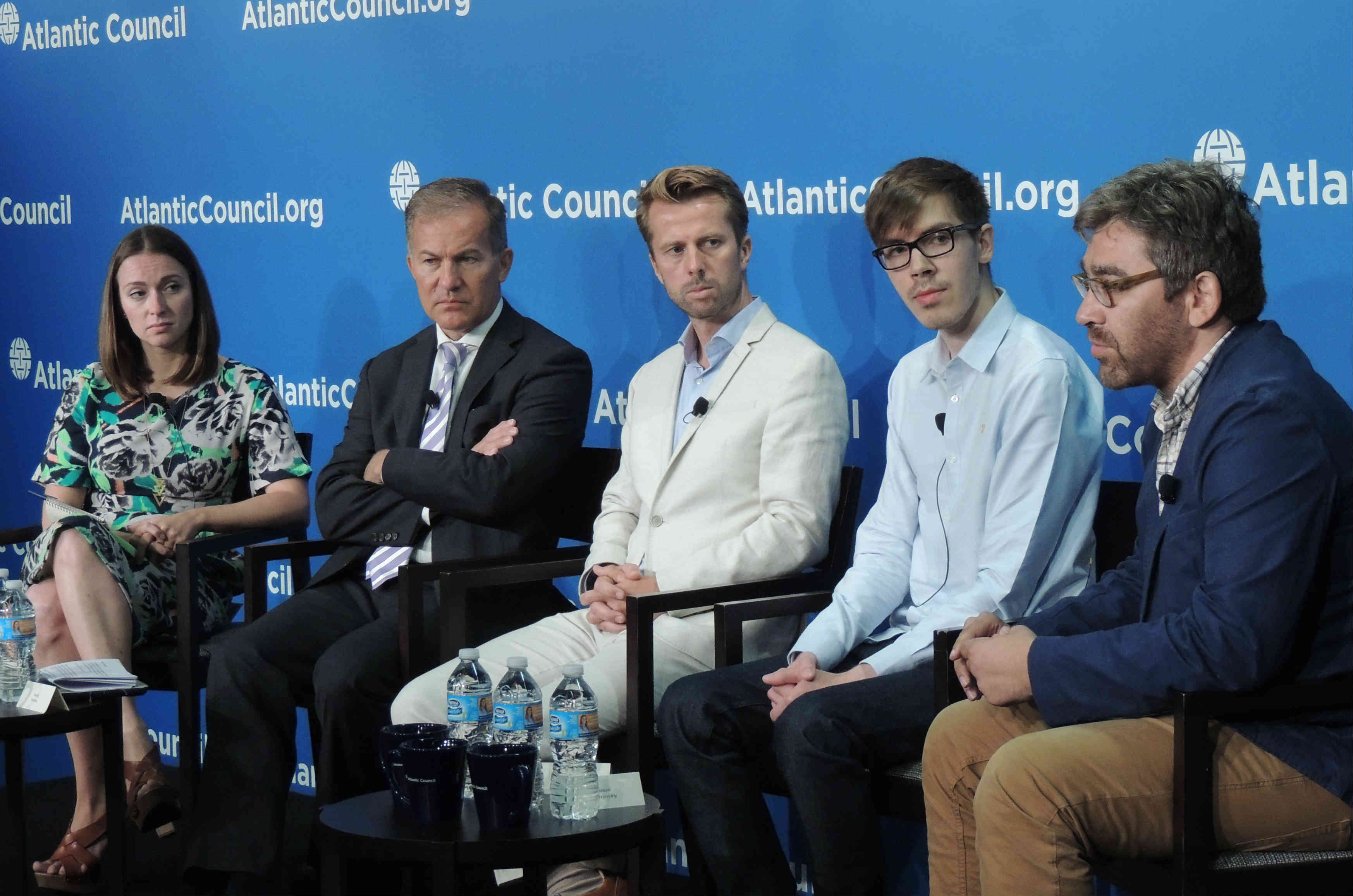 Simon Ostrovsky will never forget the moment he learned that Malaysia Airlines Flight 17 had fallen from the sky, with 298 passengers and crew aboard.
"I was on a train from Kyiv to Kharkiv reading my Twitter feed, and something came down about a plane crash. Somebody said it was a Malaysian plane," the Soviet-born US journalist recalled. "It seemed at first so outrageous and ridiculous. I thought someone was making a sick joke about the previous Malaysian plane that had disappeared. But very quickly, we realized this was a real incident."
Michael Bociurkiw remembers that moment too.
"It was horrific," said Bociurkiw, spokesman for the Organization for Security and Co-operation in Europe's Special Monitoring Mission to Ukraine which was on the scene 24 hours after the Boeing 777 came down.

"Parts of the aircraft were still smoldering, bodies were still spread out, and incredibly, there was no security perimeter," said the Canadian-Ukrainian journalist. "We were greeted by a small group of rebels trying to intimidate us and restrict our access."
Ostrovsky and Bociurkiw were among six panelists participating in a July 17 discussion at the Atlantic Council marking the disaster's first anniversary and its implications for the conflict in Ukraine.
Organized by the Atlantic Council's Dinu Patriciu Eurasia Center, the event featured Julia Ioffe, contributing writer for the New York Times Magazine; Rudy Bouma, senior reporter for Dutch current affairs TV program Nieuwsuur; David Crawford, senior reporter for CORRECT!V; Iggy Ostanin, a Russian investigative journalist at Bellingcat. John Herbst, director of the Dinu Patriciu Eurasia Center and US Ambassador to Ukraine from 2003 to 2006, convened the event.
It Had to Be a Buk
Crawford, speaking by video from Berlin, said one fact the US, Russian, and Ukrainian governments quickly agreed on was that if MH17—en route from Amsterdam to Kuala Lumpur, Malaysia—had been shot down by a ground-to-air missile, it had to be a Buk.
Building on information from Bellingcat, Crawford said his team gathered profiles of soldiers and put them into a database that included email addresses and phone numbers. They then interviewed individual soldiers as well as experts and air-traffic controllers while poring over satellite pictures.
"Buk missiles basically have only one function: to protect Russian tanks. They said Russian tanks don't go anywhere without Buks. But we learned that Buks are not able to differentiate between friendly aircraft and enemy aircraft. They all look the same to it," he said.
Crawford also learned that only officers may decide whether to launch a Buk missile.
"People who run these systems have four years at a military college. Normal soldiers are not allowed to fire them," he told the panel. "You're not going to outsource this to people who don't have the training."
Among other things, he said, "the closer you got to the launch site, the more separatist leaders said it was a ground-to-air missiles. Nobody within ten kilometers would say it wasn't. We were told that the soldier who fired it had wet hands and was frightened. Had only forty seconds to decide it if was friend or foe, and quickly decided he had to fire."
MH17 is the Netherlands' 9/11
Bouma, speaking from a Dutch perspective, said the tragedy allowed him to report on the war in Ukraine much more than if MH17 hadn't been shot down.
"It is getting more and more difficult to move around. Right now, you need four passes from both sides of the conflict. Reporting from there has not been easy because of the constant shelling," he said. "I saw rebels in Donetsk wearing Russian-flag lapels openly for the first time, two days after the crash. They were pretty friendly, actually. But others forced us to delete footage, warning that otherwise they'd shoot."
While the downing of MH17 had only a "very limited effect" on the war in eastern Ukraine, it had an enormous effect on Dutch society, Bouma said.
"Very suddenly, we became part of a huge crisis. MH17 became for the Netherlands what 9/11 was for the US. All European countries realize we have to upgrade intelligence, but our government is very cautious not to blame the Russians," he noted. "Our prime minister is always saying we have to wait for the investigation committee's report."
Ukraine Tops List for Displaced Persons
Bociurkiw said the OSCE—which employs more than 500 monitors from forty countries—has mapped out thirty-five square kilometers of the MH17 wreck site.
"Violence continues unabated," he warned. "In the past week alone, almost 2,000 explosions have been recorded by our monitors in and around Donetsk airport. There's been systematic jamming of our video channels, and people are forced to wait hours or days at checkpoints. Another huge problem is the lack of water. Constant shelling has rendered water pipes inoperable."
Meanwhile, he said, the ceasefire negotiated between the Kyiv government and Russian-backed rebels in Minsk is "very fragile."
"We record violations pretty much every day. We're beginning to see training or firing ranges pop up on the rebel side. They're also using weaponry proscribed by Minsk," he said, noting that the conflict has killed 7,000 people and injured nearly 17,000 since it began in April 2014. In addition, 2.3 million people have already been uprooted and at least 2,000 leave the conflict zone for safer ground every week.
"A year ago, Ukraine had virtually no displaced population. Now it's in the list of the top 10 countries for displaced people," said Bociurkiw, lamenting a buildup of unexploded ordnance and massive destruction of bridges, roads, railways, and other infrastructure that will cost at least $1 billion to replace.
Will the Downing of MH17 Be Putin's Qaddafi Moment?
Bociurkiw said that despite the "amazing propaganda war going on," one of OSCE's strengths is its integrity and transparency, "and the fact we only report on what we see with our own eyes and ears, and we try to stay away from speculation."
Added Ostanin: "The lies Russia has been putting out effectively denying the truth also denies [the victims' families] closure. For this reason, it remains extremely important for people to get the answers about what happened."
This is why Ostrovsky, who was briefly held hostage by pro-Russian militants last year, doesn't think the MH17 tragedy will recede from people's minds anytime soon.
"Once all these facts come out, people are going to realize the downing was Putin's Qaddafi moment, and his isolation from the rest of the world. But you can't isolate the entire country of Russia as easily as Libya was isolated for so many years," he warned. "Right now, we're talking about it because it's the anniversary, but we'll be talking about this a lot more for decades to come."
Larry Luxner is a Washington-based freelance journalist and photographer.