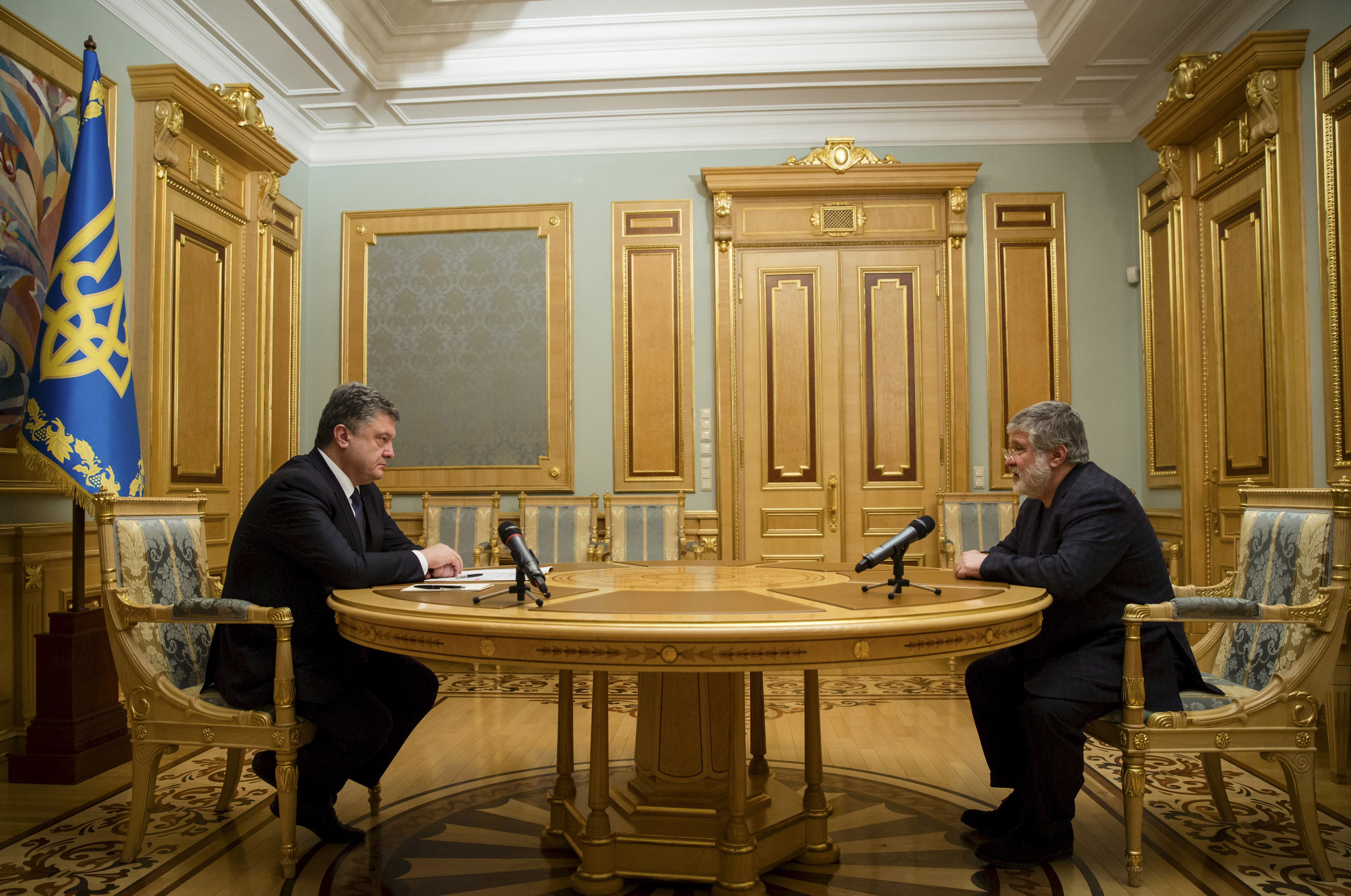 Ukraine won an important battle in the war against the oligarchs with the removal of Dnipropetrovsk Governor Ihor Kolomoyskyi last week. But Ukrainian President Petro Poroshenko and the Ukrainian parliament are just getting started.
On April 7 the government challenged billionaire Rinat Akhmetov's grip on energy companies. Some parliamentarians are pushing to curb the power of Dmytro Firtash, another tycoon whose empire expanded under Viktor Yanukovych.
"The key issue is the 'de-oligarchization' of the country. We are trying to bring order to the government, whereas the oligarchs want chaos," Poroshenko recently told ICTV.

There is a major battle between Akhmetov and Kolomoyskyi taking place for control of state assets. The power struggle looks like this: Ukraine's business titans become situational government allies to topple their rivals. Kolomoyskyi publicly supports the Ukrainian army, while Akhmetov has been linked to the Donetsk People's Republic and the Luhansk People's Republic. Akhmetov is struggling to maintain his business empire as he tries to fend off Kolomoyskyi, appease Kyiv, and play footsie with the Russian-backed forces in the east to keep his assets in the occupied parts of the Donbas from being nationalized. Akhmetov's precarious position has made him a prime target for Kolomoyskyi.
An oligarch's allegiance to Kyiv or to the separatists may have direct bearing on the conduct of the war. The separatists allegedly did not move on Mariupol out of loyalty to Akhmetov. At a meeting in Moscow between former Prime Minister of the Donetsk People's Republic Alexander Borodai and Russian nationalists in late March, Borodai stated "we didn't take Mariupol in September [2014] even though that possibility existed" because Akhmetov needs the port of Mariupol for exporting goods. Odessa is not available. "The Odessa ports are controlled by Kolomoyskyi, and he would never let Akhmetov in."
But there's more to the Kolomoyskyi resignation than the feud with Akhmetov.
Kolomoyskyi was slapped down publicly, but behind the scenes he appears to have received five important concessions.
First, no audit checks on Ukrtransnafta, a joint-stock company that manages oil transportation operations through the Ukrainian pipeline network. Whatever financial shenanigans Kolomoyskyi was involved in while his ally ran the company will not be investigated. The past will be the past.
Second, Ukrnafta, the country's largest oil and gas company, announced that it will soon pay retroactive dividends of $1.5 billion for the period of 2011-2013. Since Kolomoyskyi's PrivatBank group owns 42 percent of Ukrnafta, he's set to receive $700 million in dividends.
Third, the National Bank of Ukraine provided an 800 million hryvnas stabilization credit to PrivatBank on March 30, enabling PrivatBank to fulfill its obligations to depositors on time. PrivatBank has essentially become too big to fail; it holds 26 percent of all deposits and 15 percent of all banking assets in the country.
Fourth, a long-running dispute between Naftogaz and Ukrnafta is likely to be resolved in Kolomoyskyi's favor. Naftogaz—the national oil and gas company—did not pay Ukrnafta for domestically extracted natural gas in spite of a Ukrainian law requiring Ukrnafta to sell all of its natural gas to Naftogaz. Naftogaz assessed it liabilities to Ukrnafta for gas consumed from 2006-2011 at 10.1 billion cubic meters of gas at the price set by the regulator amounting to 3.753 billion hryvnas. Even with Naftogaz's assessment of their liabilities to Ukrnafta, Kolomoyskyi is still looking at a minimum payout of $60 million.
Fifth, Kolomoyskyi ally Vitaliy Reznychenko replaces him as Dnipropetrovsk Governor. Kolomoyskyi had successfully lobbied to install Reznychenko as the Governor in neighboring Zaporizhya. There is an old saying that the first test of power is whether you can choose your successors. By this standard, Kolomoyskyi remains powerful.
These public concessions have appeased Kolomoyskyi for now. The oligarch appeared with Poroshenko to jointly introduce Reznychenko as the new Governor. In the meantime, Kolomoyskyi's privately funded armies remain loyal to the Ukrainian government.
The clash of the titans will continue to play out over the coming month until a new Ukrainian order is established.
Brian Mefford is a Nonresident Senior Fellow at the Atlantic Council's Dinu Patriciu Eurasia Center. He is a business and political consultant who is based in Kyiv, Ukraine.