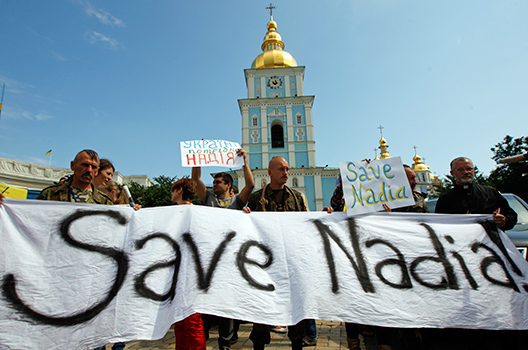 Nadiya Savchenko's Trial is Political, Not Legal, Says Human Rights Attorney Mark Feygin
Although a Russian court is preparing to try Ukrainian military pilot Nadiya Savchenko on war-related charges, it is Russian President Vladimir Putin who will decide her fate, said Savchenko's defense attorney, Russian human rights lawyer Mark Feygin.

Savchenko, 33, a pilot and former paratrooper, was captured in June by Russian-backed rebels fighting government forces in the southeastern province of Luhansk. Russia has charged her in the deaths of two Russian journalists killed in fighting in Luhansk on June 17. Ukraine's government says Savchenko was illegally abducted to Russia and had demanded her release. Savchenko has told a Ukrainian consular officer she was hauled across the border in handcuffs, with a sack over her head, but Russia's government says she fled into the country as a refugee.
Of her ultimate liberation or imprisonment, Fegyin said: "That decision, of course, will be made by Vladimir Putin, to release her, or not. Everything else is a technical detail. Savchenko's fate will be decided in the Kremlin, we should have no illusions about this."
Feygin, 43, has defended Russian dissidents who took part in public protests in 2011 and 2012 against Putin's authoritarian rule, including the punk rock band, Pussy Riot. One of Feygin's earlier clients, Russian political activist Leonid Razvozzhayev, also reported having been abducted from Ukraine to Russia, in 2012. A court last month sentenced him to prison for allegedly inciting riots, rejecting his account of having been kidnapped and tortured. The court accepted the government's account that he had voluntarily returned to Russia and offered his confession.
Savchenko has become an international cause celebre, and that attention may save her from the kind of torture described by Razvozzhayev and other Russian political dissidents on trial, Feygin said. Russian authorities "understand that any illegal moves against her will immediately become widely known," Feygin said by phone from Moscow.
Backers of Savchenko have launched a campaign with its own Twitter hashtag, #SaveOurGirl. In Ukraine, her imprisonment has made her a national hero. There, she was well-known even before her captivity because of her campaign to become Ukraine's first military pilot. To fulfill a childhood dream of flying aircraft, she had joined the armed forces, served in Iraq as a paratrooper, and overcome bureaucratic resistance to become the first female graduate of Ukraine's air force university. She came to public attention following a 2012 TV film documenting her struggle for the right to serve as a pilot. (The Ukrainian armed forces assigned her as a helicopter navigator.)
Russia has offered no evidence that Savchenko committed any crime, Feygin said, but that is irrelevant to the outcome of her trial. "Facts do not play any role in this process," he said. Rather, her case is being used by the Kremlin to dramatize its narrative of the war in Ukraine. "Savchenko has become the embodiment of Ukraine and Ukrainian guilt," as portrayed by Putin's government and amplified through Russia's state-dominated news media. "Savchenko is only a tiny episode in this huge Ukraine propaganda campaign."
Savchenko had volunteered with a Ukrainian National Guard unit, the Aydar Battalion, in Luhansk, and was captured following a battle there as she tended to wounded members of the unit. The Russian prosecuting agency, the Investigative Committee, says Savchenko is suspected of having helped target a June 17 mortar attack against a Russian militia position that killed two journalists, Igor Kornelyuk and Anton Voloshin, working for the Russian state-controlled TV channel Rossiya 1.
Irena Chalupa covers Ukraine and Eastern Europe for the Atlantic Council.