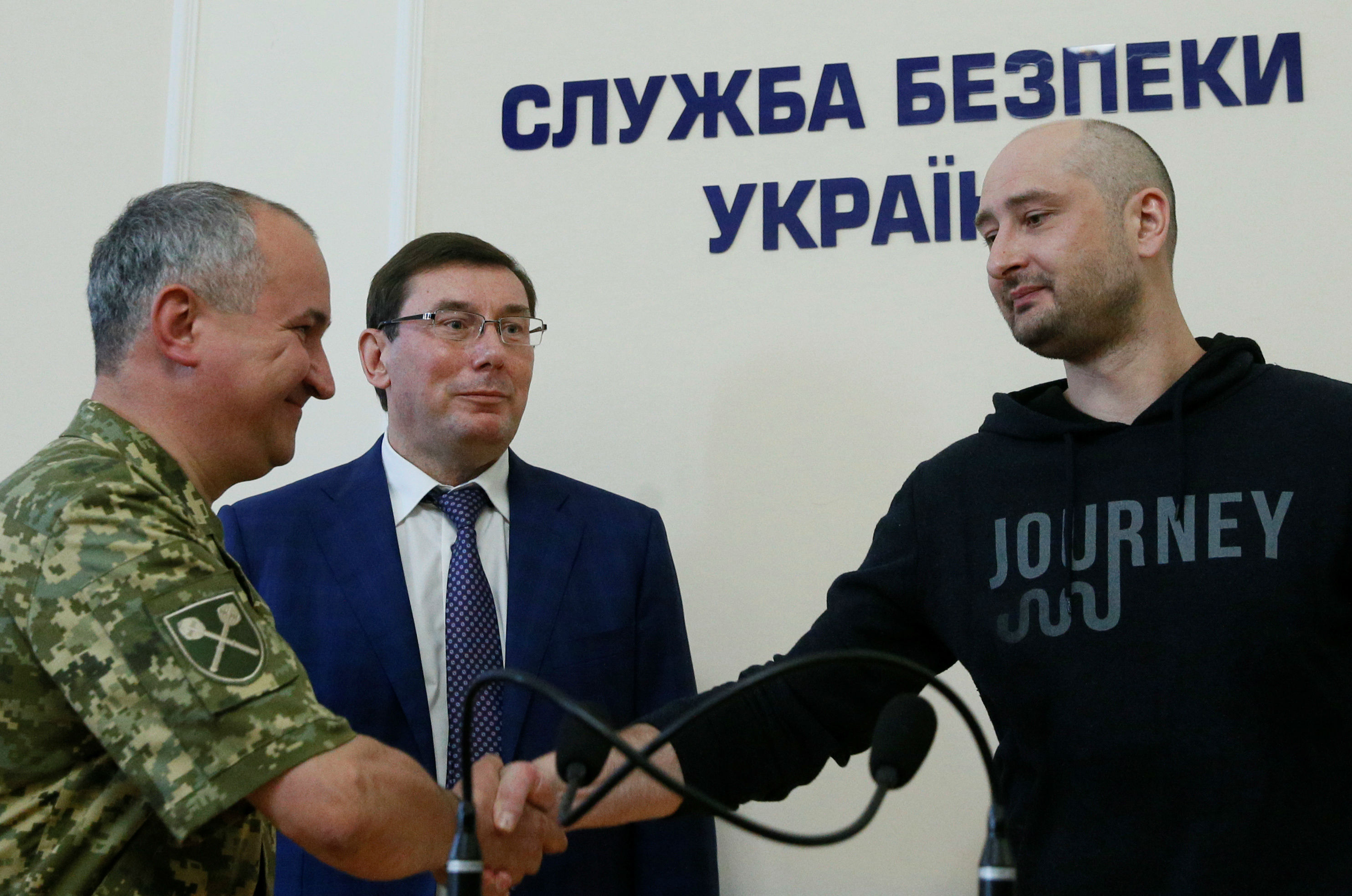 On May 29, the media reported that Russian journalist and Putin critic Arkady Babchenko had been assassinated in Kyiv. He reportedly died in an ambulance on the way to the hospital. On May 30, Babchenko appeared at a press conference, alongside the head of the Ukrainan Security Service (SBU) Vasily Gritsak and Prosecutor General Yuriy Lutsenko, alive and well. The SBU had approached Babchenko and told him that there was a plot against his life. If he would cooperate in a sting operation, they might be able to spare him. It succeeded.
We asked Atlantic Council experts, UkraineAlert contributors, and journalists the following: What's the upshot of this bizarre plot? Does this staged murder help or hinder the credibility of the Ukrainian government? Are you surprised that the SBU managed to carry out this operation? Should a government lie to its people?
Ian Bateson, journalist and Fulbright Scholar: So today was a win for Ukrainian law enforcement (scratch the top one off). But many other murders are left unsolved. Officials today refused to even discuss Pavlo Sheremet. Time will tell how much of what the SBU displayed today will check out, but faking Babchenko's death shows a degree of coordination few would have thought Ukrainian law enforcement was capable of.
Michael Bociurkiw, Global Affairs Analyst and Former OSCE Spokesperson: I share the indignation of the global media watchdog Reporters Without Borders that it is playing with fire when states manipulate the facts—even in the name of an information war.
The explanation is irrelevant. This could have been staged differently. What happened has crossed a line: the fake scenario not only duped the public but also journalists and colleagues. And most importantly, his family.
At a time when traditional media is under attack—and when fake news is awash—this brand of subterfuge does not boost the media's image.
Michael Carpenter, former US Deputy Assistant Secretary of Defense, Senior Director at the Biden Center, and Nonresident Senior Fellow at the Atlantic Council: Although it's wonderful news that Arkady Babchenko is alive and well, this incident will unfortunately have lasting negative consequences. If the SBU was able to thwart an attempted assassination by staging Babchenko's fake murder, then there's some justification for this stunt. But at the same time, the SBU and other Ukrainian government institutions will suffer a long-term hit in terms of their credibility. And one thing is sure: Russia will exploit this fake murder to accuse Ukraine of spreading fake news and to cast doubt on future attacks on dissidents and journalists inside and outside of Russia. The unfortunate reality is that the next time a real tragedy strikes, we will all pause to question whether the news reports are true.
That said, I think that when balancing the pros and cons of this operation, we have to give precedence to exposing Russian intelligence operatives and their methods, and to stopping murderers before they are able to perpetrate their bloody deeds. While government agencies should as a general rule never deceive the public, sometimes higher objectives involving life and death do need to be considered.

Vladislav Davidizon, Chief Editor, The Odessa Review: Yesterday I wrote a story about the assassination of Babchenko. After the press conference today, I had to apologize to my readers. Naturally, I am mad and disappointed. The shocking news of this duplicity from the SBU and state in faking his death has made me extraordinarily sad. This stunt makes everyone involved look bad and further damages the media as an institution. Ukraine's one cardinal advantage in this whole conflict is supposed to be its virtue and honorable position and the outcome of this incident will be solely to sink the credibility of the Ukrainian state and undermine its capacity to frame any narrative. We will all be ten times as suspicious of anything the SBU says from now on, and I am not sure this sting was worth it.
Peter Dickinson, Nonresident fellow at the Atlantic Council and Publisher, Business Ukraine Magazine: The SBU had better have a very, very convincing explanation as to why they felt the need to stage this assassination, or it could end up backfiring badly on Ukraine. The danger is that this stunt could undermine the credibility of anything Ukraine says in future, while feeding the Kremlin's whole "nothing is true" riff. The international media will be very cautious from now on when dealing with any statements or news coming out of Ukraine, and understandably so. They have been made to look foolish. Was it all worth it? Ukraine has more than enough image problems without becoming known as the place that stages fake political killings. The only way to justify this negative backlash is if the reasoning behind the scheme is shown to be watertight and Russian agents are prosecuted in a convincing manner. Even so, it seems a bizarre way to go about capturing a Kremlin killer.
Maxim Eristavi, Nonresident fellow at the Atlantic Council and co-founder of Hromadske International: My dear foreign friends and colleagues, I'm sorry that Ukrainian officials haven't lived up to your expectations of how justice must work or [be] communicated. I'm just happy that my colleague's life was saved and justice in the name of a journalist has been served for the first time ever here.
Evelyn Farkas, Nonresident Senior Fellow at the Atlantic Council and a national security analyst for NBC/MSNBC: This is an odd incident, but what is notable is the fact that we all believed it. It fits the pattern of Russian domestic and extraterritorial assassinations of Kremlin opponents.
Andrew Foxall, Director of Research and Director, Russia and Eurasia Studies Center, Henry Jackson Society: Some initial thoughts on the Babchenko news. First, this is a tactical coup for Ukraine, which—presumably—gave it much information about how Russia operates beyond its borders. Second, this is a StratCom disaster for Ukraine and gives Russia a clear 'fake news' reply in response to future events.
Sergiy Leshchenko, Former Deputy Editor at Ukrainska Pravda and Member of the Ukrainian Parliament: It is an important moment to change the legal framework for the SBU. They should be focused on the issues they are able to do well, as it happened with Babchenko. And they should be stripped of the legal responsibility to investigate business or anticorruption cases. Such cases only destroy the SBU's reputation.
Ilya Lozovsky, Managing Editor of The Organized Crime & Corruption Reporting Project: All my email lists, and Twitter, are blowing up with debates about the ethics of this whole thing. Fair to argue about. But let's not lose sight of the fact that—if it pans out—Ukrainians have evidence of Russian special services targeting journalists in Kyiv.
Leonid Ragozin, former BBC and Russian Newsweek reporter: Babchenko's death turns out to be fake news of the century. A mindless and tragic mistreatment of public empathy that discredits so many things at once—Ukraine, Russian liberals, journalists. Only the Kremlin wins.
Vitalii Rybak, UkraineWorld Initiative: What a relief that Babchenko is alive! However, the whole operation was hardly worth the gain. SBU representatives say they have apprehended the alleged murderer and established a link to Russian special forces. But what price did the Ukrainian government have to pay?
First, this operation questions the credibility of the Ukrainian government on the international level. The SBU has effectively produced a big story which worried the community far beyond Ukraine's borders. We, as a state, have sent a message: look, journalists are being killed here again. Ukraine produced what could be treated as fake news—these are the methods of Russian propaganda, the very same hybrid war we are fighting.
Babchenko's "murder" reminds me of another similar case: Pavlo Sheremet. Sadly, that one was real. And Ukrainian security forces have no progress in solving Sheremet's killing, even though almost two years have passed. It does no good to the credibility of the Ukrainian government either.
Simon Ostrovsky, Coda Story Investigations Editor: The more I think about it, the more I'm angry that they're solving murders that haven't actually happened instead of solving the murder of Pavlo Sheremet. We've been waiting for results for nearly two years now without a suspect being producing by the SBU. I knew Arkady personally, and I'm really happy that he's alive, but I'm also confused and wondering if it was all necessary.
Melinda Haring is the editor of the UkraineAlert blog at the Atlantic Council and a fellow at the Foreign Policy Research Institute. She tweets @melindaharing.