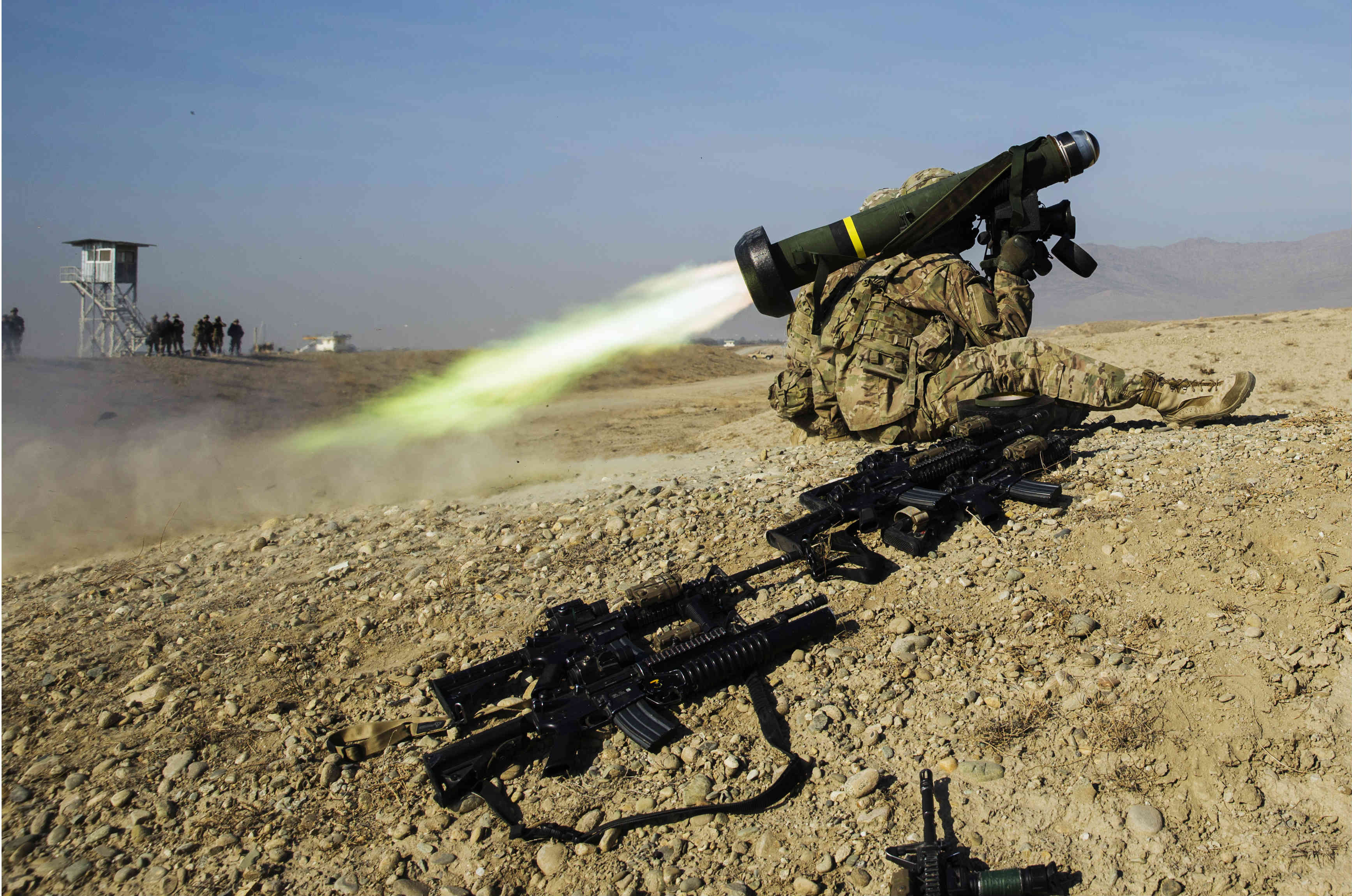 On April 30, the US Department of State confirmed to Radio Free Europe/Radio Liberty the delivery of Javelin antitank missile systems to Ukraine. This issue has been long-standing: the Obama administration refused to send the weapons to Kyiv, while President Donald Trump changed course.
Some experts warn that giving Ukraine lethal defensive weapons will only enrage the Russians and escalate the war, while others, including Atlantic Council experts, have insisted that arming Ukraine is the most effective way to change the facts on the ground and force Russian President Vladimir Putin to finally negotiate.
In 2017, the US Congress approved a $47 million military-aid package that included 210 Javelin antitank missiles and thirty-seven Javelin launchers, but the State Department refuses to say how many weapons have been delivered.
UkraineAlert asked its experts the following: What difference will the arrival of the Javelins make militarily and politically in the four-year conflict between Russia and Ukraine? Is this a game-changer?
Ian Brzezinski, Senior Fellow at the Atlantic Council's Scowcroft Center on International Security: This delivery of Javelins is an operationally and geopolitically significant demonstration of US determination to support Ukraine, an action long overdue following Russia's 2014 invasion.
Javelins alone will not enable Kyiv to force Russia out of Crimea and Donbas, but they substantively increase Ukraine's ability to impose costs on Russian forces.
The Javelins will also likely reanimate among Russian commanders uncomfortable memories of the role that US shoulder-mounted Stinger air-defense missiles played in forcing the Soviet Union's retreat from Afghanistan in the late 1980s.
In these ways, the Javelins will help to deter further Russian seizures of Ukrainian territory. However, they need to be complemented with additional military support to Ukraine, a more robust NATO posture in Central Europe, and more aggressive economic sanctions against Russia if Putin is to be convinced to end his occupation of Crimea and eastern Ukraine.
Stephen Blank, Senior Fellow at the American Foreign Policy Council: This is not a game-changer because it will not stop Russian aggression or its policy of multiplying threats against Ukraine. But it adds to the deterrence of Russia in many ways as it will impose costs on any military force invading Ukraine. Second, it should be seen as the start of a bilateral military relationship involving arms sales and training, not as a one-off deal. Third, it expresses US and allied political solidarity with Ukraine. Fourth, it raises political if not economic costs to Moscow from any further invasion and strengthens the capability of the Ukrainian armed forces.
Michael Carpenter, former US Deputy Assistant Secretary of Defense, Senior Director at the Biden Center, and Nonresident Senior Fellow at the Atlantic Council: I applaud the decision to grant Ukraine Javelin anti-tank missiles. On a moral, political, tactical, and strategic level, it's the right decision and will help the Ukrainian military defend itself against an unceasing Russian war of aggression that has claimed over 10,000 lives.
That said, no one should fool themselves into thinking that Javelin missiles are a game-changer. Javelins are useful weapons that will have a limited deterrent effect, but they won't change the fighting capabilities of the Ukrainian military all that much. Far more important is the military's command structure, which desperately needs to be reformed according to Western standards, and the training and readiness of the troops, which also need urgent attention.
Finally, it's important to remember that Ukraine is paying for these missiles. It would be far better if Ukraine reformed its defense industry so that it could produce and sell anti-tank weapons itself, rather than having to buy them from Western countries.
Ariel Cohen, Nonresident Senior Fellow at the Atlantic Council's Global Energy Center and Eurasia Center: The supply of the Javelin antitank weapon system is welcome news, however, it is long overdue and may be sending a wrong signal to Moscow.
While these missiles are necessary, they are supplied almost four years after they were requested, and in small numbers.
The Russian threat to Ukraine is not only in the Donbas, but also from a potential massive ground invasion from Russia with the purpose to occupy all of Ukraine. Therefore, the Obama administration failed to supply this and other lethal weapon systems when it was necessary. These systems needed to be airlifted and Ukrainian troops immediately trained to use them in the spring and summer of 2014.
The supply of these weapons may be signaling to Russia that the United States is very slow and will not respond with adequate strength and in a timely manner in the case of a major engagement.
Additionally, Ukraine has a massive military industrial complex that is capable of producing its own small weapons, including antitank missiles. The United States will be well advised to share some of its military technology, and provide technical assistance to modernize and boost production in Ukraine.
Peter Dickinson, Nonresident Fellow at the Atlantic Council and publisher of Business Ukraine and Lviv Today magazines: The arrival of the US javelins is very welcome news for Ukraine—especially given all the skepticism and cynicism surrounding earlier delivery delays. It is a largely symbolic move that will not change the military realities on the ground, but it will certainly resonate loudly in the Kremlin. Supplying weapons to Ukraine is a major escalation in America's support for Kyiv and is in direct defiance of repeated Russian warnings that any such move would lead to fresh rounds of bloodshed. This apparent willingness to call the Kremlin's bluff reflects the shift in initiative away from Moscow as Russia's limited options in eastern Ukraine become more and more obvious.
John Herbst, Director of the Eurasia Center and former US Ambassador to Ukraine: The delivery of Javelins is an important development in strengthening Ukraine and warning Moscow that the price of its aggression is rising; but in and of itself it is not a "game-changer." Javelins in Ukraine mean that Moscow will suffer more casualties if it tries to use its formidable tank force in occupied Ukraine to seize more Ukrainian territory. The Javelin deal, which was announced in December, has not produced the sharp Russian escalation predicted by opponents of the measure. But like the sanctions introduced by Washington in April, it is sending the message that Western support for Ukraine is growing. If Moscow continues its daily aggression in Ukraine, the United States should send more Javelins to the victim, as well as anti-air defensive weaponry, and the West should impose additional sanctions. If the West's support for Ukraine remains firm, Moscow will eventually have to end its adventure in the Donbas. If that support increases, Moscow's war in Ukraine's east will end sooner.
Hanna Hopko, Member of Ukraine's Parliament and Chair of the Foreign Affairs Committee: Imposing tougher sanctions against Russia, the aggressor, in conjunction with strengthening Ukraine's army by providing Javelin antitank missile systems is the right decision. It increases the costs on Russian President Vladimir Putin as he seeks to continue his war in Ukraine. Giving Ukraine Javelins helps to deter Russia's hybrid war and contributes even more effectively to European security as a strong partner with a unique experience in countering the aggressor.
Maksym Khylko, Co-Founder and Chairman of the Board at the East European Security Research Initiative Foundation: The delivery of Javelins is not a game-changer by itself, but a very important step both militarily and politically in the wider context of Western support to Ukraine.
First, Javelins are a very effective antitank weapon and its supplies along with other assistance will make Ukraine stronger and increase the costs of further Russian advance in eastern Ukraine.
Second, but no less important, is the political meaning of the delivery of Javelins. It is a strong signal indicating the resoluteness of US support to Ukraine, and it really matters. The delivery of the Javelins should also serve as an example for other Western allies, opening the door for further supplies of lethal defensive weapons to Ukraine.
And it is a signal to Russia that further weapons supplies to the Donbas militants in violation of the Minsk agreements will not go unpunished, and might be futile due to readiness of the West to provide Ukraine with effective weapons to defend itself.
Phillip Karber, President of The Potomac Foundation: Ukraine has been at war for four years—longer that the United States was in World War II.
Ukrainians are the victim of aggression, but despite Western political condolences and modest economic assistance until the US Javelin decision, the most effective sanctions of this conflict were a complete and total self-imposed arms embargo by the United States, NATO, and our allies against the victim.
Obama and Merkel thought that if we sent lethal aid it would only make the situation worse. So for three-and-a-half years we did nothing, but the Russians sent thousands of heavy weapons (800 tanks, 1,500 other armored vehicles, 1,000 pieces of artillery) plus re-established the 1st Guards Tank Army aimed at the West, the 8th Guards Army near Rostov, and moved the 20th Guards Army 700 kilometers closer to Ukraine's eastern border.
Trump finally broke that embargo by agreeing to provide thirty-five Javelin anti-tank launchers—fewer than the number in one US infantry battalion. Obviously, that is too little too late. But more lethal aid can follow if Russia doesn't end this war or decides to escalate further.
Steven Pifer, Nonresident Senior Fellow at the Brookings Institution: Delivery of Javelin anti-armor missiles to Ukraine enhances the Ukrainian military's ability to defend the country. To be sure, the military has improved substantially over the past four years, so the contribution of the Javelins is not as critical as it would have been three or four years ago. The missiles nevertheless bolster the army's capabilities to deal with the large number of tanks and other armored vehicles that Russia has poured into eastern Ukraine since the Donbas conflict broke out in April 2014.
As or more importantly, provision of the Javelins sends a strong signal of US political support for Ukraine in the face of Russia's aggression. Moscow will not like it, but perhaps it will help tilt the Kremlin's calculation more in the direction of finding a real peace in Donbas instead of continuing a simmering conflict there.
Alina Polyakova, Fellow at the Brookings Institution: Four years into the war with Russia, the Ukrainian military is better equipped, trained, and battle tested. The Javelins will not change the situation on the ground in the same way that they could have at the onset of the conflict in 2014. But the Trump administration's move sends a strong signal that the United States has not forgotten Russia's war in Ukraine and will continue to support and enhance Ukraine's ability to defend itself.
Alexander Vershbow, Distinguished Fellow at the Atlantic Council's Brent Scowcroft Center on International Security: The US decision to provide Javelin anti-tank missiles to Ukraine will discourage new Russian offensives against Ukrainian forces. These are defensive weapons and there is no basis for Russia to complain—unless they are contemplating new aggression against Ukraine using their sizeable number of tanks illegally deployed in the occupied Donbas, as well as the even more numerous tanks deployed along Russia's western borders. The provision of Javelins, as well as the tightening of sanctions against Russia, provides essential leverage to Ambassador Kurt Volker in his efforts to achieve a negotiated solution to the conflict in eastern Ukraine.
Melinda Haring is the editor of the UkraineAlert blog at the Atlantic Council. She tweets @melindaharing.