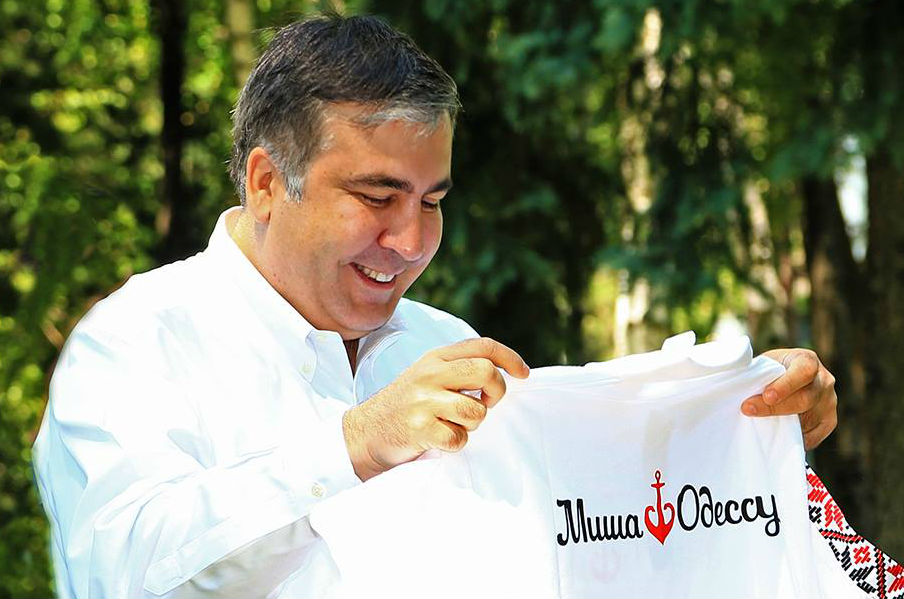 "I come away from this visit to Odesa with a sense of optimism," wrote US Ambassador Geoffrey Pyatt after his recent trip there. After I posted Pyatt's article to my Facebook page in an attempt to diminish the growing fatigue of fellow Ukrainians over the mixed results of the new government's reforms, angry reactions followed. Some said positive changes are only visible to Americans, while others ridiculed the unnecessary window dressing and recommended that we distinguish between the loud statements about combating corruption with quiet but real acts to diminish it.
Faced with profound economic difficulties and the government's slow progress with reform, Ukrainians are critical of everything the government is trying to achieve. Day after day, contagious Internet memes paint a picture of doom and gloom, adding to the growing disillusionment with the Euromaidan. But it's too soon to lose faith, and it's time to look south.

Fifty days after Mikheil Saakashvili's appointment as Governor of the Odesa region and after much speculation that his appointment was risky, it is high time to acknowledge his successful first steps. Not only did the former Georgian President succeed in breaking the old rules, he also established unprecedented standards of transparent administrative management, demonstrated openness to the needs of local residents, and proposed innovative ideas for eliminating endemic corruption.
Saakashvili deserves even more credit when one considers the difficulty of the task: Odesa is one of the most corrupt regions in Ukraine. Controlled by local, Russian, and international mafia, Odesa and its port had served as a transit point for drug dealers, money launderers, and traders all intent on evading taxes. Saakashvili also has to work with Odesa Mayor Gennadiy Trukhanov—a local businessman with ties to criminal groups and a former Party of Regions Member of Parliament—and keep Ihor Kolomoyskyi, the country's most powerful tycoon, in check.
For the last two decades, the central government didn't deal with local corruption. No real investigations against the local mafiosi at the Odessa Regional Customs Office or the Odessa Border Control Directorate were launched. Despite evidence collected after the Orange Revolution, the Yushchenko government squandered its chance to prosecute guilty people. Ihor Kaletnik, who served as head of the Odesa Black Sea Regional Customs Office under former President Leonid Kuchma, re-emerged like a phoenix on the political horizon after Viktor Yanukovych was elected President in 2010. Promoted to the position of State Customs Service chief, Kaletnik loyally served the "Yanukovych family" until he too fled to Russia. Yet, some of his best friends are still in town, and they don't have handcuffs on.
Unlike other regions where civil society activists assumed important positions in local government after the Euromaidan, Odesa remained largely unchanged. Local officials who served under Yanukovych retained their jobs and sidelined civil society activists, according to Anatoliy Boiko, the leader of the Odesa branch of the Committee of Voters of Ukraine.
At a time when the heroism and romantic energy of the Euromaidan has started to evaporate, giving way to cynicism and doubt, Saakashvili's decision to replace the old guard in local government posts with many new and mostly young faces is a refreshing move. Saakashvili constantly speaks about the need to propel the most talented individuals to top government posts and empower them with real decision-making powers, and he's doing it.
One of Saakashvili's first decisions was to make Yulya Marushevska—the civic activist who rose to prominence after her Youtube video "I am a Ukrainian"—his deputy and head of the new Odesa Investment Agency. He also invited Maria Gaidar, the daughter of former Russian Prime Minister Yegor Gaidar, to serve as adviser for social reforms. Gaidar's appointment is meant to demonstrate to Russian citizens that Ukraine is an open, democratic society and that it is eager to work with liberally minded neighbors.
Marushevska is boldly re-establishing law and order on Odesa's beaches. Illegal land grabs and the nontransparent distribution of beach plots has been a long-standing problem. Marushevska opened investigations into the legality of land-sale decisions and pledged to remove numerous concrete walls that had been built to separate "private" beaches from the public eye. On July 20, Saakashvili announced that a beach previously controlled by an unnamed Kyiv oligarch has been made available to everyone.
Saakashvili plans to cut the 800-member staff of the Odesa Oblast State Administration by half. He also plans to replace all 26 heads of the local district administrations and announced an open call for candidates to apply. An independent commission comprised of international experts has interviewed 2,700 candidates for regional administrative posts and shortlisted thirty for final appointments.
His first, truly unprecedented move as Governor was to hold a strategic planning session on June 14 in partnership with the civic movement Nova Kraina ("The New Country"). More than 700 civic activists from across Ukraine came to Odesa to discuss regional reform. The tone of the session was respectful, which demonstrates the vibrancy of Ukraine's civil society and Saakashvili's eagerness to listen.
Days later, Saakashvili held a second meeting with civil society organizations, at the initiative of the International Renaissance Foundation (IRF, the local name of the Soros Foundation), an active promoter of reform in Ukraine. IRF and Saakashvili signed a partnership program to involve civil society in jointly monitoring local tenders, investigating corruption cases, and auditing local budgets.
Police reform is also on Saakashvili's agenda. In partnership with Eka Zguladze, Ukraine's Deputy Minister of Interior, Saakashvili has promised to launch a new police service in Odesa by the end of August 2015. Like Kyiv's new police, young men and women with untainted reputations and uncompromising positions on corruption will staff the Odesa force.
Saakashvili also hopes that Ukraine's Deputy Prosecutor General David Sakvarelidze will replace all local prosecutors and customs officers through a transparent, competitive process.
The newly appointed Chief of the Odesa Oblast Interior Department, former Deputy Minister of Interior of the Republic of Georgia Gia Lortkipanidze, started three weeks ago. He has already opened the first criminal cases against local policemen, who have been charged with taking bribes.
Saakaskvili hates red tape, often because it leaves room for small-scale corruption, and his government combatted it in Georgia, in part, by setting up one-stop administrative shops. He plans to do the same in Odesa by the end of 2015. The new center will guarantee the efficient delivery of everyday services such as preschool registration, business registration, and birth certificates.
But the most radical steps are yet to come. On July 19, Saakashvili announced that he had enough evidence to implicate Kolomoiskyi in tax evasion and money laundering. "That is why he [Kolomoiskyi] is so nervous. Because he knows it is impossible to buy or intimidate me… But it is high time for him to acknowledge a simple fact—he did some good things for Ukraine, now it's time to calm down and start paying taxes to his country." Saakashvili's rhetoric, if supported by real action, will demonstrate his readiness to rein in the region's oligarchs. At the same time, he cannot engage in selective justice and abstain from investigating corruption within the Odesa Municipal Administration. So far, Saakashvili hasn't criticized Odesa's notorious mayor, but he should take a clear position to demonstrate consistency.
Saakashvili may be ahead of his time. Sadly, some of his revolutionary ideas won't see the light of day in Odesa because they are contingent on parliament passing some additional laws. If parliament doesn't adopt these laws in the next three to four months, Saakashvili may ask Ukrainian President Petro Poroshenko to establish a "special zone" in Odesa, where some national laws won't apply, enabling him to boldly experiment and create additional incentives to attract foreign investors. But if Poroshenko refuses, Saakashvili's hands will be tied. At that point, he may decide to preserve his position and pretend that everything is OK and that slow reforms are underway. Or, in keeping with his frenetic character, he may demand more powers from the President to see quick results.
Whatever the outcome, it is difficult to disagree with Saakashvili, who maintains that the patron-client networks of highly bureaucratized and inefficient state apparatuses cannot be changed from within. They can only be changed by innovative professionals, capable of breaking the old rules and imposing new rules on the system. Otherwise, the revolution will simply devour its own, as it did after previous attempts to bring democracy to Ukraine.
Kateryna Smagliy is the Director of the Kennan Institute's Kyiv Office.