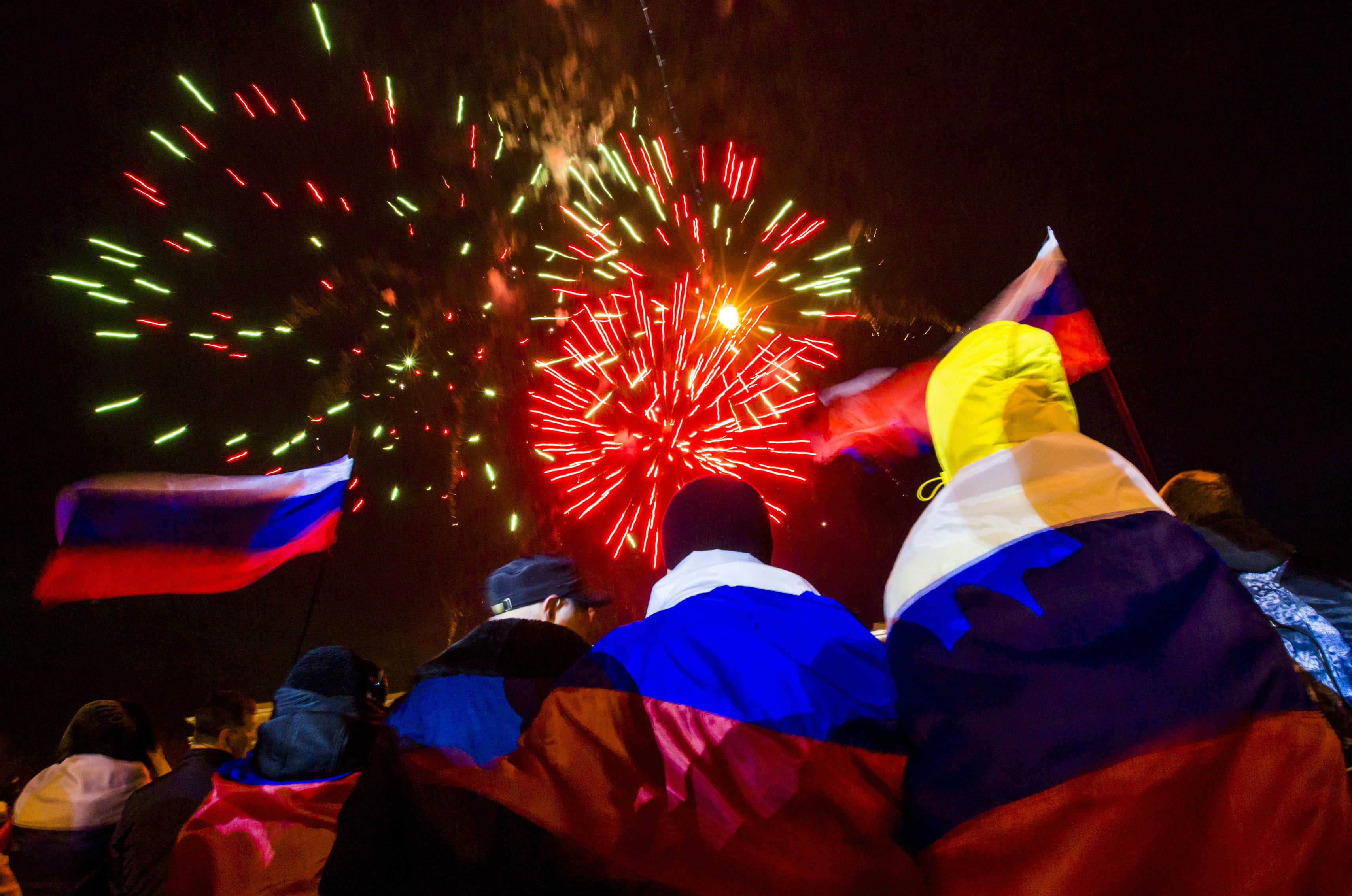 Two years ago on March 16, Crimeans voted in a sham referendum for Russia to annex Crimea. Has life improved for the approximately two million people who live there?
Not at all. On every measure, from the economy to its treatment of minorities, the beautiful peninsula has become a shell of what it once was.
The economic situation in Crimea is desperate. Tourism, one of the peninsula's main economic engines, took a serious nosedive in 2014, when Crimea received fewer than three million visitors—half the number who vacationed there in 2013. That is because Ukrainians made up the largest portion of tourists in Crimea prior to annexation. But for political and economic reasons, many now choose not to go. The Russian tourists who were supposed to flood into Crimea never came.

Crimeans have experienced a sharp decline in their standard of living. Western sanctions prevent European and American companies from operating on the peninsula, cutting into potential revenue and jobs from foreign investment. The Ukrainian government has imposed restrictions on trade with Crimea as well. Since switching to the Russian ruble, Crimeans have been subject to that currency's massive depreciation, from an exchange rate of about 35 rubles per dollar in 2014 to 70 rubles per dollar today. While Crimeans' pensions under Russian occupation may be nominally higher, their rubles have lost more than half of their purchasing power.
The situation for the peninsula's minorities is even worse. Russian authorities have forced Crimean Tatars to become Russian citizens and curtailed their freedoms of speech, language, education, and residence—as well as their right to a fair trial. The new authorities have shut down Tatar language media, and Tatar leaders face harassment, detention, and threats to their lives. Now, Russia appears ready to outlaw the Crimean Tatar Mejlis, the representative body of the largest indigenous people of the peninsula. "They're stepping up repressive measures against Crimean Tatars," Kharkiv Human Rights Protection Group analyst Halya Coynash said in a March 15 interview.
There's "huge pressure on religious communities," Taras Berezovets, founder of Free Crimea, said in a May 2015 interview. After Crimea's annexation, the FSB raided homes, mosques, schools, and churches, forcing religious leaders to flee. Russia extended its stricter laws regulating religious activity to the peninsula. The new authorities have issued a legal order putting all mosques under the control of the Mufti Office of Crimea, while establishing the Mufti Office of Tavriya, reportedly a political organization with close ties to Russia.
Crimean Tatars aren't the only ones facing persecution. After annexation, the first wave of repression targeted mainly pro-Ukrainian activists and Crimean Tatars, while Ukrainians and Russians were the Kremlin's victims in 2015.
Between the 2001 and the 2014 census, the number of people identifying as ethnic Ukrainian in Crimea declined from 24 to 15 percent. Many moved to the mainland, while others feared identifying themselves as ethnic Ukrainian in occupied Crimea.
In March 2015, Russia's FSB charged Crimean journalist Andrii Klymenko with challenging the annexation's legitimacy and threatening Russian sovereignty by writing a report that was published by the Atlantic Council and Freedom House. The report showed how Russia's occupation and annexation of Crimea has unleashed an ongoing chain of human rights violations across the peninsula. Under Article 280 of Russia's criminal code, Klymenko faces up to five years in jail. As a result, Klymenko cannot visit Crimea, where his parents are buried. Nor can he enter Russia or any territory the Russian Federation controls without risking immediate arrest. Klymenko's case is emblematic of a broader pattern of human rights abuses and freedom of speech violations that take place in Crimea on a daily basis.
The Russian authorities have clamped down on all independent media. In 2015, numerous journalists and activists were arrested and harassed. All voices of dissent—journalists, academics, and artists—face harassment, trumped up criminal allegations, and accusations of being "undesirables" under Russia's foreign-agent law, which stipulates that all media (including Internet sites) register as foreign agents if they receive any non-Russian support. This effectively opens all independent media up to expulsion. Any actions "violating Russia's territorial integrity," such as peaceful protests or social media posts challenging the annexation, are subject to criminal persecution. Consequently, Crimea has become an information vacuum.
Human rights and freedom of expression in Crimea today are more tightly restricted than in Russia, where the Kremlin cannot exert the same level of control. For Russian President Vladimir Putin, Crimea is nothing more than a domestic propaganda tool, a military asset for exerting influence in the Black Sea, and a potential bargaining chip for his geopolitical chess game with the West. The Crimean people are the main victims of this game.
Melinda Haring is the editor of UkraineAlert at the Atlantic Council, and Alina Polyakova is the deputy director of the Atlantic Council's Eurasia Center.