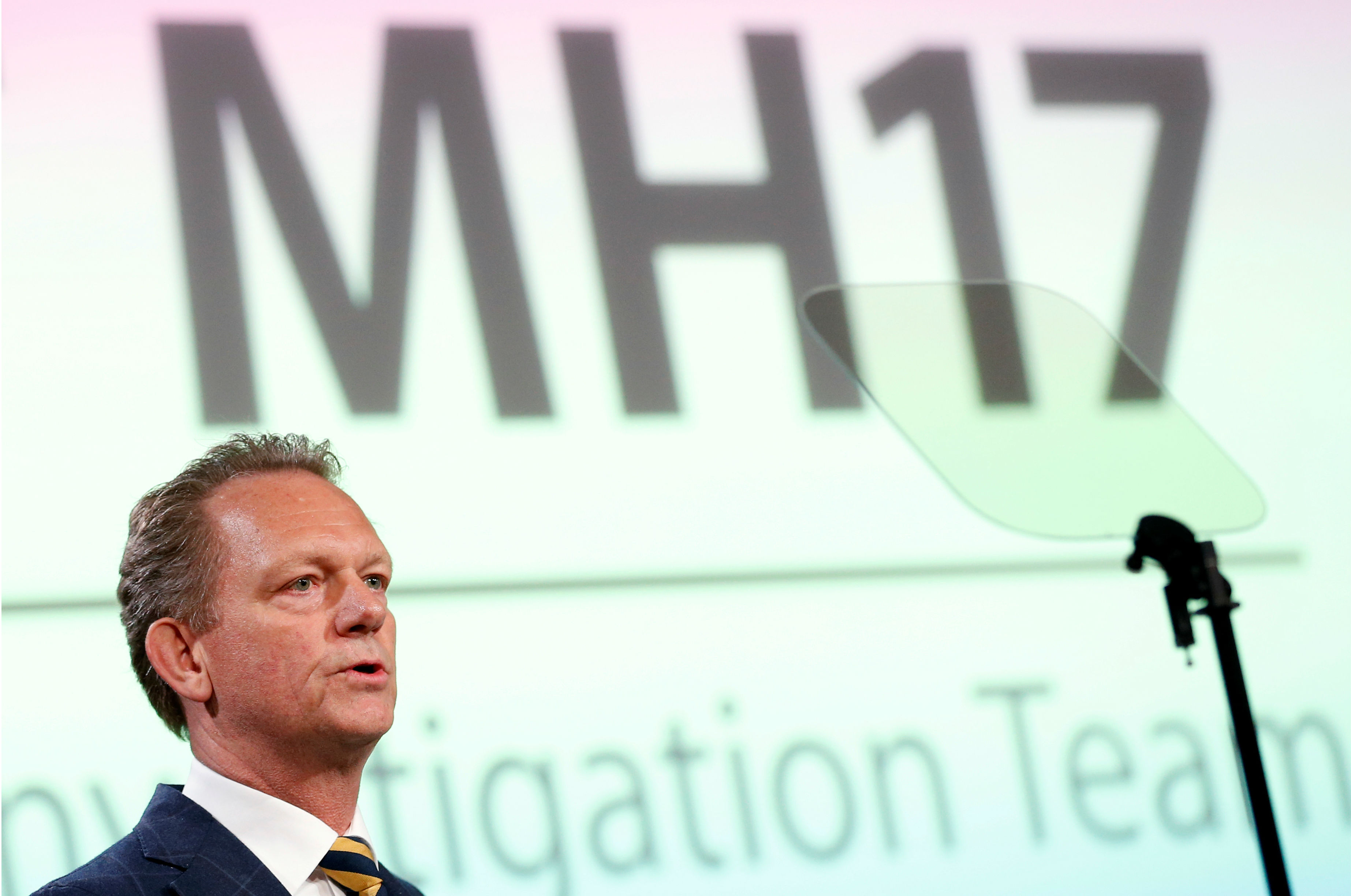 The noose is finally closing on the people and structures behind the downing of Malaysia Airlines Flight 17.
Almost four years after the Amsterdam to Kuala Lumpur-bound flight was shot down by a BUK missile over Ukraine, a clearer picture is emerging on the origin of the missile, its route to the firing zone in eastern Ukraine, and its return to base in western Russia.
On May 24, the Dutch-led Joint Investigation Team (JIT)—citing forensic and intercepted evidence—said the missile originated from the base of the Russian Federation's 53rd anti-aircraft brigade in Kursk, not far from the Ukrainian border.
The JIT found that "all the vehicles in a convoy carrying the missile were part of the Russian armed forces."
And in a separate investigation undertaken by the citizen journalism group Bellingcat and released today it was revealed that one of the key suspects is high-level Russian intelligence officer Oleg Ivannikov, who previously served as the Minister of Defense of South Ossetia.
The JIT findings were welcomed by families who lost relatives on MH17. Jordan Withers, who lost his uncle Glen in the crash, said: "This information is the most significant information we've had since 2016 that it was a BUK missile that downed MH17. It does help because now we know who—or we are closer to knowing who—but we don't know why and what obviously needs to follow is justice for those involved directly…every family member is just looking for closure."
As more evidence is revealed, it seems that the Russians adopted an almost cavalier attitude in the transport of the BUK missile. Normally Russian Federation vehicles entering rebel-held areas of eastern Ukraine have their identifying numbers and insignia painted over. But sloppy concealment of identification numbers on the BUK launcher helped investigators trace the weapon back to the 53rd brigade.
It's also clear that technology played an enormous role in solving the case. Investigators used evidence from photos posted on social media, geo-location data, intercepted mobile phone calls, and even Google Street View. The convoy is said to have included about fifty vehicles, drawing plenty of attention along its route and snarling traffic in some places. That gave ordinary citizens enough time to snap photos and post them on social media. Even members of the 53rd brigade unwittingly assisted the work of investigators by posting photos of their base and the equipment on social media.
On May 24, I was asked on CNN International whether the missile could have been handed over to rebels in Donetsk for their use. Having been at the crash site about twenty-four hours after the plane was downed, I and other international observers saw rebel leaders who were jittery and disorganized. Their command structure was obviously haphazard. For them to use this sophisticated piece of technology without outside help would have been beyond belief.
In a separate development, the JIT said it had narrowed down the list of suspects to a few dozen—down from the 100 or so from its September 2016 press conference. A source told me that the Dutch have collected far more evidence on Russian involvement that cannot yet be made public.
Of course the big question the grieving families are asking is what happens next and when will those responsible for this heinous crime be brought to justice.
Said one young woman who lost her husband in the crash: "It feels like it's never ending. I just want those to blame to take responsibility and say sorry." Her sentiments echo those of many other relatives I spoke to at the unveiling of the MH17 commemorative monument and park last year near the Amsterdam airport.
Since the Netherlands has assumed jurisdiction over the case, it is expected to establish an international court similar to the one established after the downing of Pan Am 106. But before that happens suspects will have to be subpoenaed and requests for extradition issued. However, Russia does not give its citizens up for trial, which means that most suspects will need to be tried in absentia. One American lawyer representing several families before the European Court of Human Rights told me that the Dutch are prepared to try "empty chairs" should Russia refuse to extradite suspects.
With the Kremlin continuing to deny involvement in the tragedy—opting instead to point the finger at Ukraine—it is highly unlikely to admit culpability. That means the international community will need to be prepared to hit back hard with punishing sanctions far beyond the expulsion of diplomats or closing of consulates. Anything less would signal to state sponsors of terror that such outrageous crimes can be committed with impunity.
Michael Bociurkiw is a Global Affairs Analyst and former spokesperson of the OSCE's Special Monitoring Mission to Ukraine.