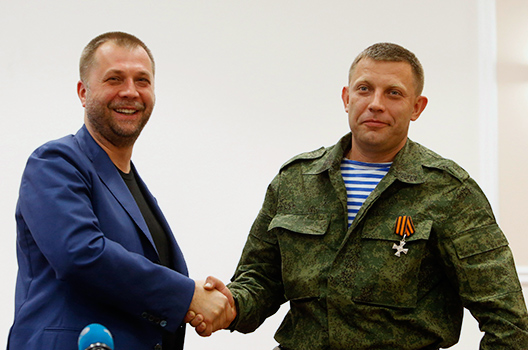 Separatists Show No Unity Under New Donetsk 'Prime Minister,' Kremlin Paper Says
The Kremlin and its proxy rebellion in southeastern Ukraine seemed to recognize last week that as a supposedly Ukrainian uprising, it should have a titular Ukrainian leader, rather than a Moscow-based Russian ultra-nationalist with ties to the Kremlin. So after three months as "prime minister" of the "Donetsk People's Republic," the Russian, Alexander Borodai, resigned in favor of a local militia leader, Alexander Zakharchenko.
But as the rebels fight an escalating battle against the Ukrainian army's siege of the city of Donetsk, it was unclear this weekend just what loyalty Zakharchenko commands. The rebels' two most powerful militia leaders have failed to publicly recognize him as their commander, and their willingness to do so is "an open question," the Kremlin-controlled Russian daily, Komsomolskaya Pravda, said Sunday. Tensions among the separatists, and changes in their leadership, have increased in the five weeks since a re-invigorated Ukrainian military has seized the majority of the territory once held by the rebels and encircled the city of Donetsk.

Zakharchenko, thirty-eight, is a leader of a Russian nationalist organization called Oplot (which can be translated as "Pillar," "Bulwark" or "Support"), established in 2010 to support families of fallen policemen and military veterans. The group venerates the Soviet military, particularly its role in World War II, and Zakharchenko has led its militia, one of the three or four most prominent in Donetsk city.
Ukrainians and Western governments have repeatedly pointed to the rebellion's Muscovite leadership as a part of the evidence that it is being run from Moscow. Borodai argued for months that, in the nationalist cause of reunifying "lost" provinces to Great Russia, it didn't matter whether locals were included among the rebellion's leaders. Last week, introducing Zakharchenko as the new leader, he reversed that position: "I am a Muscovite," he said, and "Donetsk should be led by a genuine Donetsk native."
Last month, the Kremlin reinforced its effort to control the rebellion with its most experienced hand in Moscow's semi-covert wars to hobble the independence of Russia's former Soviet colonies. That officer, former KGB Lieutenant General Vladimir Antyufeyev, arrived in Donetsk as "deputy prime minister for state security." Since the Soviet collapse, Antyufeyev has helped lead Russia's violent campaigns to dominate Latvia, Moldova and Georgia, notably by running the Russian-backed leadership in Transnistria, the Russian-held enclave in Moldova.
Alongside the imported Russians – Antyufeyev, Borodai, and Russian army Colonel Igor Girkin – the Donetsk rebel leadership has lacked any credible local face. Days after Antyufeyev's arrival, the rebellion's senior Donetsk-based figure, Denis Pushilin, flew to Moscow and sent back word of his resignation as chairman of the rebel-declared state's Supreme Soviet, or ruling council. Pushilin fled after two of his aides were killed weeks earlier in apparent assassination attempts targeting him. He has not been sighted in public since.
The other Donetsk resident in the nominal leadership, Pavel Gubarev, a former advertising company employee and Santa Claus-for-hire, has been the titular "governor" of the republic. But he has shunted aside to give poetic, morale-boosting talks on the rebels' television station.
"Zakharchenko is just a prop," in his new role as prime minister, said Oleksiy Matsuka, the chief editor of the Donetsk-based website Novosti Donbassa. The rebellion's Kremlin backers "turned to Zakharchenko because it finally dawned on them that all the leaders of the DPR [Donetsk People's Republic] were Russians and they needed someone who was actually from Donetsk," he said in a phone interview.
Zakharchenko describes himself as an electrical engineer by profession. He has been a leader of Oplot, which was based in the eastern city of Kharkiv, north of the rebel zone, and last winter conducted a series of attacks on the pro-democracy demonstrators who massed at Kyiv's Maidan Nezalezhnosti to press for an end to corruption and a European future for Ukraine.
Zakharchenko's Oplot militants are among three or four distinct militias that form the rebels' forces. The Moscow-based former Russian army colonel, Igor Girkin, uses the pseudonym "Strelkov," or "shooter," and leads a force popularly known as the Strelkovtsev. A militia prominent in Donetsk city is the Vostok Battalion, headed by Alexander Khodakovsky, a Donetsk native. Another militia visible in the city and environs is called the Russian Orthodox Army.
As Komsomolskaya Pravda's correspondent in Donetsk analyzed Zakharchenko's promotion yesterday, he wrote that it remains unclear whether Zakharchenko will be able to unify the rebel command. The rebels' military leadership has been a "Council of Field Commanders" from Oplot, the Strelkov forces and the Vostok Battalion, the paper said. "Will Igor Strelkov ('Strelkovtsy') and Alexander Khodakovsky ('Vostok') agree to recognize Zakharchenko as their commander?" Komsomolskaya Pravda asked. "It's unknown. They have not yet given any statements on this point."
Irena Chalupa covers Ukraine and Eastern Europe for the Atlantic Council.