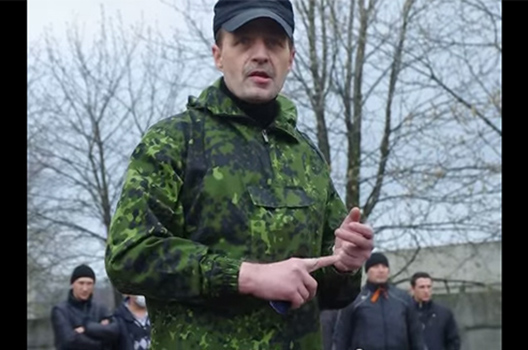 Lieutenant Colonel Igor Bezler Leaves as Ukrainian Troops Advance, His Hostage Says
As Ukraine's army advances against the Russian proxy forces in southeast Ukraine, it has forced one of the rebels' most prominent and brutal commanders, former Russian army Lieutenant Colonel Igor Bezler, out of his headquarters. Ukrainian troops and Bezler's rebels fought battles at Horlivka yesterday, and Bezler left the city, turning his command over to one of his lieutenants, said Vasyl Budik, a local businessman who has spent the past three months as Bezler's hostage – and, at times, his spokesman.

Bezler's departure from Horlivka is being reported by Ukrainian media as his escape from the city, a move that would mark a further setback for the rebels. In any case, the arrival of Ukrainian troops at Horlivka – a satellite city about twenty miles northeast of Donetsk, the region's metropolis – shows that they are severely constricting the rebel-held zone. Situation maps published online since yesterday by pro-Ukraine activists suggest that Ukrainian forces have cut the zone in two.
Since the Russian-backed rebels seized parts of southeast Ukraine's Donbas region in early April, Bezler has been one of their most prominent commanders, known for seizing hostages and – in recent days – for the Ukrainian intelligence agency's release of a telephone call in which it says Bezler is heard reporting to Russian military intelligence on the shooting down of Malaysian Airlines Flight 17. Bezler – a wiry, moustached 49-year-old in camouflage uniforms – has cultivated an image of discipline and brutality. He has published a stream of videos showing off him barking orders and enforcing strict control over Horlivka, including a mock execution of Budik and another hostage. He uses the nom de guerre "Bes," meaning "demon" in Russian.
The Security Service of Ukraine (SBU) has published tapes and transcripts of Bezler's phone calls during the war to other Russian officers in Ukraine and Russia, including Colonel Igor Girkin, the rebels' overall commander, with whom Bezler worked closely. Ukraine's government says Bezler has been operating at the instruction of Russia's military intelligence agency, the GRU. In April, it published transcripts of intercepts it said recorded Bezler discussing his abduction and the subsequent murder, of Volodymyr Rybak, a Horlivka city council member who had opposed the rebels and tried to remove their flag from city offices.
Born in Crimea under the Soviet Union, Igor Nikolayevich Bezler served in the Soviet and Russian armies, specifically, the SBU says, as a military intelligence officer. Bezler neither confirms nor denies reports that he fought in the 1980s Soviet war in Afghanistan and in Russia's 1990s wars to defeat the independence movement in Chechnya. Amid the Soviet Union's collapse, Bezler took Russian citizenship, but after leaving the army moved to Horlivka where, Russian news websites have reported, he worked as a security officer at a tractor factory and as a funeral home director.
This year, as Russia prepared its invasion and annexation of Ukraine's Crimean Peninsula, Bezler joined other Russian army veterans in organizing the takeover, the SBU has said. When the Russian proxy forces began their attacks in Donbas, Bezler returned to the city where he had been living to seize control of it with his militia fighters.
During his rule over the city, Bezler held a clutch of hostages – seventeen at the most recent count, Budik said in several telephone or Skype interviews – whom he intended to use as bargaining chips in negotiations for the release of his allies arrested by Ukrainian authorities. Budik was one of those.
With Bezler's reported flight from Horlivka over the weekend, the hostages were left guarded by one of the commander's lieutenants, their situation uncertain amid the fighting in the city, Budik said.
Irena Chalupa covers Ukraine and Eastern Europe for the Atlantic Council.