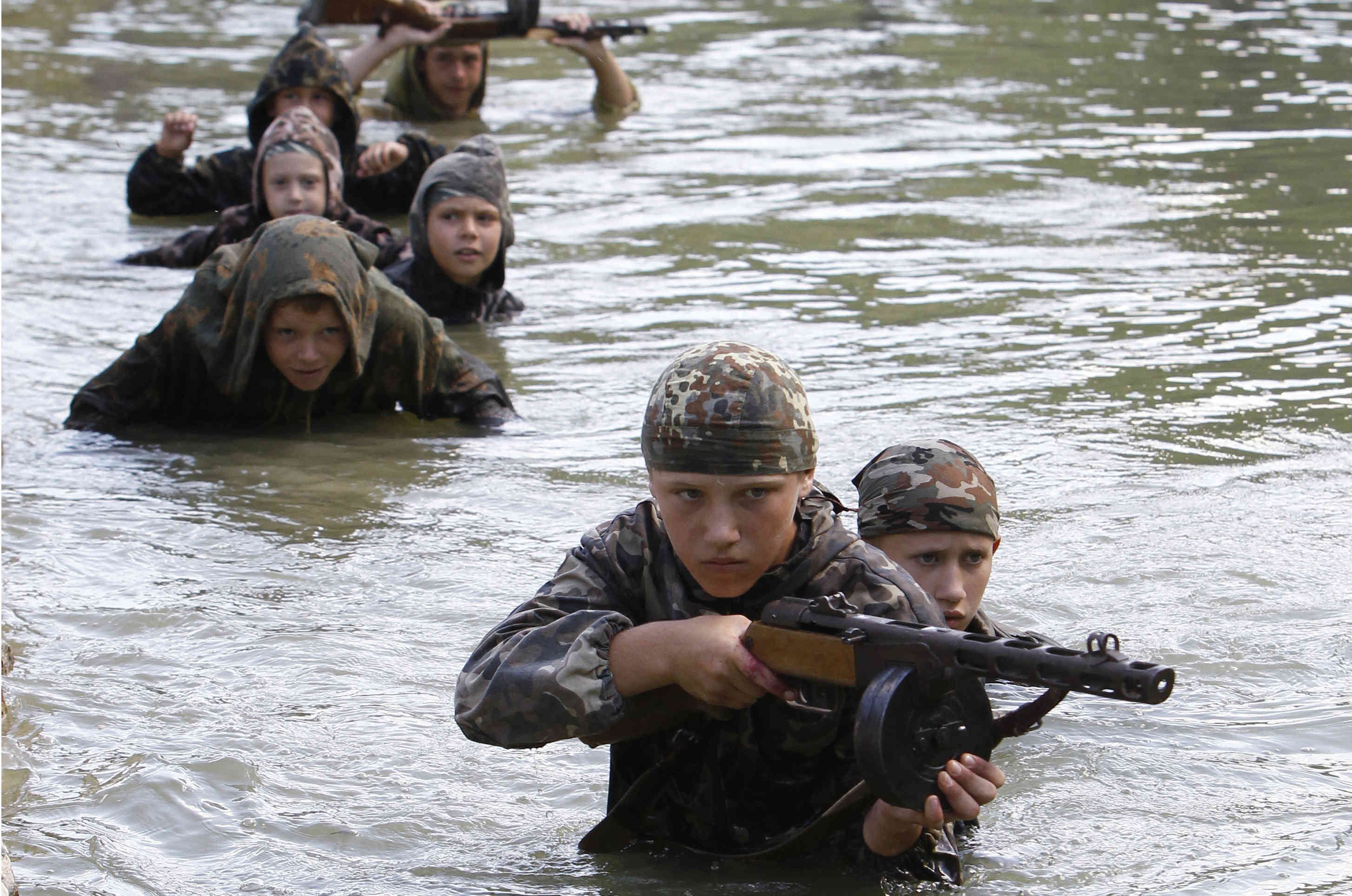 Anxious about losing ground to Western influence in the post-Soviet space and the ousting of pro-Russia elites by popular electoral uprisings in the early 2000s, the Kremlin has developed a range of proxy groups in support of its foreign policy. This network of pro-Kremlin groups promotes the Russian World (Russkiy Mir), a flexible tool that justifies increasing Russian actions in the post-Soviet space and beyond. Russian groups are particularly active in Georgia, Moldova, and Ukraine—countries that have declared their desire to integrate with the West.
Russia employs a vocabulary of "soft power" to disguise its "soft coercion" efforts aimed at retaining regional supremacy. Russian pseudo-NGOs undermine the social cohesion of neighboring states through the consolidation of pro-Russian forces and ethno-geopolitics; the denigration of national identities; and the promotion of anti-US, conservative Orthodox, and Eurasianist values. They also aim to establish alternative discourses to confuse decision-making, and act as destabilizing forces by uniting paramilitary groups and spreading aggressive propaganda.
The activities of these proxy groups—combined with the extensive Russian state administrative resources and security apparatus, as well as the influence of the Russian Orthodox Church, pro-Russian elites, mass culture, and the media—may seriously damage fragile political transitions and civil societies in the region.

Three distinct tiers can be identified within the Kremlin's system of agents. The first tier is made up of major state federal agencies, several larger state-affiliated grant-making foundations, and a few private charities linked to Russian oligarchs. The second tier comprises a smaller circle of implementing partners and their local associates that are funded by state foundations, presidential grants, or large companies loyal to the Kremlin. The third tier is formed of groups that share the Kremlin's vision for the neighborhood but work outside formal channels.
The first tier
The main state agency targeting Russian-speaking communities globally is the Federal Agency for the Commonwealth of Independent States, Compatriots Living Abroad, and International Humanitarian Cooperation (Rossotrudnichestvo). Established in 2008, it acts as an umbrella organization for a network of Russian compatriots and funds public diplomacy projects. It operates a network of sixty Russian Centers of Science and Culture and twenty-five representative offices in Russian embassies, and employs 600 people internationally. Compared with, for example, the British Council, which has offices in 100 countries and 8,700 employees, this may seem a small presence, but Rossotrudnichestvo plays an active political role in Russia's foreign policy by consolidating the activities of pro-Russian players in the post-Soviet region and in disseminating the Kremlin's narrative. In line with the new Concept of International Development Assistance, which was signed by Russian President Vladimir Putin in 2014, Rossotrudnichestvo was officially given a flagship role in developing Russia's soft power. All international aid, which was previously managed by the Ministry of Finance, is now channeled through the agency. As a result, its budget in 2014 increased by 50 percent, to R3 billion ($95.5 million).
Russia's private sector also supports the Russian World by investing in the promotion of conservative and Orthodox values both in Russia and abroad. Known as "Orthodox oligarchs" figures such as Konstiantin Malofeev, the founder of Marshall Capital, and Vladimir Yakunin, formerly head of Russian Railways, have poured substantial funding into their private charities to do so.
Malofeev's Foundation of Saint Vasily is one of the largest private foundations in Russia. In 2014, it spent more than R1.1 billion ($17 million) on projects mostly in Russia. In August 2014, Malofeev launched his own TV channel, Tsargrad TV, broadcasting a mix of religious, ideological, and nationalistic rhetoric.
The second tier
The second tier comprises a smaller circle of implementing partners and their local branches in the region and includes youth groups, think-tanks, and smaller foundations, associations of compatriots, and Cossack and military veterans' groups.
One example is the media schools in the Caucasus and Central Asia that promote Russian standards in journalism and emphasize the Russian line on the war in Ukraine. Their events feature journalists from RIA Novosti, Russian Reporter, and Russia Today (RT). For example, the New Wave, a training for young people from Armenia, Azerbaijan, Georgia, Kazakhstan, Lithuania, and Transnistria featured a lecture entitled "Censorship as an instrument for media freedom," and professional advice from the president of the board of Izvestia.
The third tier
The Kremlin's third tier of agents promote an ultra-radical and neo-imperial vocabulary, and often run youth paramilitary camps in the region.
Russia's most prominent contemporary Eurasianist, Aleksandr Dugin, is no longer regarded as a "fringe" intellectual. His ambition is to influence political circles and shape a new generation. He set up the International Eurasian Movement (IEM) in 2003, and the Eurasian Youth Movement in 2005. The IEM has members from twenty countries in the EU and among the former Soviet states. Dugin's online news resource, the Russian World of Eurasia, is funded by presidential grants. Beyond the post-Soviet space, Dugin is trying to create a network of pro-Kremlin supporters in Croatia, France, Greece, Hungary, Italy, Romania, Poland, and Serbia.
Russia's ultra-nationalist and neo-imperialist intellectual groups are complemented by paramilitary bodies.
Russian Cossack networks, with a total of some 740,000 members, have been encouraged to cooperate with their counterparts in the post-Soviet space: Cossack units have opened chapters in Belarus, Kazakhstan, Kyrgyzstan, and Ukraine. They also run paramilitary youth camps in Armenia, Belarus, Moldova, Kyrgyzstan, and Ukraine. In 2013, for instance, the Tavrida Sich summer camp in Crimea taught 170 young people from Ukraine, Russia, and Transnistria how to shoot, fight, and some basic survival skills.
Does it work?
Russia's proxies demonstrably do have impact, especially where Russian-language media are prominent. They create ambiguity, and where they are portrayed as "genuine" civil society they claim part of the public space and promote a disruptive discourse. Their messages resonate among those who are nostalgic for the Soviet Union. For such audiences, Russia may still possess the soft power that can exploit residual Soviet sentiment. For radical nationalist movements and younger generations, they offer the narrative of a rising Russia and of a new pole of Eurasian civilization that is challenging the United States.
A more subversive function of Russia's proxies is manifested in their efforts to prepare the ground for separatism, and in mobilizing citizens around a pro-Russian agenda. Moreover, Russian proxy groups have a role to play in stirring opposition to governing elites in the former Soviet space to disrupt reform and moves toward integration with the West.
What should the West do?
Understanding the network of state-funded proxy groups is critical to countering their potential threat. The media needs to understand that spokespeople or commentators connected with Russia's proxy groups are not always "independent" experts. Russian state media operating abroad must be closely monitored for compliance with the broadcasting regulations of their host countries and, where necessary, sanctioned for violations. Watchdog organizations should challenge disinformation and launch professionally produced, authoritative information sources targeted at Russian-speaking populations. The activities of proxy groups in host countries should be closely monitored and closed down if they are deemed to undermine state sovereignty or represent a threat to territorial integrity.
Western pro-democracy foundations should focus on deepening the engagement of citizens in their programs and forge contacts with non-traditional local civil society actors such as cultural groups, religious charities, and parental associations. Strong, independent civil society organizations should identify specific parts of societies targeted by Russian propaganda and proxy groups, and promote efforts to connect more effectively and create depoliticized, neutral spaces as a forum for the expression of diverse views and to build consensus. Such transformative activities are critical to increasing social cohesion, building trust, and finding the common ground that could expedite reforms and result in more democratic societies. There's no time to waste, as the West should not take nascent democracies and open space for civil society for granted.
Orysia Lutsevych is manager of the Ukraine Forum in the Russia and Eurasia Program at Chatham House. This article has been excerpted and edited from her April 2016 report, "Agents of the Russian World: Proxy Groups in the Contested Neighborhood."