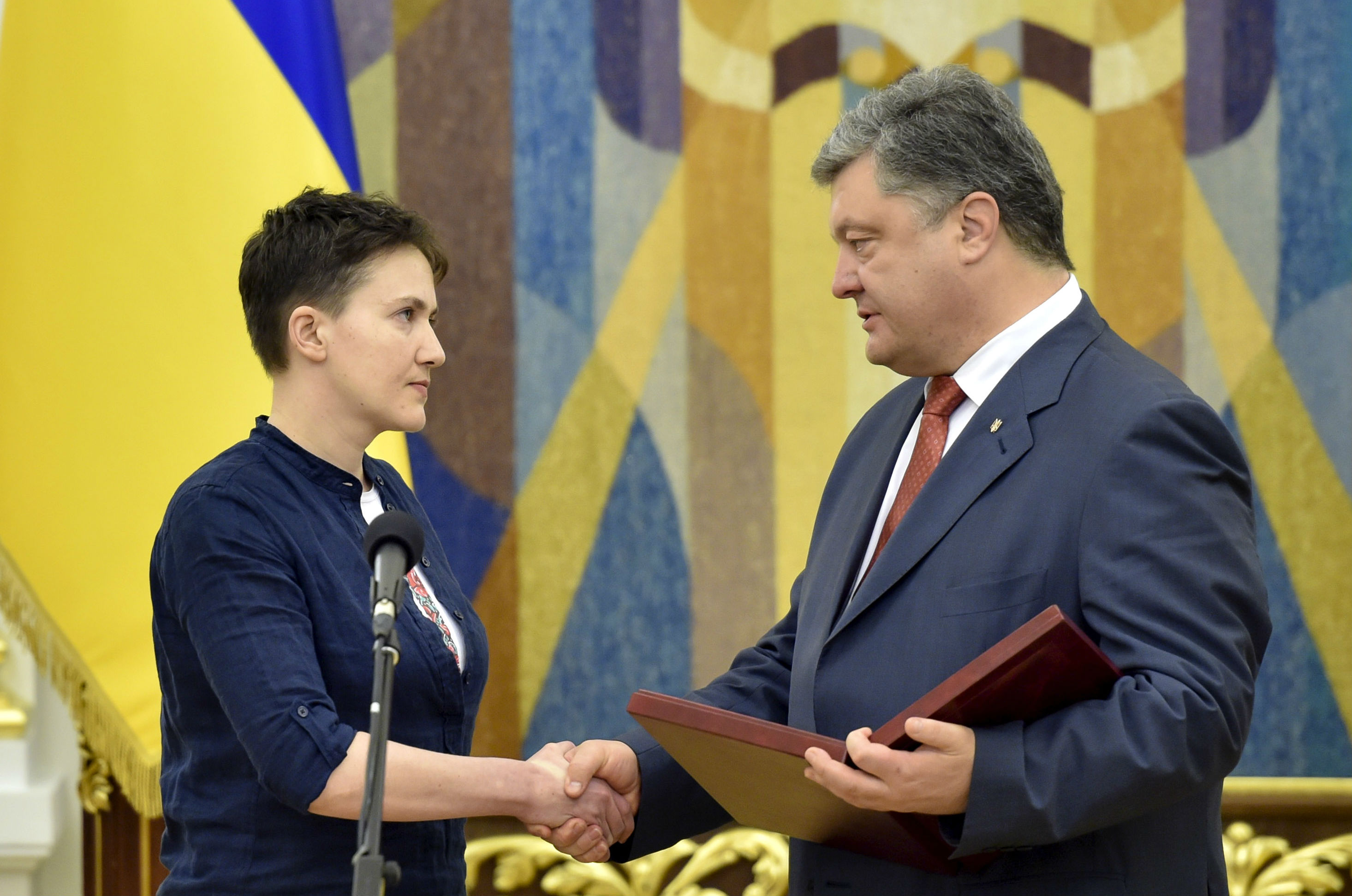 "I've been in a prison cell for two years, I'm not used to people, so I am sorry if I sound harsh," said Nadiya Savchenko as throngs of journalists and well-wishers crowded around her at Kyiv's Boryspil airport on May 25.
Captured in Ukraine, transferred secretly to Russia where she was tried and sentenced to twenty-two years in jail for complicity in the death of two journalists, Savchenko arrived home as part of a prisoner swap for two Russian officers, Yevgeny Yerofeyev and Aleksandar Aleksandrov, who were captured and tried in Ukraine.
Thanking everyone who had worked for her release, Ukraine's warrior princess reminded everyone that she was still a soldier. Claustrophobically surrounded by people on all sides, she turned in a circle as she expressed her condolences to those mothers whose sons did not come home and promised to help free those who are still being held in Russian prisons.
Savchenko's first statement to Ukrainians was quite literally shouted. Dressed in jeans and a white t-shirt adorned with the Ukrainian trident, Savchenko, no stranger to cameras or media attention during her much covered trial, seemed uncomfortable with all the attention and unspoken expectations directed at her.

Among those who greeted Savchenko at the airport was former Ukrainian Prime Minister Yulia Tymoshenko, a staunch critic of current Ukrainian President Petro Poroshenko. Savchenko is a member of the Ukrainian parliament elected on Tymoshenko's Batkivshchyna (Fatherland) party ticket. Many observers saw great symbolism in that first meeting of parliamentary colleagues and noted that while Tymoshenko was wearing Christian Louboutin pumps, Savchenko was barefoot.
Immediately after landing, Savchenko, her mother, and sister were whisked off to the presidential administration where Poroshenko presented her with the country's highest honor, the "Hero of Ukraine" award.
As Ukraine's president droned on about Savchenko's return, playing on her first name which means hope, the bearer of that inspiring name was clearly uncomfortable, sighing and fidgeting impatiently, as if she couldn't wait to get out of the gilded room where the ceremony was taking place.
As she shook Poroshenko's hand and accepted the award, she didn't thank him, her spine poker straight, standing at attention, she turned to the microphone and proclaimed, "I serve the Ukrainian people!"
Poroshenko clearly wanted to bask in the moment, seeking to portray Savchenko's release as an accomplishment for his administration. "We have returned Nadiya (Hope) to Ukraine, so we will return the Donbas and Crimea," he declared.
Before Savchenko's return, she was pardoned by Russian President Vladimir Putin, while in Ukraine, Poroshenko pardoned the two Russian nationals. Savchenko arrived to a hero's welcome; Yerofeyev and Aleksandrov were met at the airport by only their wives.
As I watched the live coverage of Savchenko's return, I flipped channels to see how other stations were covering her release. Channels controlled by Ukraine's richest oligarchs were broadcasting their regular programming.
Even before her release, she was the subject of much speculation; many opined that perhaps having someone as principled and honest as Savchenko would not be convenient for the cynical and corrupt Ukrainian political milieu. What would she do in the political circus that is Ukraine's parliament, they asked? One weekly magazine featured a serious Savchenko on its cover with the headline "The next president of Ukraine?"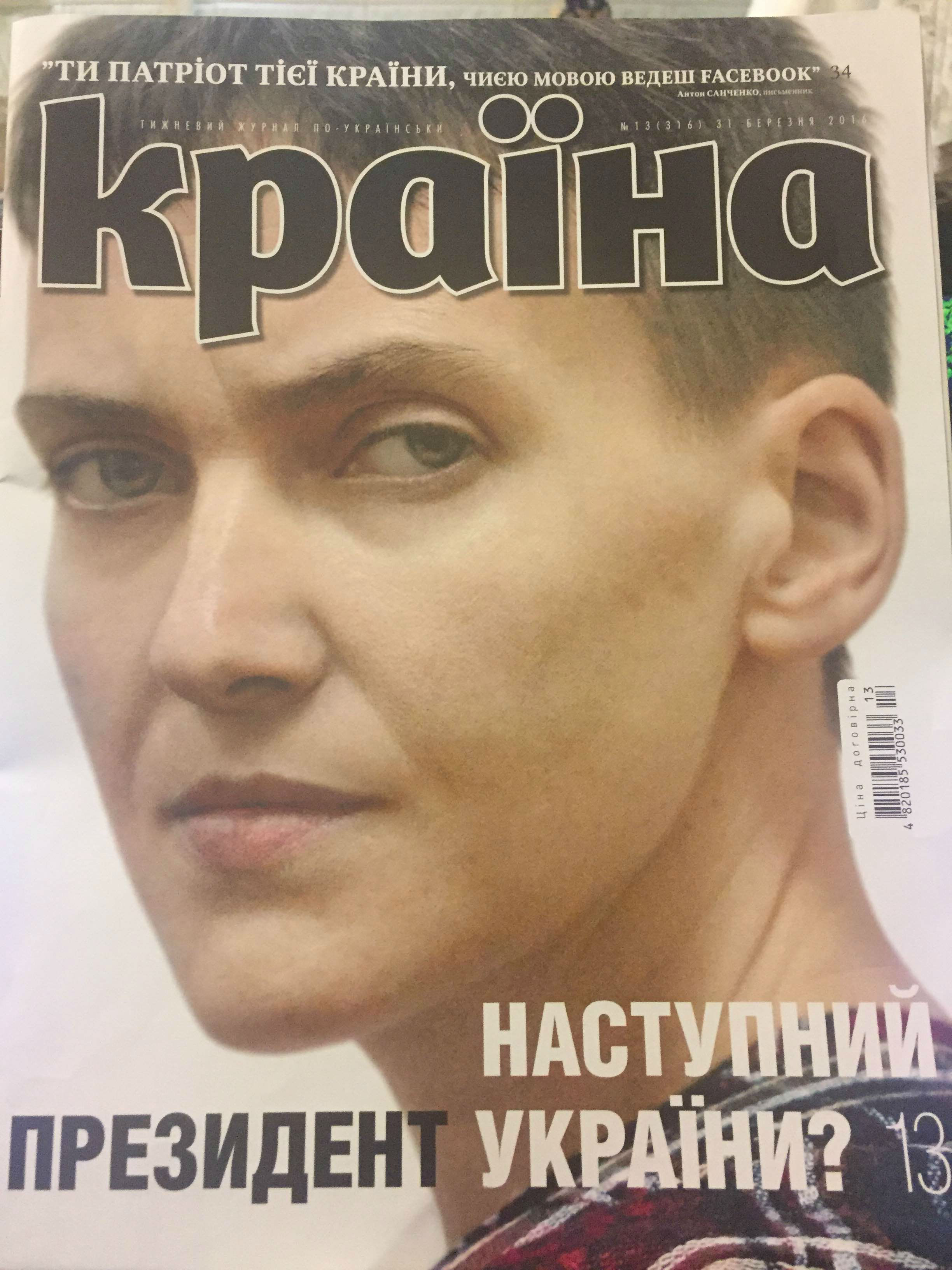 (Photo: Irena Chalupa)
Several commentators and bloggers immediately noticed that Savchenko was released on the second anniversary of Poroshenko's presidency. Was the release orchestrated to raise his falling ratings they asked?
In the early evening, I ventured into Kyiv hoping to find a celebration on the Maidan, perhaps some students or some of the many soldiers one sees so often in the capital these days. There were no celebrations to be seen.
A small group of people stood around a woman selling single cigarettes in the Maidan underground passage watching the evening news coverage of Savchenko's return. Are you glad she's back, I asked. "She's a hero, she did what she was meant to do," replied one man.
"She hasn't even begun to do what she is meant to do," countered the cigarette saleswoman as she looked at me intently.
The bar off a side street close to the Maidan frequented by journalists was empty save for a ginger-haired hipster and his young female companion, both giggling in a secluded corner as the solitary piano player banged out a melody from the film The Sting. It was a spring evening in Kyiv, breezy, light, with jasmine perfume wafting through the air. There was nothing special about it.
Savchenko was finally home, with her mother and sister, both of whom who had campaigned tirelessly for her release. I hope Ukrainians will give her time to regain her health and recover from the trauma of her imprisonment. For many in Ukraine, an imprisoned Savchenko was perhaps a more comfortable phenomenon to deal with than a free one. Now home, Savchenko will find that many will want to bask in her glory and all will want a piece of her. It remains to be seen how welcome Ukraine's warrior princess really is.
Irena Chalupa is a Nonresident Fellow at the Atlantic Council. For the 2015-2016 year, she is a Fulbright Scholar researching Soviet-era Ukrainian political prisoners.