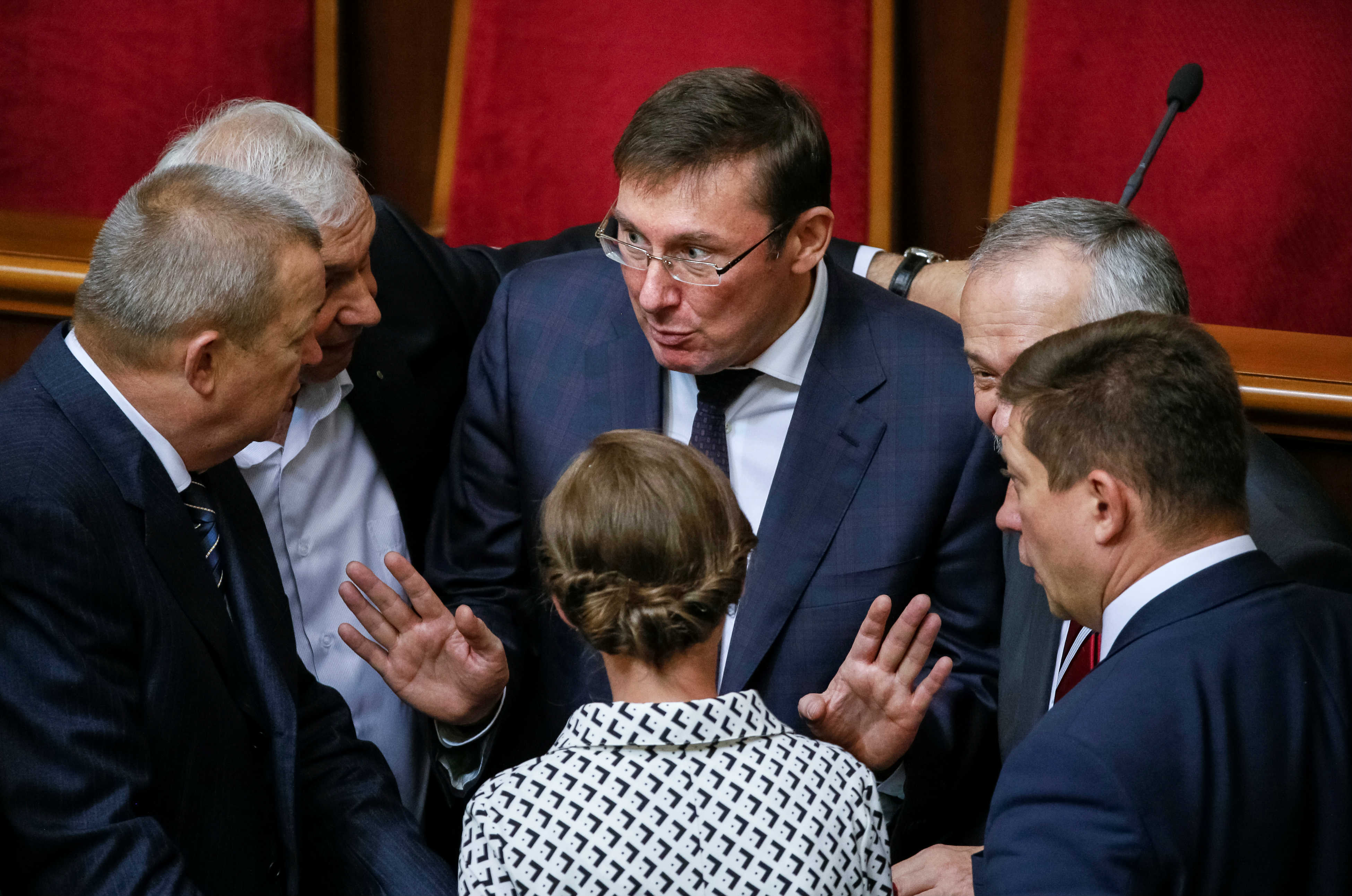 It is too early to draw firm conclusions, but Prime Minister Volodymyr Groisman's and Prosecutor General Yuriy Lutsenko's early moves indicate that Ukraine is still on the reform path.
There was understandable pessimism when Groisman assumed office in April with a new government that did not include the previous cabinet's strongest reformers. Critics also cast doubt on Lutsenko's appointment, pointing out that his absence of a legal background was unusual and required the passage of special legislation in Ukraine's parliament. In this they saw the possibility for discreet deals between the incoming prosecutor general and entrenched interests. Both are seen as close allies of President Petro Poroshenko.

Yet both have come out of the gate strong. Groisman made good on his promise to raise the gas tariffs to meet IMF requirements within two weeks of taking office. Despite strong populist opposition in the Rada, he raised the tariffs to market prices in May. Populists like Fatherland Party leader Yulia Tymoshenko are now trying to use this to their advantage, but it is not clear that they will succeed.
The prime minister's team has also overseen steps to root out corruption in state enterprises, establishing an independent supervisory board for Naftogaz, the state gas company, and putting into place a transparent process for choosing new chief executive officers for state-owned companies.
There's even been progress on reforming the country's notoriously corrupt courts. Here Poroshenko has taken the lead. In early June, the Rada passed constitutional changes to reform the courts as laid out by the Venice Commission of the Council of Europe. This step is not sufficient by itself. It needs to be followed by strong implementing legislation and then implemented. Special interests can certainly derail reform at those junctures. Still it was the necessary first step and has been accompanied by a commission for vetting sitting judges. According to one reformer, of the 250 judges called to the commission, 56 percent have passed and will continue to sit as judges. Twenty-two percent could not pass the test demonstrating suitable knowledge of the law and the remainder failed to appear before the commission. However, it's an initial step, since Ukraine has more than 7,600 judges.
When Lutsenko initially announced that he wouldn't any make staff changes for his first 100 days in the prosecutor general's office, reformers were disappointed. They complained that his inaction would leave former Prosecutor General Viktor Shokin's allegedly corrupt deputies in place. So his early June decision to remove Shokin's three deputies was a pleasant surprise. So too were his appointments to deputy positions of reformers Dmitry Stvorozhuk, Yevgeniy Yenin, and Valentina Telychenko. Telychenko represented the wife of murdered Ukrainian journalist Georgiy Gongadze. If the Prosecutor General's office reverts to politicized prosecutions, deputies like Telychenko will not hesitate to leave.
This month has also witnessed perhaps the most prominent action yet by Ukraine's National Anti-Corruption Bureau. The bureau named Rada deputy and businessman Oleksandr Onishchenko in a corruption investigation involving Ukrgasdobycha, a state gas production company. This case is important because the target is a member of the Rada, whose deputies enjoy immunity from criminal prosecution. In order to pursue the case, Lutsenko had to ask the Rada to remove Onishchenko's immunity. Lutsenko did this, despite the fact that Onishchenko had voted for Lutsenko's appointment as prosecutor general. Rada Speaker Andriy Parubiy has said that the Rada will take this up. It is not clear whether the Rada will strip Onishchenko of his immunity—nor should he be presumed guilty—but all of this is breaking new ground in Ukraine's long and inadequate fight against corruption.
Ukraine's recent progress has partially satisfied the IMF. An IMF team visited the country in May to see if the new government was meeting its requirements for the second tranche of the IMF loan that was originally scheduled for disbursement in September 2015. The IMF mission recommended that the loan be made in July, if the Rada adopts all the new laws required by the IMF.
But this is Ukraine, a country that since the Orange Revolution has shown an uncanny ability to move forward, then back again, and then to plateau. Recognizing the need to maintain incentives for further reform, the IMF recommended disbursement of only $1 billion of the loan (the original loan amount had been $1.7 billion). Holding back the $700 million is designed to discourage Ukraine from backsliding. Let's hope that it works.
But there are some worrying signs as well. The Rada is considering a draft law that would undo a key part of Ukraine's civil service reform. Under the new system, an independent commission composed of representatives from state institutions and civil society shortlists two candidates for all top jobs and proposes them to the Cabinet of Ministers, which selects one nominee and sends to the president for approval. But the draft bill would eliminate the independent commission's powers to select the heads of local administrations and enable the president to do so.
Yet the overall picture is strong.
It may be that political competition is spurring both the president and the prime minister toward reform. Polls over the last couple of months have showed a steady erosion in the president's popularity. His party now ranks second to Tymoshenko's and not far above Oleh Lyashko's populist Radical Party. The political crisis earlier this year and the criticism of the government for moving slowly on reform have taken a toll. Decisive reform leadership may prove good not just for Ukraine, but for the political fortunes of the reformers.
John E. Herbst is Director of the Dinu Patriciu Eurasia Center at the Atlantic Council. He served as US Ambassador to Ukraine from 2003 to 2006.