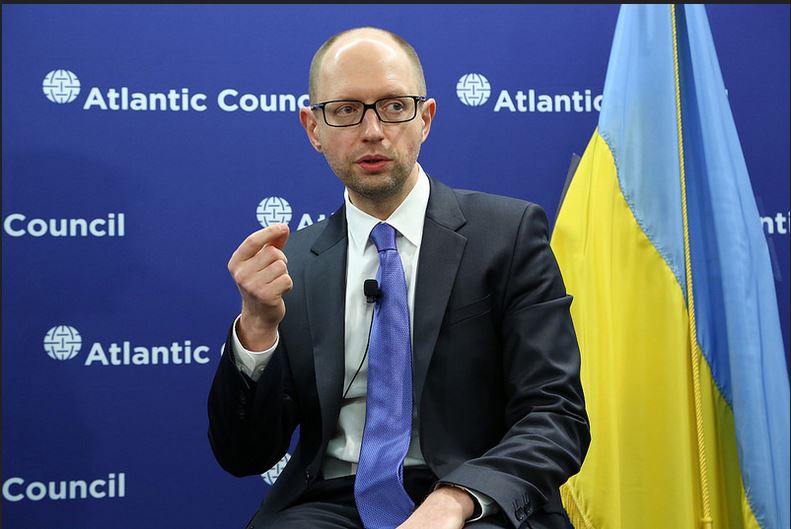 We can expect Ukraine's parliament, the Verkhovna Rada, to meet this week to vote on the country's new government. The political parties of President Petro Poroshenko, Prime Minister Arseniy Yatsenyuk and their allies are close to completing negotiations and announcing their choices for the new Cabinet of Ministers. Critically, a delegation is in Kyiv from the International Monetary Fund, upon which Ukraine must rely for the cash to see it through multi-layered crises. The IMF has insisted upon meeting with the new cabinet before the fund's team leaves Kyiv on November 25.
Below are many of the key appointments now under discussion, following Yatsenyuk's presentation of his candidates on Friday, according to the Atlantic Council's Kyiv-based senior fellow, Brian Mefford. You can see Brian's full list at his blog.
---
---
Prime Minister: Arseniy Yatsenyuk. While Poroshenko had ideas of replacing him with a closer Poroshenko ally, the victory of Yatsenyuk's party in the nationwide party preference vote secured his retention of the job.
First Deputy Prime Minister: This post's future is uncertain. It has been vacant since Vitaly Yarema resigned to become prosecutor general. Most likely it would go to a Poroshenko ally.
Deputy Prime Minister for Regional Policy: Volodymyr Hroisman from the Poroshenko Bloc. It also is possible that this post could be combined with that of first deputy premier.
Deputy Prime Minister for Agriculture: Ivan Miroshnichenko from Samopomich. The surprisingly strong third-place finish in the election earned Samopomich a deputy premiership. Yatsenyuk has proposed the creation of this new post as part of a strategic effort to revive Ukraine's role as an agricultural giant in eastern Europe. Agriculture has declined to form only 9.5 percent of Ukraine's GDP, but the World Bank, among others, has cited the farm sector as an area where basic reforms (such as improved systems for buying/selling and registering ownership of land) could yield big gains for the economy. Miroshnichenko is a former director general of Noble Resources Ukraine, a company that handles storage and distribution of grains, oilseeds and other agricultural commodities.
Deputy Prime Minister for Humanitarian Issues: Ihor Zhdanov from the Batkivshchyna party of Yulia Tymoshenko. This proposal is a bit of a surprise, and indicates a desire by Poroshenko and Yatsenyuk to placate Tymoshenko. While her party received only 6 percent of the popular vote, she is still a force to be reckoned with in Ukrainian politics. Hence Zhdanov, her loyalist, is set to receive this high-ranking post.
Finance Minister: Yatsenyuk has proposed that Deputy Finance Minister Vitaliy Lisovenko fill the post. [According to Standard Bank economist Timothy Ash in London, Lisovenko is "very well respected by foreign investors" and "his appointment would ensure continuity in terms of reform, and in terms of the existing IMF program."] Viktor Pynzenyk, with the UDAR party of Vitaliy Klitschko, also has been mentioned, having performed well in previous cabinets, including as finance minister during the financial crisis of 2008. Oleksandr Shlapak, the current minister, has performed admirably in difficult circumstances but lacks political allies in the new coalition. Whoever fills this post will have a hard road ahead.
Economy Minister: Dmitry Shymkiv from Poroshenko Bloc. Shymkiv, the former head of Microsoft in Ukraine, is now Poroshenko's deputy chief of staff and one of the government's leading reform advocates. His appointment to the Economy Ministry, alongside a Yatsenyuk nominee at Finance, would effectively have the president and prime minister share overall responsibility for the economy. It's not clear whether Shymkiv will agree to this, however. In his current job, he must keep only Poroshenko happy, while the cabinet post would require him to keep the Rada and the people of Ukraine happy—in the midst of a recession no less.
Interior Minister: Arsen Avakov is likely to stay on after he seems to have overcome some initial difficulties in the post..
Health Minister: Acting Minister Vasyl Lazoryshynets has Yatsenyuk's support to stay on the job. The previous minister, Oleh Musiy resigned and decisively won a parliament seat in Lviv. Yatsenyuk has accused Musiy of mismanagement and Musiy in turn had accused Yatsenyuk of corruption. With Musiy now in parliament, expect him to be a strong critic of Lazoryshynets if he holds on to the post.
Agriculture Minister: President of the Ukrainian Grain Association Leonid Kozachenko has been mentioned for this post. He brings a wealth of experience and is widely considered one of Yatsenyuk's strongest and most knowledgeable nominees.
Energy Minister: Andriy Kobolev has performed exceptionally well as CEO of the state-run gas utility, Naftogaz. That's despite being given the task of negotiating with Gazprom over winter gas supplies. His reward appears to be the Energy Ministry itself to replace Tymoshenko ally Yuri Prodan.
Environment Minister: Hanna Hopko is being mentioned as the new minister for this post. She succeeded in a public campaign under the Yanukovych government to ban smoking in restaurants, airports and other public places. With a more friendly government in place now, her supporters hope that she might do wonders for the environment in Ukraine. Cynically though, some insiders see her likely appointment as a way to promote her 'up and out.' Because Ukrainian law requires a parliament member to resign his or her seat to take up a cabine position, this appointment could remove Hopko from a position in which she could be a constant agitator/advocate on many issues. In a ministry post, she could be contained to one sphere. Plus, parliamentarians serve a five-year term whereas government ministers average only about a year in office. Time will tell what will be the case with Hopko at the Environmental Ministry.
Youth and Sports Minister: swimming champion Denys Sylantiev from the Radical Party is being mentioned for this. So far, this is the only ministry being offered to the Radical Party, which won 7 percent of the popular vote. With their populist rhetoric and the leadership of Oleh Lyashko, who has been criticized by human rights groups for sometimes violent acts of vigilantism, the Radicals are not trusted by the other partners in the coalition.
Social Policy Minister: UDAR member of parliament Pavlo Rozenko is being proposed for this post. Rozenko is one of parliament's more knowledgeable and intellectual members
Infrastructure Minister: Maksim Burbak doesn't seem to have the political clout to keep his job. This post is currently a key negotiating prize among the coalition partners.
As for the cabinet positions for which the president (rather than the prime minister) makes the nominations, most are expected to stay the same. These include:
Defense Minister: Stefan Poltorak, given his recent appointment, is unlikely to be changed soon.
Foreign Minister: Pavlo Klimkin has performed professionally over the last four months, although there are rumors of his replacement.
SBU: Valentin Nalyvaichenko continues to be the linchpin of the security apparatus for the country. He may eventually be replaced for political reasons but it won't be because he didn't do his job admirably in difficult circumstances. The next SBU chief will be hard pressed to perform better.
National Security and Defense Chairman: This post is vacant, but Poroshenko ally and member of parliamentYuri Stets is being touted for this job.
Prosecutor General: Vitaly Yarema is doing his job and bringing criminal charges against some of the friends of former President Viktor Yanukovych. It remains to be seen if the courts will convict those individuals but for the first time in decades, the Prosecutor General is actually going after the criminals rather than protecting them. Yarema is likely to stay in his post.
We will see if this preliminary lists holds up to parliamentary scrutiny and last minute negotiations when parliament votes this week on the new cabinet.