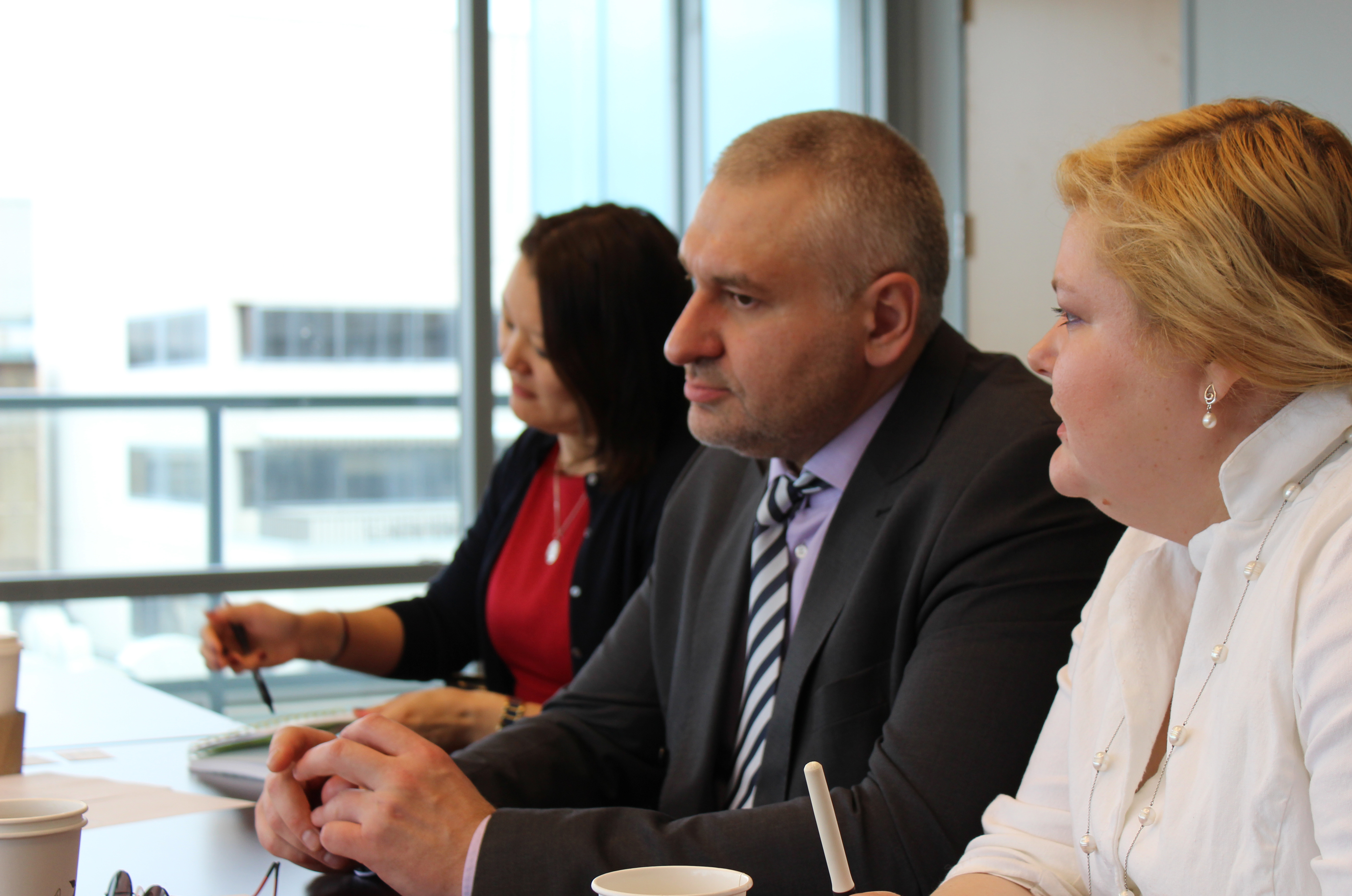 When Russian-backed separatists in eastern Ukraine captured a fighter pilot loyal to Kyiv in June 2014, they got more than they bargained for. Nearly a year later, Nadiya Savchenko is on trial in Russia, and at the center of an international imbroglio. "This isn't an ordinary case," Russian attorney Mark Feygin said at the Atlantic Council on April 14, about his client. "It should be understood as a political affair, not a legal one."

Separatists loyal to the Donbas People's Militia captured Savchenko at approximately 10 a.m. on June 18, 2014, and took her to their base in Luhansk, Ukraine. Savchenko was in eastern Ukraine as a member of the Aidar Battalion, a volunteer military detachment of Ukraine's Ministry of Defense with approximately 400 members. She was captured, hooded, and allegedly beaten. The separatists handed her over to the Russian authorities, who spirited her off to Russia, where she has been held in pre-trial detention for ten months. The pilot has been charged with complicity in the deaths of two Russian journalists who were killed when a separatist checkpoint was shelled and for illegally crossing the Russian border.
According to Feygin, the Kremlin wanted to use Savchenko as an example that the Ukrainian people are involved in criminal activities. Moscow sought a case that would show that Ukraine is doing the same things as Russia, but "[e]verything went wrong with how Savchenko behaved."
The Russians were counting on Savchenko to cooperate with an investigation showing Ukraine's complicity in war crimes. She refused. Then she went on a hunger strike. She only recently began to eat again, a decision Feygin urged, telling her that to keep on refusing food was "a good way to die in Russia." She has a kidney stone, low blood pressure, and low blood sugar.
Savchenko's attorney describes the 33-year-old pilot as principled, confident, and stubborn. Her career includes a six-month stint in Iraq with the Ukrainian Army and she is the country's first female fighter pilot. "She is not a political person," Feygin said.
Not only did the separatists capture the wrong woman, they bungled the operation. When Savchenko was captured, her mobile phone was on. According to Feygin, her phone records confirm that Savchenko was seized by the Russian-backed separatists one hour before the mortar attack that she supposedly masterminded. One of her captors took video of her arrest. The timestamp on the video confirms that Savchenko was taken before the bombing.
The Russians offer no justification for what amounts to Savchenko's kidnapping on foreign soil. "I am absolutely sure that the Kremlin sees the case as symbolic," said Feygin. It's "pivotal" to resolving the conflict between Russia and Ukraine, he added.
Feygin's own ordeal underscores the case's importance to the Kremlin. The lawyer represented Pussy Riot, a Russian feminist punk rock protest group based in Moscow. Three members of the group were jailed for playing an irreverent set in one of Moscow's most revered churches in an act of political defiance.
Now, Feygin receives threats every day—because of his defense of Savchenko. And there are even whispers that he will be charged with political extremism for calling on people via Twitter to honor the memory of slain former Deputy Prime Minister Boris Nemtsov.
Feygin was close to Nemtsov, who supported Savchenko. Nemtsov kept tabs on her case and planned to attend her trial, which is likely to take place in August.
At the time he was killed, Nemtsov was documenting Russian involvement in the Ukraine crisis—a charge the Kremlin still denies—by interviewing the mothers of Russian soldiers. While Nemtsov didn't have exclusive information, he was on the verge of delivering a substantive, well-researched report on a sensitive subject. He was also a trusted interlocutor in the West.
Nemtsov's apartment was raided within minutes of his fatal shooting. Nemtsov's team plans to publish his report in May with support from the Free Russia Foundation.
"The report was one of the reasons Nemtsov was killed," Feygin said. But "the real reason was his support for sanctions." Nemtsov helped the United States form its sanctions list and his was a voice that the West listened to.
The true authors of the crime and the men who pulled the trigger are not the same, of course. "The people who committed the crime were so uneducated that they didn't know who Nemtsov was," Feygin said. Several Chechen men have been arrested and charged with Nemtsov's murder, but the details remain murky, and the prospects of a transparent investigation and fair trial seem slim.
Feygin sees little hope that Savchenko will get a fair shake from the Russian criminal justice system. "The court will say that she's guilty," he said.
He thinks there may be another way for her to regain her freedom. "We want to make the costs of holding her higher than the costs of releasing her," Feygin said in response to a question about the defense team's strategy from John E. Herbst, Director of the Atlantic Council's Dinu Patriciu Eurasia Center, which convened the discussion.
Feygin thinks it's possible that Russian President Vladimir Putin would relent if President Barack Obama spoke directly to him and proposed a trade. Putin wants many things. He wants recognition of Crimea as Russian territory, sanctions lifted, the United States at the negotiation table, Europe divided, and Ukraine under Russia's influence. Those are his global ambitions, but something closer to home might spring Savchenko.
If the United States were to lift sanctions on Gennady Timchenko, owner of Volga Group and a close Putin ally, Putin might release the imprisoned pilot, Feygin suggested.
Savchenko goes on trial later this year. However predictable the outcome, her case becomes less useful to the Kremlin once it's over. One of two deals is theoretically possible, Feygin explained—she could sign a document admitting her guilt, which "won't happen;" or, as a foreign citizen, she could be transferred back to Ukraine after sentencing. Paradoxically, her best chance at freedom could come after a guilty verdict in a Russian courtroom.
Melinda Haring is editor of UkraineAlert at the Atlantic Council.