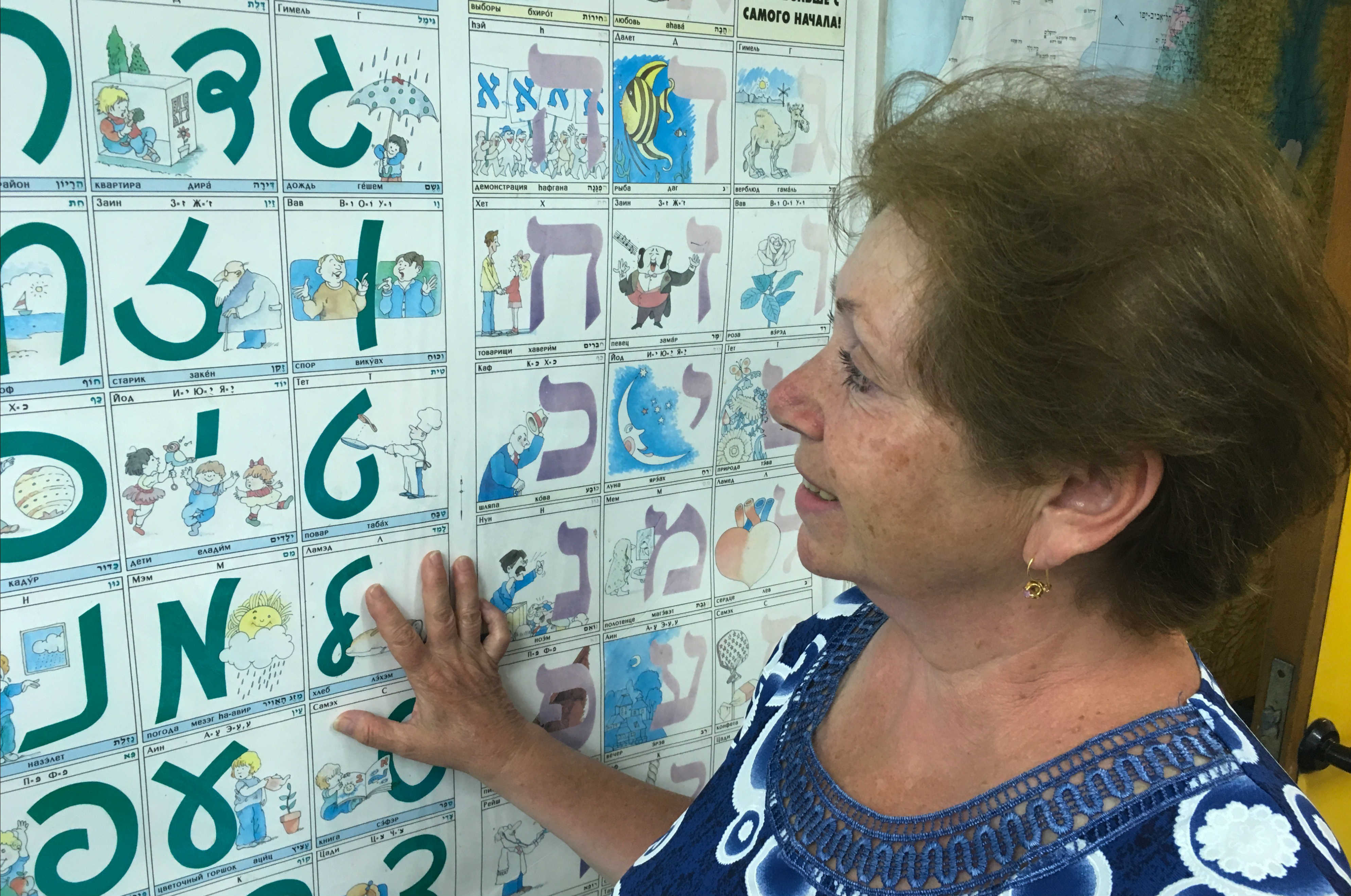 Every Sunday and Tuesday evening, Alena Sapiro, 26, takes the hour-long bus ride from her home in Lod to attend Ramit Avidan's intermediate Hebrew classes at Ulpan Gordon, a Tel Aviv school for new immigrants run by the Israeli Ministry of Absorption.
Sapiro, who helps develop mobile apps for a local software company, came on a ten-day Taglit program to Israel in May 2014, the same month the war in her native Donetsk began. Within a few months, as Russian-backed separatists intensified their offensive throughout eastern Ukraine, Sapiro returned to Israel with a group of 130 other students from various former Soviet republics—and has never looked back.
"In Ukraine, I had a flat, a job, a boyfriend, and a cat. I had everything," she said. "I finished university with two degrees. I started to study for a doctorate in cybernetics and wanted to be a teacher at the university. But then my university was bombed. My best friend was killed in the war, and my stepfather was killed also. My mother told me, 'go away from here.'"
Of the thirty students in Avidan's Hebrew class, eight are Ukrainian Jews—and nearly all have settled here to escape the violence tearing apart the land of their birth.
Since 2014, some 19,000 Ukrainians have "made aliyah" or moved to Israel, according to statistics provided by the Jewish Agency and the Ministry of Absorption. In 2015 alone, 7,400 arrived, more than triple the 2,020 who came in 2013. Although the influx has subsided somewhat, Ukrainians are still trickling in every month.
Today, about 500,000 of Israel's 8.7 million inhabitants have Ukrainian origins.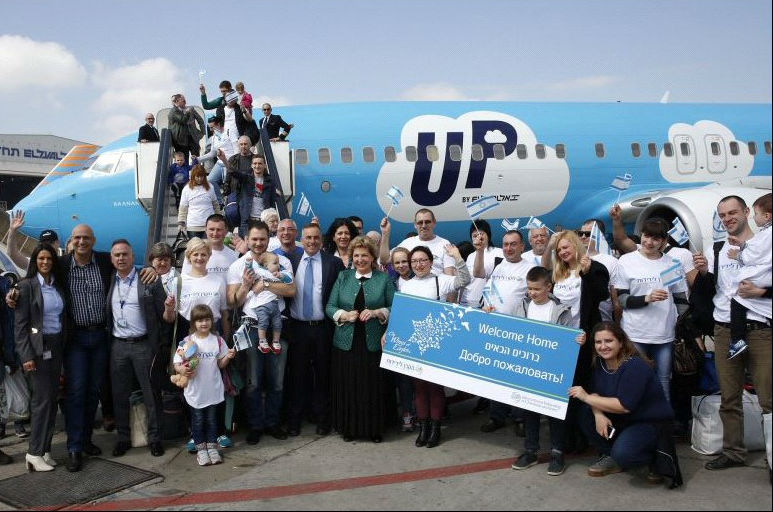 Ukrainian Jews wave Israeli flags as they pose for a group photo in front of the jet that brought them to Tel Aviv's Ben Gurion Airport in March 2017. Credit: Olivier Fitoussi / IFCJ
The newest immigrants arrived May 8, when a chartered plane carrying 240 Ukrainian "olim" touched down at Ben-Gurion Airport in Lod. The group, consisting of sixty-two families—including sixty children, ten immigrants older than 70, and fourteen cats and dogs—will settle in twenty-six cities and towns throughout Israel, from the southern port city of Eilat to Qatzrin in the northern Golan Heights.
Like many such flights, these new arrivals were brought to Israel largely through the efforts of a Chicago-based nonprofit group, the International Fellowship of Christians and Jews—which according to a recent JTA story offers grants—$1,000 or six months' rent per adult—beyond what immigrants receive from Israel when they immigrate through the Jewish Agency.
Valery Nevler, 24, lives in Bat Yam, a coastal suburb of Tel Aviv that's already home to tens of thousands of immigrants from the former Soviet Union. Like Sapiro, he came on the ten-month Masa program in 2014 and began learning Hebrew. He eventually got an internship at the CheckPoint software firm, but is currently unemployed.
"I was planning on coming to Israel anyway, but what was going on just made me decide faster," he told UkraineAlert. "My father was living here for twenty years. I wasn't aware I was Jewish at all until four or five years ago, when I started communicating with him. It was a big surprise for me. I didn't know I had a right to come to Israel."
Nevler, whose great-grandfather survived the Holocaust, said he left just in time.
"There was fighting in the streets," he recalled. "I got one of the last trains to Lviv [in western Ukraine], and a few days later the train station in Donetsk was hit by a missile attack."
Nevler wouldn't dream about moving back. Nor, he estimated, would 95 percent of the other Ukrainians living in Israel today.
"Life is way better here than in Ukraine. It's very difficult economically there," he said. "People's salaries are not enough even to buy food, not to mention paying taxes and rent. So many people who are stuck in Donetsk would love to go to a peaceful place, but they don't have money, so they stay."
That doesn't mean Israel is a paradise, however.
"It's not easy to live here. It's a different mentality. In the beginning, it was so hard to understand the bureaucracy," said Sapiro. "At the bank, I tried to use my Visa card but I couldn't. You go to the hospital and can't explain what you want. I waited for months to see a gynecologist."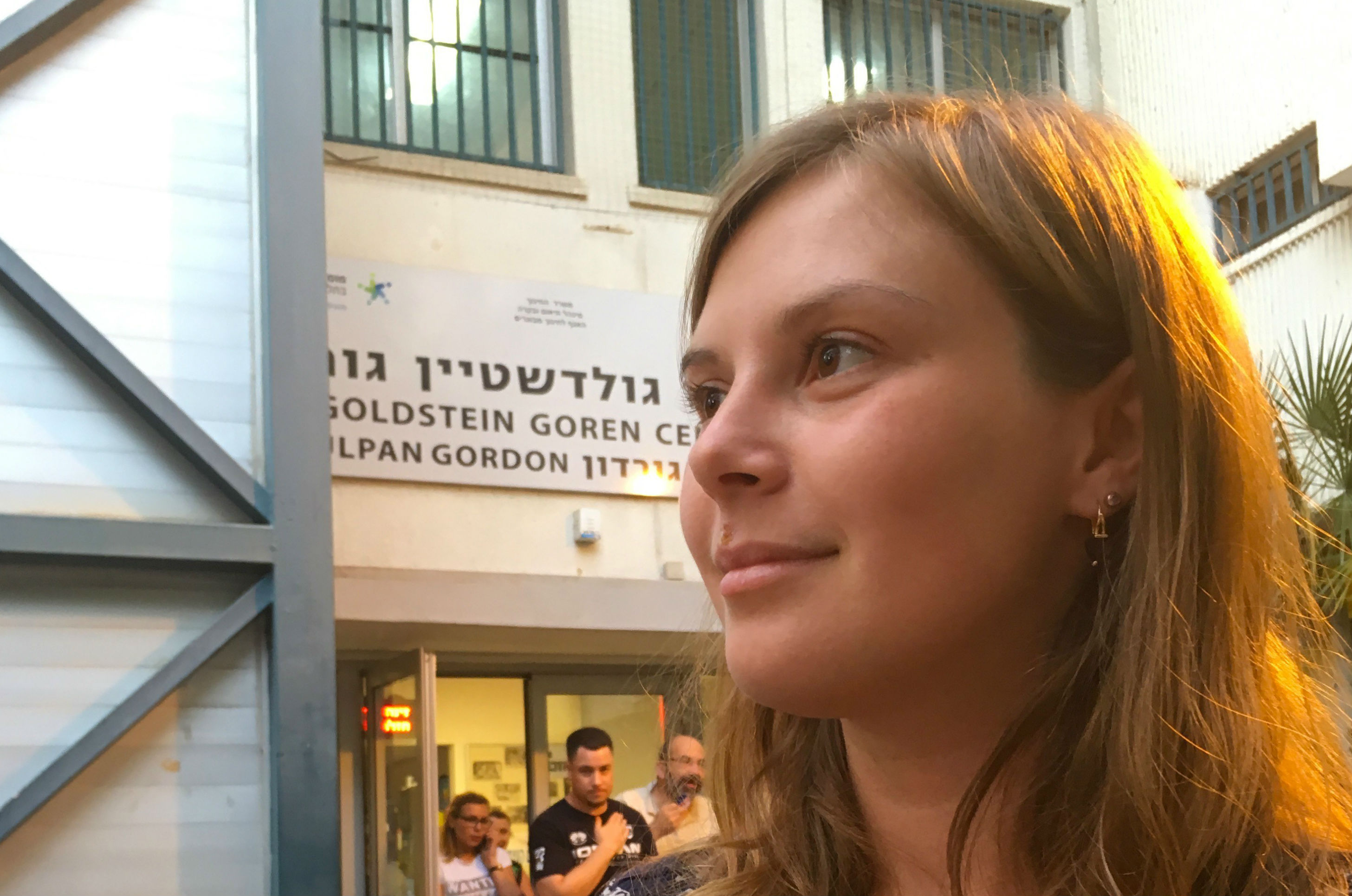 Alena Sapiro, 26, studies intermediate Hebrew at Ulpan Gordon in Tel Aviv. She is one of thousands of Ukrainian Jews who have settled in Israel since fighting broke out in her country in 2014. Credit: Larry Luxner
Sapiro's mother could not accompany her to Israel because she's not Jewish, though her Jewish father has lived here for many years. Upon her arrival, Sapiro spent ten months in temporary housing. She also studied Hebrew twice a week for four hours a day and did a five-month internship at IBM.
Asked about the loyalty of Ukraine's Jewish citizens, Sapiro shrugged. "Some Jews wanted to be a part of Russia, some wanted to stay part of Ukraine," she said. "It's like any country. Some American Jews like Trump. Some don't."
Like Sapiro, Alexander Katsovych—a firefighter with the Israel Defense Forces—came from Donetsk. He also left his university after it was bombed, arriving in Israel in September 2014.
The 21-year-old combat soldier is currently stationed at the international airport, but lives in the Tel Aviv suburb of Ra'anana.
"I made aliyah because the war started. I had already been on Taglit and knew I had to leave that country and that crazy situation," said Katsovych, who came by himself. His parents still live in Donetsk.
"Israel is very nice. People here are wonderful, and everybody wants to help you," he said. "I wish I had come here when I was 15."
At 65, Svetlana Baranovich is clearly the oldest student in Avidan's Hebrew class. She speaks the unfamiliar language with a heavy, halting Slavic accent. A lifelong resident of Simferopol, she left her native Crimea in October 2014, five months after Russia annexed the Ukrainian peninsula following a highly controversial referendum.
Yet unlike most Ukrainian Jews here, Baranovich left her country not because of the fighting—but because this is where her children are.
"For a long time, I wanted to live in Israel," she told us. "I traveled to Israel every three years, whenever I had a vacation, to visit my son and daughter. But my husband didn't want to come because he thought it was too hot."
Baranovich, who was an engineer at the state-run telephone company, eventually made aliyah with her husband Marat. Soon after, though, 69-year-old Marat developed heart disease and died at Tel Aviv's Ichilov hospital. She now lives in the northern suburb of Kochav HaTzafon with her daughter and extended family.
"I love Israel. I have my family here," says the pensioner. "But I loved Crimea too. And I still feel Ukrainian."
Tel Aviv-based journalist Larry Luxner is news editor of The Washington Diplomat. He tweets @LLuxner.