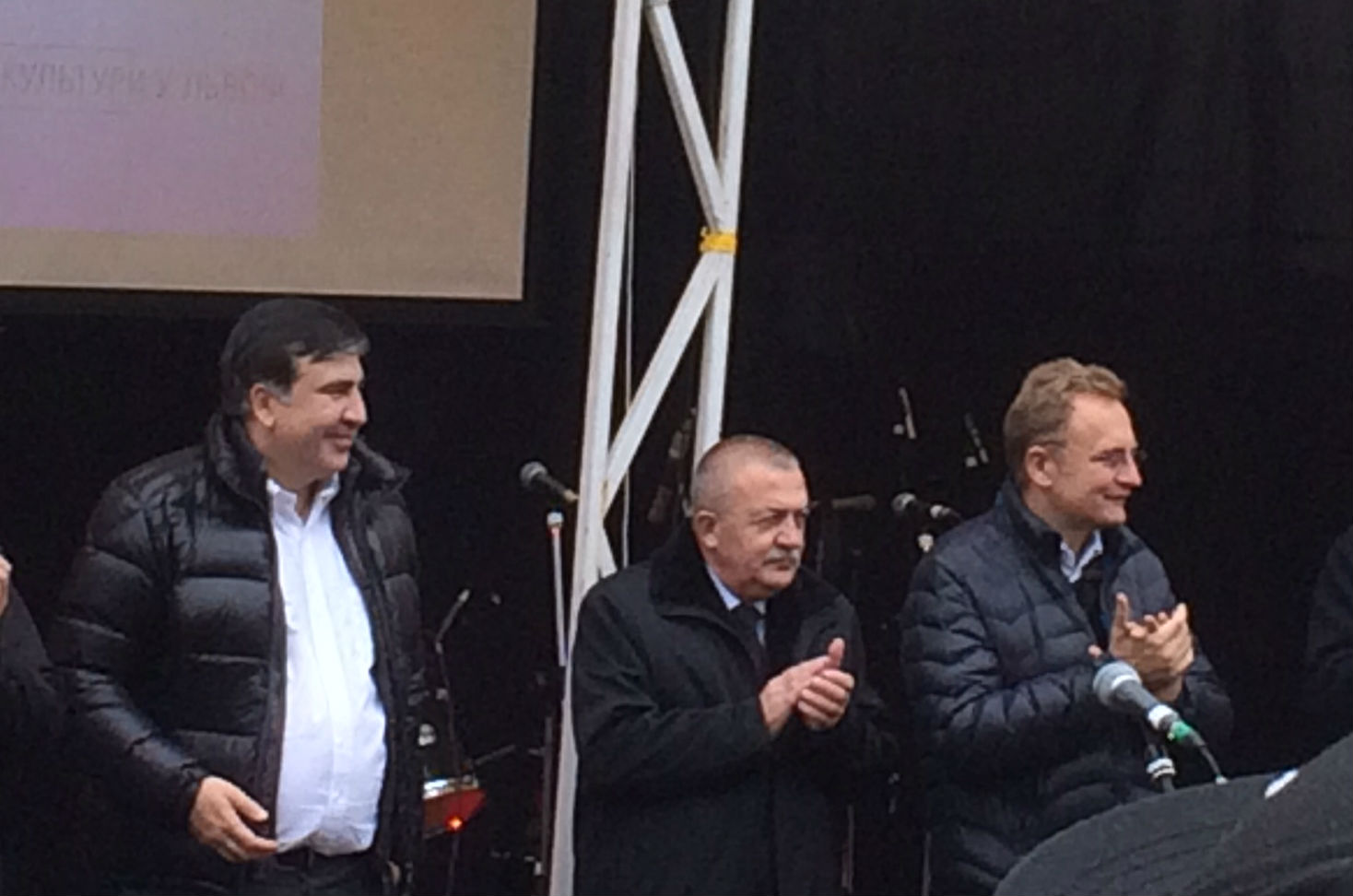 In less than a week, Ukrainians go to the polls to elect mayors, city councils, and regional councils, and they're eager to do so. A recent poll carried out by the International Republican Institute found that 75 percent of Ukrainians are very likely or somewhat likely to vote on October 25. A new law requires a runoff election if no mayoral candidate receives a majority in cities with more than 90,000 people, which adds an element of suspense. Runoff elections are slated for November 15, and analysts expect second rounds in approximately 35 cities, including Kyiv, Odesa, and Dnipropetrovsk. Here's the latest on races in Ukraine's five largest cities holding elections:

1. Kyiv – Incumbent Mayor Vitali Klitschko remains the front runner but a runoff is likely. In Kyiv, the question is who will face Klitschko in the second round. With a surprisingly resilient electorate of older voters, former two-term Kyiv Mayor Oleksandr Omelchenko has pulled into second place. Omelchenko, who was Klitschko's political mentor, is staging a comeback after being out of office since 2006.
But it's a crowded field. Samopomich's Serhiy Gusovskiy failed to gain momentum and he is competing with the Movement for Reform's Serhiy Dumchev, Ukrop's Gennady Korban, independent MP Boryslav Bereza, and Motherland's former MP and Kyiv Appointed City Head Volodymyr Bondarenko for third place.
Expect Klitschko to hold a solid lead over Omelchenko on election day but fall short of a majority.
2. Odesa – Odesa elections are always complicated and this race is no exception. Current Mayor Gennadiy Trukhanov faces a rematch with former Mayor Eduard Hurvits. Trukhanov tends to attract pro-Russian voters while pro-Western voters prefer Hurvits. But both face challengers in the first round: Solidarity's Sasha Borovik will take votes from Hurvits, while MP Sergiy Kivalov's zombie campaign will siphon 7-10 percent from Trukhanov. Kivalov entered and then dropped out. However, Kivalov's paperwork was submitted too late to remove him from the ballot, so while he's no longer campaigning, he's still on the ballot. Expect a runoff between Trukhanov and Hurvits.
3. Kharkiv – Incumbent Mayor Gennady Kernes is poised to win without a runoff. The controversial mayor's 60 percent approval rating has lifted oligarch Ihor Kolomoyskyi's Renaissance Party into first place in the polls for city council. A breaking court decision allowed the Opposition Bloc to run candidates for the city council, which are likely to ally with Kernes after the election. In spite of Kernes's astronomical numbers, don't write off the Kharkiv race yet: Kernes's pending criminal charges may mean a very short term; he may be removed after New Year's. Businessman and former Deputy Governor Yuri Sapronov and Solidarity's Oleksandr Davtyan compete for a distant second place, but they're really preparing for a spring runoff should Kernes go to jail.
4. Lviv – Mayor Andriy Sadovyi looks set for a third term. In spite of his growing profile as a national politician and leader of the Samopomich Party, Sadovyi has maintained local support. Polls put him close to an outright win in the first round. If Sadovyi falls short of a majority, he is almost certain to win in the runoff. His main opponent is Poroshenko faction MP Dmytro Dobrodomov with the People's Control Party. Dobrodomov, a local journalist, is a rising star in Lviv, but polls put him in the low teens. Civic Position's Volodymyr Hirnyak trails Dobrodomov. Solidarity's Oksana Yurinets, also a Poroshenko faction MP, and Svoboda's Ruslan Koshulynskiy will help their parties cross the five percent threshold for representation on the city council, but they've failed to connect with voters. Bottom line: Sadovyi gets a third term.
5. Dnipropetrovsk – Former Governor Ihor Kolomoyskyi's momentum in his hometown is moving against him. Opposition Bloc's Oleksandr Vilkul pulled ahead of Kolomoyskyi's candidate, Ukrop's Borys Filatov. Polls put both candidates in the 30s, so a runoff is certain. Voters say that Kolomoyskyi may have overestimated his popularity, and many businessmen perceive Vilkul as "easier to do business with." However, Filatov's campaign maintains more levers of administrative resources which can counter Vilkul's momentum. The entry of a third candidate, Dagestani businessman Zahid Krasnov with the Community Strength Party, may play a key role in the runoff. Krasnov's approximately 15 percent of the vote will likely go toward Filatov in the second round. Solidarity's Maksim Kurachiy, a Poroshenko Bloc MP, is expected to finish fourth but perform well enough to keep his political future alive. Kurachiy's voters may back Vilkul in the runoff in an effort to clip Kolomoyskyi's wings. At the moment, the only certainty is that there will be a runoff with Vilkul and Filatov as the likely opponents.
Brian Mefford is a Nonresident Senior Fellow at the Atlantic Council's Dinu Patriciu Eurasia Center. He is a business and political consultant who is based in Kyiv, Ukraine. Follow his analysis on his blog.