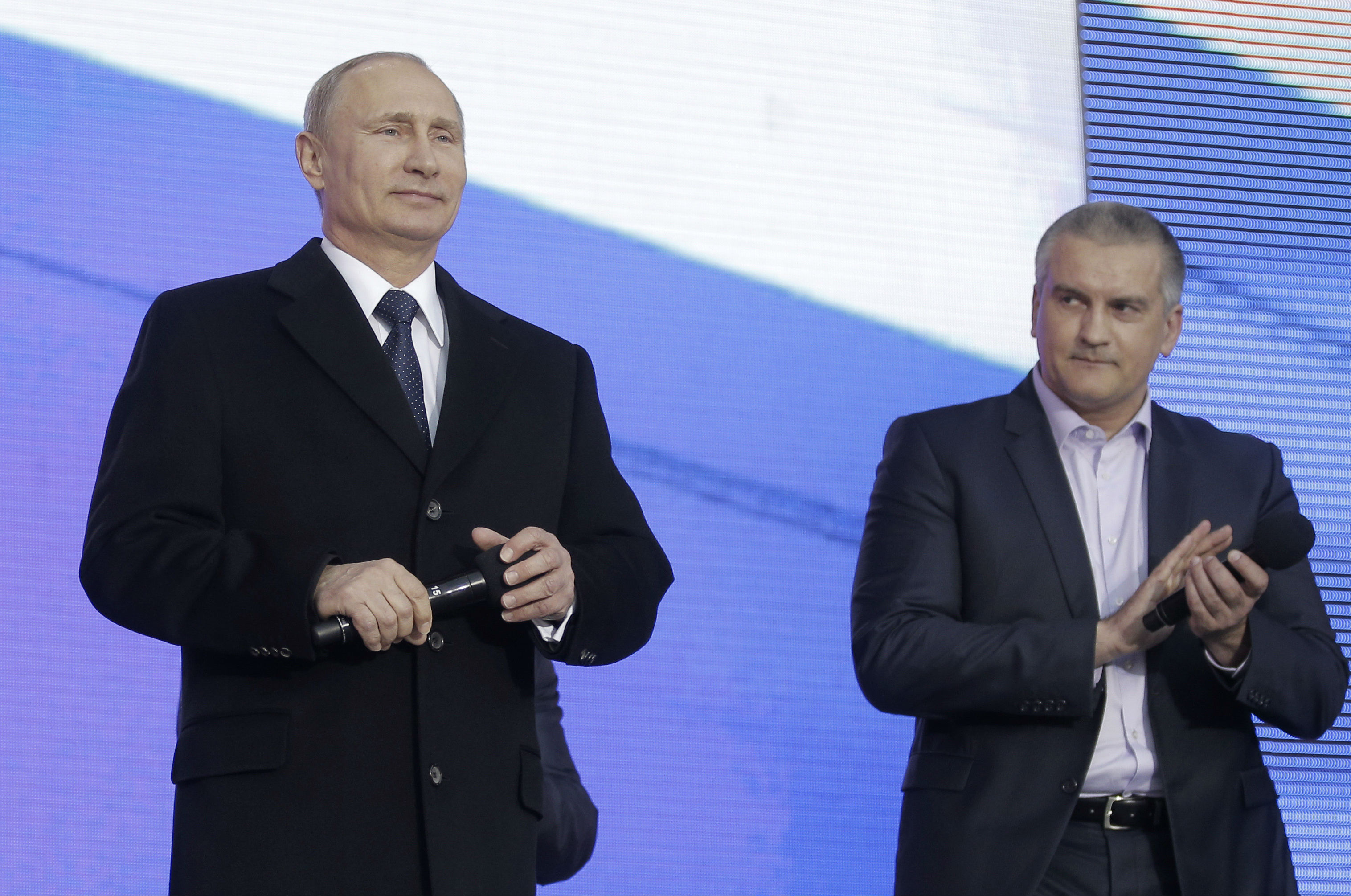 Despite a comprehensive sanctions regime established by Western governments barring foreign investment in Crimea, many foreign companies nonetheless maintain operations there. Recent reports reveal that a number of companies such as Visa, MasterCard, Volkswagen, Auchan, Metro Cash & Carry, DHL, and Adidas are still willing to continue business as usual despite the reputational risk.
The companies' sanctions-busting behavior is driven by their commercial interests: they are reluctant to lose a significant share of the Russian market. According to Sergey Aksyonov, Crimea's self-proclaimed prime minister, nearly 3,000 foreign firms are currently operating in Crimea. Aksenov has encouraged foreign companies to invest in Crimea, as there are ways companies can circumvent sanctions and conceal their identities.
In fact, there are several recurring techniques that Western companies use to avoid sanctions. First, there's the "get out" clause. European Union regulations include a provision that if a party "did not know, and had no reasonable cause to suspect that their actions would infringe the measures," then the party would not be fully culpable. Therefore, companies can claim to have no prior knowledge of their products' end destination or end users, and can say they had no reason to suspect their activity could lead to a sanctions breach.
As long as a company can prove that enough screening was done, its case will likely be judged as sanctions avoidance but not sanctions evasion, and it will have no legal repercussions. This technique seems to have been employed by the German company Siemens and the Dutch Bijlard Hydrauliek for the delivery of gas turbines and machine parts to build Kerch Bridge linking Crimea and Russia.
Foreign companies also exploit other loopholes and weak spots within the sanctions regime. As Russian subsidiaries are not covered by sanctions, Western firms can re-register their assets in Russia to avoid compliance. By creating complex corporate structures, Western companies distance themselves from their Russian entities and claim to have no control over them. Western companies can only be held accountable if they have directly instructed their local units to act in violation of the sanctions. This technique is used by supermarket chains such as France's Auchan and Germany's Metro Cash & Carry.
Another loophole pertains to the exploitation of export controls. As the EU export ban is not comprehensive, EU-based firms carefully navigate the lists of banned items to ensure de jure compliance. A clear example of such a technique is the delivery of personal vehicles by Western car dealers to Crimea. The EU prohibits the delivery of vehicles that are suitable for ten or more people as well as vehicles for specific needs, such as a wrecker or a crane. The delivery of passenger automobiles was not included and did not constitute illegal activity, thus allowing, for example, Volkswagen and Mercedes-Benz to sell their cars legally.
Western companies also assert their sanctions compliance by claiming that they conducted their activities in Russia, rather than in Crimea. For example, the US Office of Foreign Assets Control warned companies against using evasive techniques such as the omission or obfuscation of geographical references to Crimea in bank transactions, citing Visa's and MasterCard's business activities on the peninsula.
In the shipping industry, foreign companies use a combination of manipulative techniques. Ship owners use "flags of convenience" by re-registering the vessels with a different country from that of the ship owner. The vessels are usually registered under fictitious names and change operating companies frequently. As the rules of the country of registration apply, it is convenient for the ship owner to change to those countries which did not impose sanctions. To hide their trail, shipping companies employ various deceptive techniques, including switching off the radar for the AIS navigation system, loitering and routing to non-sanctioned ports, and ship-to-ship transfers in open waters. All of these techniques were used in the 2017 case of two German shipping companies and a Norwegian mining company that illegally delivered ilmenite ore to the Kerch port of Kamysh-Burun.
This analysis of sanctions-busting schemes illustrates how Western sanctions in Crimea can be enhanced. First, sanctions busters are quick learners, and the US and EU must also respond quickly; staying agile and flexible will be their best response. Borrowing from the experience of North Korea sanctions, a panel of experts should be established for early detection in order to effectively counter the circumventing schemes. Systemic thinking is crucial: in contrast to targeting separate sectors and entities, all systems and networks should be sanctioned. As suggested by Ukraine's Ministry of Foreign Affairs, the Crimea sanctions should be expanded to Russia's Southern Federal District, where the majority of evasive practices take place. This will help prevent the circumvention of transportation routes and financial flows.
Second, the EU's decision-making process on sanctions policy, including monitoring and enforcement mechanisms, should be significantly improved. Because the EU requires unanimity to impose and renew sanctions, its ability to act and adapt is limited and slow; this gives targets sufficient time to find alternative solutions by shifting capital and payments to countries where legislation is weak or absent. As the Crimea sanctions are not linked to the Minsk agreements or any other conditionality, they should be open-ended, rather than requiring regular extensions. This will make the EU immune to potential internal tensions linked to each renewal of the Crimea sanctions, and will eliminate delays in implementation.
Currently, EU member states lack the political will to enforce sanctions effectively; the cost of monitoring is high and time-consuming, while the value of illegal export-import is low. Establishing a sanctions unit and prosecuting the sanctions evaders will repair the damage inflicted to the credibility of Western sanctions and deter companies from breaching them in the future. The EU should allocate sufficient resources to ensure compliance, and its member states should establish an effective monitoring system that includes coordination and information-sharing. Ukraine's law enforcement agencies should show their willingness to go after sanctions busters, too.
Finally, better communication between the public and private sectors is crucial, and clear guidance from officials on implementation requirements is necessary. As suggested in the 2017 RUSI report, public-private partnerships will be critical for the enhancement of companies' compliance and thus the sanctions' effectiveness. An exchange between private businesses and government authorities will be crucial for determining how unintentional consequences can be avoided and alternative solutions forged.
Maria Shagina is a JSPS Postdoctoral Fellow at Ritsumeikan University (Japan). She is affiliated with the Geneva International Sanctions Network and author of the book Joining a Prestigious Club.