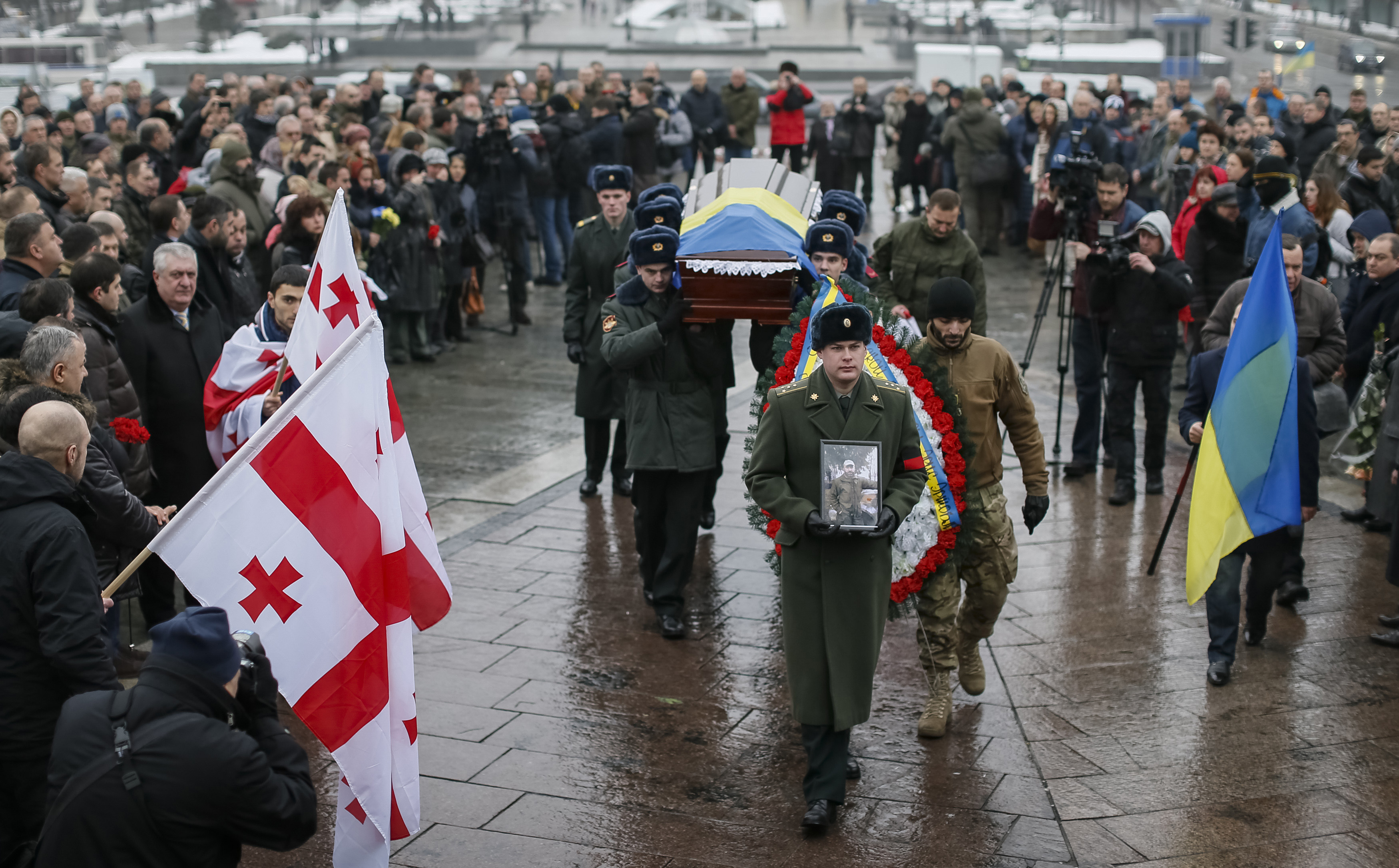 'We Face a Critical Juncture' in Halting Russian Aggression in Eastern Europe, Group Says

Eight former senior US officials—diplomats, ranking Pentagon and State Department office-holders, military commanders and US appointees to NATO—today urged the Obama administration and its NATO allies to strengthen support for Ukraine by urgently providing military aid, including defensive weapons, for its defense against Russia's invasion.

The US and European economic sanctions on Russia "are critical but not by themselves sufficient" to deter Russian President Vladimir Putin from continued "aggression that poses a threat not just to Ukraine but also to … Europe and the transatlantic community," says a report released by the group. The Obama administration "should provide Ukraine $1 billion in military assistance as soon as possible," including radar systems to detect artillery batteries, light missiles to oppose tanks, secure radios, and armored Humvees, the report says. (Read the report's executive summary, below.)
Other NATO states may be ready to help in supplying arms to Ukraine, but only if the United States leads, the eight former officials write. Those countries—including Canada, Poland, the Baltic States and perhaps Britain—"are reluctant to go first and run the risk of political exposure" while the U.S. government refuses to accommodate Ukraine's pleas for defensive arms.
---
Four of the eight co-authors of a joint think-tank report on Ukraine discussed the crisis at the Atlantic Council. Watch the video above.
---
While Ukraine has fought tenaciously against the eight-month-old Russian-sponsored war in southeastern Ukraine's Donbas region, its hastily assembled army has an "abysmal" supply of key weapons, the report says. Only a better-armed Ukrainian military can deter further Russian offensives aimed at dismembering the country, crippling its independence, and re-establishing Russia's Soviet-era dominance over much of Eastern Europe, according to the report.
The eight former officials, several of whom gathered to issue the report today at the Atlantic Council, now are associated with the Council, the Brookings Institution, the Center for a New American Security and the Chicago Council on Global Affairs. The eight co-authors are:
Ivo Daalder, President, the Chicago Council on Global Affairs, and former U.S. Permanent Representative to NATO
Michele Flournoy, Chair, Center for a New American Security, and former Under Secretary of Defense
John Herbst, Director, Dinu Patriciu Eurasia Center, the Atlantic Council, and former U.S. Ambassador to Ukraine
Jan Lodal, Distinguished Fellow and former President, the Atlantic Council, and former Principal Deputy Under Secretary of Defense
Steven Pifer, Senior Fellow, the Brookings Institution, and former U.S. Ambassador to Ukraine
James Stavridis, Member of the Board, the Atlantic Council, Dean, Fletcher School of Law and Diplomacy, Tufts University, and former Supreme Allied Commander Europe
Strobe Talbott, President, the Brookings Institution, and former Deputy Secretary of State
Charles Wald, Member of the Board, the Atlantic Council, and former Deputy Commander, U.S. European Command
Read the report's executive summary, below:
---
---