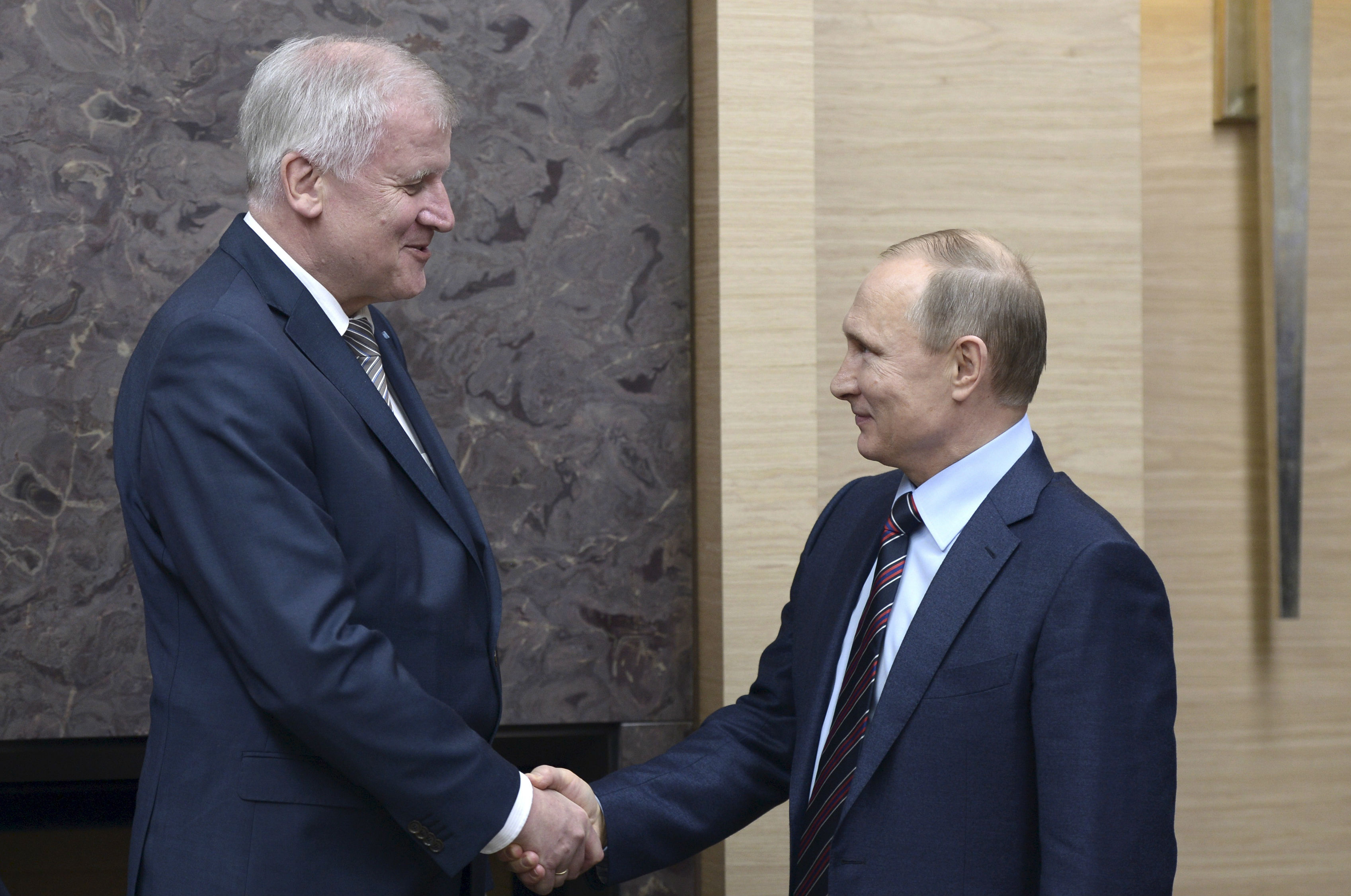 There's a growing perception in Germany that the Minsk ceasefire agreements may never be implemented and the conflict in Ukraine will continue to grind on. To examine the origins and nature of the conflict as well as its possible solution and the role Bavaria may play in these affairs, the German-Ukrainian NGO Kyiv Dialogue held a public debate in Munich on August 30. Oksana Syroid from Ukraine's pro-Western parliamentary faction Self-Reliance and Hans-Peter Uhl, the legal advisor of the Bundestag's center-right faction of Germany's ruling coalition, debated. Winfried Schneider-Deters, one of Germany's senior experts on Ukraine, moderated the discussion.
That the debate was held in Munich—and not Berlin—was a recognition of Bavaria's visible role in German federal politics and its considerable impact on Berlin's foreign policies. Munich has become a prominent location to debate international affairs through the annual Munich Security Conference. Horst Seehofer and Edmund Stoiber, the current and former Bavarian prime ministers and the best-known representatives of the Christian-Social Union (CSU), the southern German state's regional ruling party, have caused a schism in German moderate conservatism's official position by coming out against prolonging EU sanctions on Russia. Oddly, these center-right politicians took a position traditionally associated with Germany's Social Democrats as well as its extreme right and radical left rather than the moderately conservative mainstream.

Even more oddly, the two politicians and their party colleagues organized, in June 2016, a joint statement by the CSU and Union of the Bavarian Economy (vbw) in which Bavaria's two most powerful organizations declared that "sanctions should not be permanent" and claimed that they "have caused considerable economic downfalls on both sides." In their statement, they noted that Bavarian exports to Russia fell by over 13 percent in 2014 and by 33 percent in 2015. Although the vbw is a lobbying association with economic expertise, the statement fails to mention that the deterioration of Russian foreign trade in 2014-2015 had more to do with the worldwide decline in oil prices than with the effects of the West's sanctions against Moscow. For instance, Russia's imports from such economically close and politically friendly countries as Kazakhstan and China fell almost as much as those from the EU during the same period.
Why does all this matter? The CSU—while being a regional party—is a vocal part of Germany's ruling coalition and forms a permanent alliance with Angela Merkel's Christian-Democratic Union (CDU). In June, Seehofer called not only for discussing a "step-by-step" softening of sanctions, but also hinted at lifting them "in one step." Like most other EU politicians arguing for leniency, Seehofer & Co. have avoided enumerating which conditions Russia would have to fulfill for sanctions relief.
Neither Seehofer nor Stoiber were present at the Munich debate last month. Yet their repeated lobbying against EU sanctions and cozy meetings with Russian President Vladimir Putin in Moscow were felt at this debate, as they have caused tension in the otherwise good relationship between Ukraine and Bavaria. No other German subnational state has and has had as close cultural relations of its own with Ukraine as Bavaria, as indicated by, among others, the location of the small Ukrainian Free University, the only institution of its kind on EU territory, in Munich. During the last twenty-five years, Bavaria has engaged in numerous political, academic, artistic, and humanitarian exchanges with Ukraine, and co-finances, among others, two active German cultural centers in major Ukrainian cities—the Bavarian House in Odesa and the Nuremberg House in Kharkiv.
Syroid, the no-nonsense deputy speaker of Ukraine's Verkhovna Rada, urged the West to increase its sanctions against the Kremlin. She called for joint Ukrainian-Western resistance against Russian "financial and institutional terror." Syroid argued that such types of "terror" were applied by Moscow against Kyiv long before Russia's covert military invasion into Ukraine in 2014. They have since become part and parcel of Moscow's "hybrid war" against the Ukrainian state, and are now also being tested in the EU and United States. The Kremlin is using money flows, propaganda campaigns, institutional penetration, front organizations, covert agents, and various other subversion instruments to weaken Western unity, stability, integrity, and resolve.
Although her counterpart Uhl is an MP from the CSU, he largely agreed with Syroid's assessment. That Uhl's position dissents from that of the CSU's chairmen should only surprise one at first glance. Neither is Uhl's stance exceptional within the CSU, nor is the German intra-party schism peculiar to the CSU. Without explicitly mentioning the CSU, Uhl admitted that there are Russlandversteher ("Russia-understanders") in all German parties. And Uhl is not alone in his dissent within the CSU.
For instance, in April 2016, the CSU's official Working Group on Foreign and Security Policies produced a position paper on Russia. In it, the CSU Working Group argued that a "lifting of EU sanctions would in June 2016 be too early" because "there is a lack of fundamental trust-building measures on Russia's side" and "a lifting of sanctions would be an accommodation happening without any return action from the Russian side and would de facto further reinforce the illegal situations on Crimea and in eastern Ukraine." This position is closer to Merkel's than Seehofer's.
German historian Karl Schloegel concluded the debate by offering a cultural explanation for the striking fissures within the country's political elite and its political parties. He identified a continuing pathology in German intellectual discourse and wider political culture that he called "Russland-Komplex" (Russia hang-up). His diagnosis implies that there is a historically determined mixture of feelings of obligation, fascination, shyness, inferiority, and guilt vis-à-vis Russia—a special attentiveness and sensitivity toward the Eastern Slavs that, however, many Germans are not ready to extend to Ukrainians. According to Schloegel, the state, nation, history, and culture of Ukraine still constitute blank spots on many Germans' mental map of Europe. The Kremlin's self-serving narratives of East European history and blunt defamations of Ukraine's government receive more attention and acceptance than they otherwise normally would. In spite of being one of the most developed and officially pro-Western lands within Germany, Bavaria is apparently no exception to this rule.
Andreas Umland, a UkraineAlert contributor, is Senior Research Fellow at the Institute for Euro-Atlantic Cooperation in Kyiv and general editor of the Germany-based book series Soviet and Post-Soviet Politics and Society distributed outside Europe by Columbia University Press.