The picture-perfect venue of the second annual Ukrainian ID: International Economic Humanitarian Forum in Kaniv, Ukraine, was deceptive. From the place where national bard Taras Shevchenko lies in rest and the home of the Shevchenko museum, visitors are treated to wide, expansive views of the Dnipro and giant, well-cared-for roses that perfume the air. On June 8, at the end of a long day, one could be forgiven for expecting the last panel to be utterly forgettable.
But the Kaniv conference and its organizer Nataliia Zabolotna are anything but forgettable. The former director of Mystetskyi Arsenal, the premier cultural center in Kyiv, Ukraine, Zabolotna put together a conference two hours south of the capital that is unique in Ukraine: rather than inviting wonks who drone on in basic agreement with their fellow panelists, Zabolotna and her team carefully assembled speakers who actually disagree, and well-known artists and cultural figures from across the country for a two-day conference.
The final panel on gender diversity was by far the liveliest and perhaps the most important.
Ukraine just elected a new president. On inauguration day, the new president issued a picture of him and his inner team strutting down the red carpet. The picture is remarkable for the energy it conveys but it's also remarkably male. There are no women in his inner circle. One might consider writing off the photo as a newbie mistake. However, none of Volodymyr Zelenskyy's top appointments since then have been women either. On his trip to Paris, Zelenskyy foolishly called Ukraine's women "our brand."
It doesn't make much sense. Zelenskyy should know better. His wife Olena is a professional writer. Journalists who have interviewed her describe her as smart, compelling, modest, and kind.
These retrograde attitudes don't make sense in a country where women are expected to do everything, including raise children, work professionally, mind the home, take care of family relations, and oversee the finances, all while keeping themselves in prime physical shape.
In Kaniv, six Ukrainian women and two male diplomats analyzed the problem and debated the path forward. Irina Paliashvili, president of the RULG-Ukrainian Legal Group, expertly moderated the panel.
Society is still blind to the significance of women, said Snizhana Yegorova, the leader of the NGO GorodS, which lobbies for the rights of women and children, and a mother of five.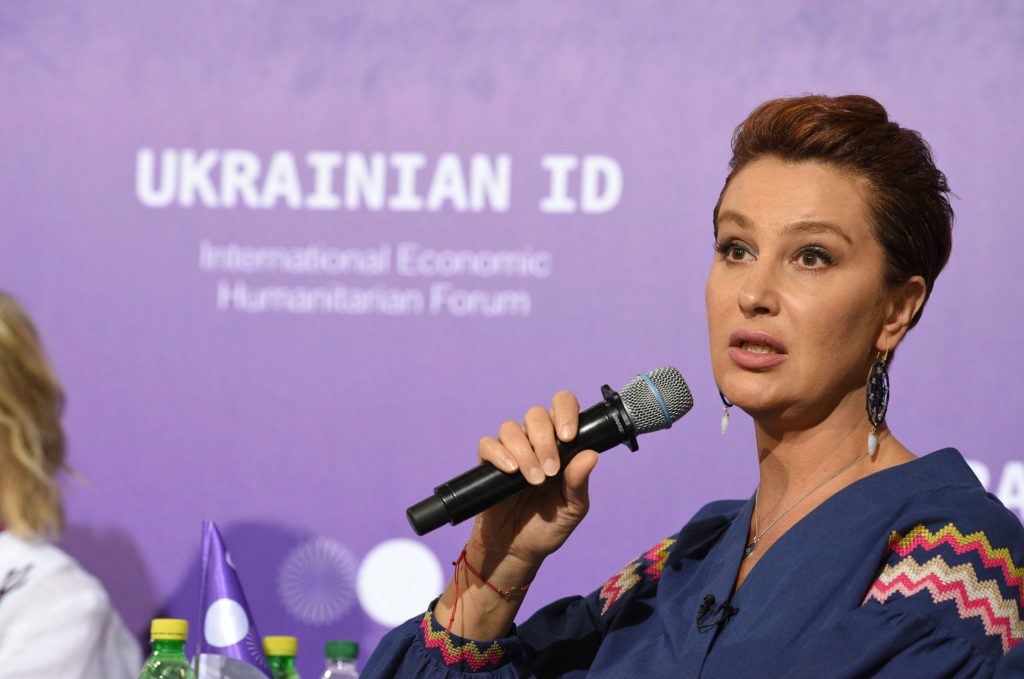 "Even if we have WiFi and high tech, Ukrainian society is quite deaf and closed toward issues of gender identity," she argued.
"If we have such strong women, why are men running everything?"
Yegorova's rhetorical question was a powerful one, but not quite right. A record number of women will enter Ukraine's next parliament in the fall. Eighty-seven women were elected to parliament on June 21, which means that they will make up nearly 20 percent of the Rada.
Kateryna Odarchenko said the problem isn't one of supply. Women are willing to run for office but politics is perceived as dirty and women don't want to go in, Odarchenko, director of SIC Group Ukraine, said. "Politics isn't about important issues."
Some of the panelists blamed men, while others said that women and the media were to blame for the lack of gender diversity in politics and business.
"Men are afraid of the matriarchy," said Olena Ryhalska, a family psychotherapist.
Nadiia Vasylieva, the founder of the Digital Transformation Institute and a partner of DTC Consulting Company, pointed to several discrete steps companies can take to ensure greater diversity. She urged companies to use standard questions in interviews and to take off names when reviewing resumes. But a cultural problem still exists, Vasylieva said.
"Men don't want to mentor women because they don't think they'll become the CEO," Vasylieva said.
Vasylieva said the media also deserves some blame. Rather than taking women seriously as professionals, it evaluates their hair and personal life, she said.
Most panelists agreed that quotas can help even things out.
"Voluntary compliance isn't working. We need legislative measures," said Paliashvili, who runs a law firm in Kyiv. On the sidelines, Paliashvili told me that she used to think that if she worked just as hard as her male partners, she would rise to the top. However, she changed her mind as she moved up the career ladder and said that in her experience men pick men over equally capable women.
Kateryna Vlasyuk, the managing partner of the AVG law firm, said there has been legal progress. Ukraine recently passed two important laws; one provides criminal liability for domestic violence and the second made husbands pay alimony.
John Herbst, director of the Eurasia Center at the Atlantic Council and a former US ambassador to Ukraine, tried to reframe the issue. "I think gender representation is important and positive because of fairness and to unlock the potential of society," he said.
In the end, panelists didn't come to a consensus about the nature of the problem, but the discussion itself inspired optimism. There are far worse models for the future of Ukrainian politics than a group of articulate, strong-minded women disagreeing with each other respectfully about the biggest problems in society and how to tackle them.
Melinda Haring is the editor of the UkraineAlert blog at the Atlantic Council and a senior fellow at the Foreign Policy Research Institute. She tweets @melindaharing.