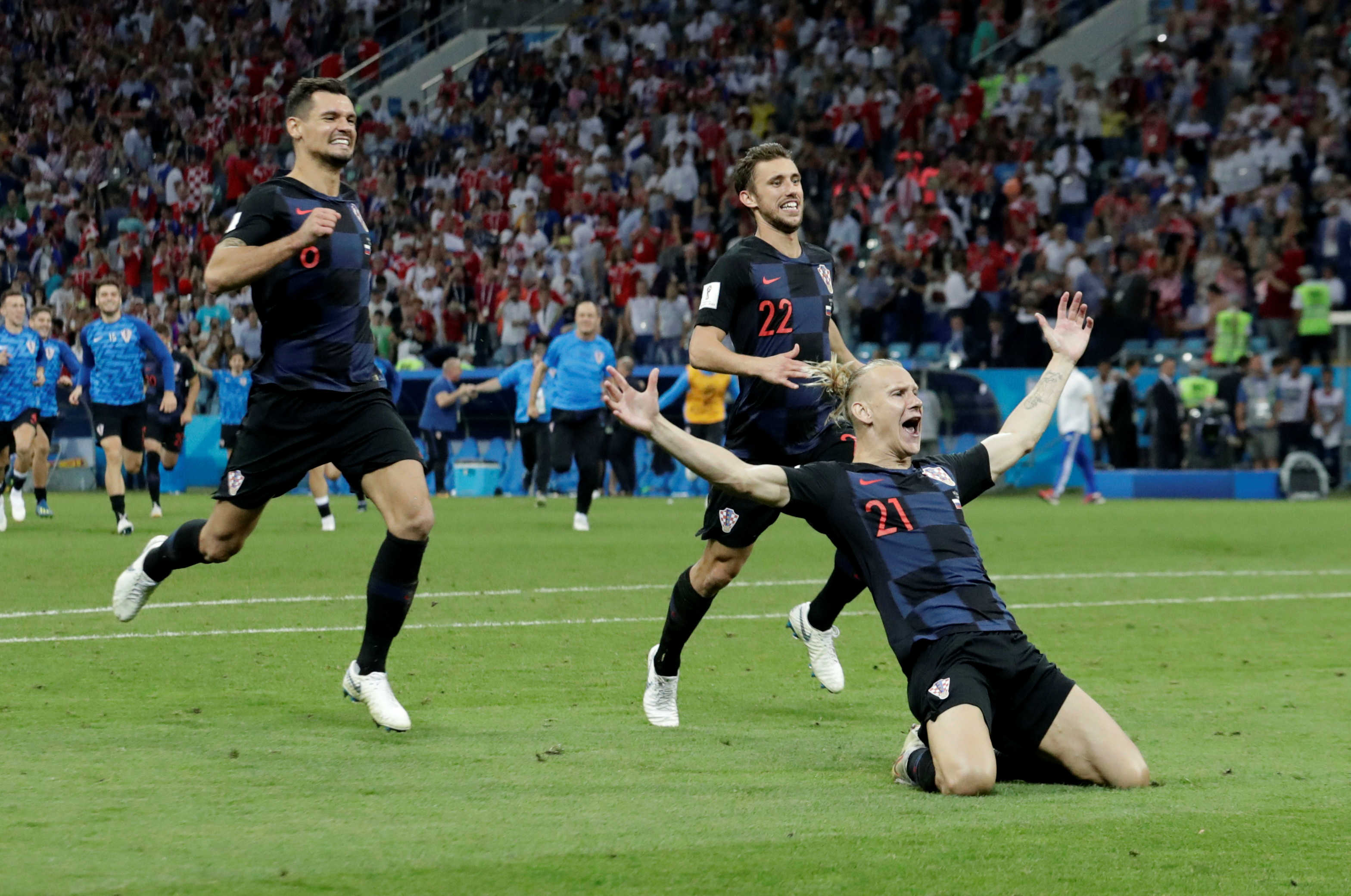 "Glory to Ukraine!" saluted Domagoj Vida in a video message last week to his Ukrainian fans following Croatia's victory over host Russia in the quarter finals of the World Cup. Vida, a Croatian defender who had played for five years with Ukraine's Dynamo Kyiv, was pumped up from a heady goal in a dramatic victory over Russia on July 7.
It was natural that he would salute the millions of Ukrainian fans who had followed his exploits for five years in Kyiv. And it was normal that—as someone who had lived in Kyiv during the Maidan protests, the killing of more than one hundred protestors, the Russian invasion of Ukraine, and the ten thousand deaths it has brought—he would have great sympathy for Ukraine.
Shouting "Slava Ukraini!" or "Glory to Ukraine!" would hardly seem a matter for FIFA, the international football authority. But Vida's utterance created a major international kerfuffle with FIFA initially threatening to disqualify the offending Croatian footballer and his mate, Ognjen Vukojevic, an assistant coach. Later, the Croatian team would dismiss Vukojevic, who, likewise had played for Ukraine' s Dynamo club.
The FIFA kerfuffle revealed a string of paradoxes about the international community, football, money, power, and double standards.
First, FIFA's initial reaction was in response to Russian anger with the expression of regard for a neighboring country which Russia professes to love as a younger brother but in reality has been at war with for more than four years. Of course, as the late Zbigniew Brzezinski liked to remind, Ukrainians are actually the older brother; Ukraine pre-existed Muscovy by some four hundred years.
Second, the Russian reaction reflected the reality that the Kremlin is engaged in a deadly war against Ukraine and that the conflict is not, as Putin would have it, a civil war.
During the World Cup, which began on June 14, at least twenty-five Ukrainians have died at the hands of Russian-led forces. Moreover, during the same time, in Britain, the nerve agent that nearly claimed the life of a former KGB spy claimed the life of his neighbor Dawn Sturgess instead. The British authorities have pointed their finger decisively again at Moscow.
But these acts of murder by Putin's war machine didn't elicit the concern of FIFA authorities.
Instead, what bothered them was the expression of affection by two Croatians for a country in which they had recently lived.
FIFA was not alone. Croatia's football authority absurdly compelled Vida to apologize for what they said was a "controversial video."
Another egregious offender was the Independent, a London newspaper, owned since 2010 by former KGB agent Oleksandr Lebedev.
It reported (and later redacted) that Vida had shouted "Glory to Ukraine"—"a phrase that continues to be deployed by anti-Russian Ukrainian nationalists following the Maidan 2014 coup." In this single phrase, the Independent managed to mainstream two Russian propaganda tropes: that the motto "Glory to Ukraine" is a nationalist slogan of the far right, and that the largely peaceful Maidan mass protests were an illegal coup d'etat.
Let's unpack the reality. For years, Slava Ukraini ("Glory to Ukraine") has been asserted to be a phrase of ultra-nationalist origin. While the phrase was used by nationalists from the Organization of Ukrainian Nationalists in the 1940s, it has had widespread currency in Ukraine since the First World War.
"Glory to Ukraine" was a widely used as a salute in the 1917-1920 period by the armies of two short-lived independent Ukrainian states, including the force of the Ukrainian National Republic, which was created largely by social democrats.
The phrase regained currency during the peaceful mass protests for Ukraine's independence in 1989-91. It entered widespread use during the Maidan revolution of 2013-2014, which forced Ukraine's President Viktor Yanukovych from power. A constitutional majority of the Ukrainian parliament dismissed him. There was no coup.
Today, it is a widely-used phrase evoking patriotism and respect for the nation; it is no more malevolent or dark than saying "Vive la France" or "God Bless America." In fact, foreign officials have widely used the phrase, including former US Secretary of State John F. Kerry and Canadian Prime Minister Justin Trudeau, among many others.
Still, the "Slava Ukraini" episode seems to have backfired on Russia and its FIFA lapdogs. For FIFA's warning and Russia's anger have refocused international media attention on the plight of Ukraine, whose citizens remain under deadly Russian attack.
On July 11, a global football audience of some three billion heard a chorus of constant boos and heckling whenever Vida carried the ball for his side in its 2-1 semifinal victory over England in the World Cup. It was the clearest confirmation that while Russia and Russians propagate a myth that the mayhem and suffering in eastern Ukraine is a civil war among Ukrainians, they well know that they are a party to a deadly war against a people they profess to love.
Thanks to the utterances of a couple of Croatian footballers and FIFA's ham-handed reaction, the world has been reminded of the dark reality under the pleasant gloss of Putin's football extravaganza.
Adrian Karatnycky is a senior fellow at the Atlantic Council and managing partner of the Myrmidon Group LLC.