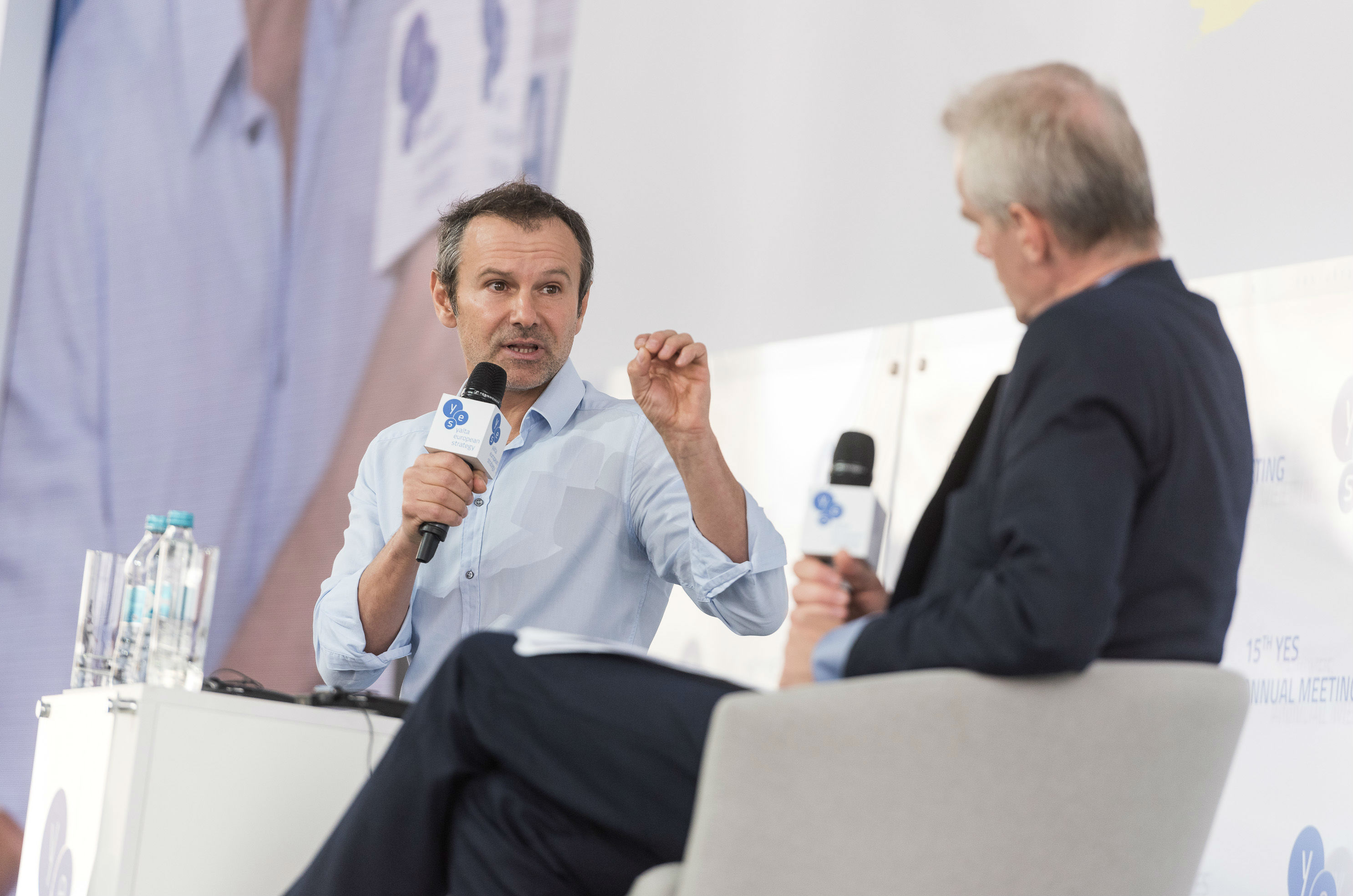 This year's Yalta European Strategy (YES) conference, known as the Ukrainian Davos, did not disappoint. Held in Kyiv on September 13-15, the meeting featured the obligatory celebrities and A-list dazzle. Bono turned up in purple-tinted glasses. Host Victor Pinchuk unveiled a silver spaceship-like creation by Japanese artist Marico Mori urging everyone to focus on the future. The American punk band Gogol Bordello was electric.
But the real drama took place on the second day, when BBC HARDtalk presenter Stephen Sackur took to the stage to interview three leading presidential candidates, one at a time. He interviewed frontrunner and former Prime Minister Yulia Tymoshenko, former defense minister and leading reform candidate Anatoily Gritsenko, and rock star Slava Vakarchuk, who may or may not be running.
Tymoshenko, looking smart in a cream-colored suit and Chanel high heels, gave a forceful address in Ukrainian. She said one cannot disregard all of the good things that have been accomplished since the Revolution of Dignity, citing Ukraine's unprecedented unity and support for NATO. Without naming incumbent President Petro Poroshenko, she urged the crowd not to fall for makeup or powerful energetic speeches.
Tymoshenko landed the most powerful blow against the president when she argued that he hasn't managed to transform the country. "We have to acknowledge that the system…has not been demolished or reformed in the last four years," she said.
Sackur then cross-examined her and drew loud applause when he asked how she can call herself a reformer when her party ranks as one of the least reform-minded. Tymoshenko was undeterred. She asked him to name specifics and here Sackur fumbled.
He also pressed her on her controversial decision to sign a gas contract in 2009 with Russia that forced the country to pay some of the highest gas prices in Europe.
Tymoshenko cleverly evaded the question. Why did pro-Russian president Victor Yanukovych throw her in jail? she asked, implying that she, in contrast, was clearly opposed to Russia.
Next up was Gritsenko, who wore a cornflower blue suit and looked trimmer than normal. The straight-talking former defense minister outlined his vision for Ukraine. It should be a country in which people trust the authorities, where law is predictable and civil society is strong, he said. It's time to grow up: Ukraine is addicted to corruption, populism, and paternalism, and this behavior is irresponsible, he added.
He proposed a nationwide census, saying that the government has no idea how many people live in Ukraine or how many internally displaced persons there are.
Gritsenko's remarks were general and delivered in English, which was a mistake. He has been banned from oligarchic television since October 2014, and his speech at the conference was his one chance to get on major network television.
Gritsenko used to run a top think tank in Kyiv, and it shows. Privately, his candor and political savvy are disarming, but those qualities don't translate well to a large audience.
Vakarchuk was the final panelist, and all eyes were on him as Sackur pressed him to answer the question that everyone has been dying to know for months. Was he running for president?
"…[D]on't expect from me any clear political announcements," the singer said.
He urged the crowd to have patience and promised to do big things, but his remarks were disorganized and too general. He fell flat in a number of places. When Sackur pressed him on his plans, he got defensive and one could hear an edge in his voice.
Vakarchuk is often asked who will be on his team if he decides to run, and he's clearly sick of the question. The rock star became a little manic when he offered a list of "ordinary people" whom he's met along the road who are his advisors. The delivery and the answer didn't inspire confidence.
Vakarchuk is not without his talents. With nationwide name recognition and a willingness to speak plainly and directly to people's hearts, he's the only reform candidate whom old dinosaurs like Tymoshenko and Poroshenko fear. During Vakarchuk's remarks, Tymoshenko stared at him, perhaps studying his style and responses.
But the rock star needs more practice, a speechwriter, and perhaps a suit and tie.
And he needs to make up his mind quickly. He's been on and off the fence for months now, and voters are sick of the gimmick. If he doesn't declare his candidacy soon, many observers fear voters won't be willing to give him a chance. Some insiders have told me that he wants to run, but he's afraid of getting creamed by oligarch-run television; the longer he delays, the less time the stations will have to undermine him. That may be true, but at this point, the public is losing patience with the will-he-won't-he game.
And it's a shame, because in the end, he's one of the only candidates with the right values and ideas to lead the country.
Melinda Haring is the editor of the UkraineAlert blog and a fellow at the Foreign Policy Research Institute. She tweets @melindaharing.