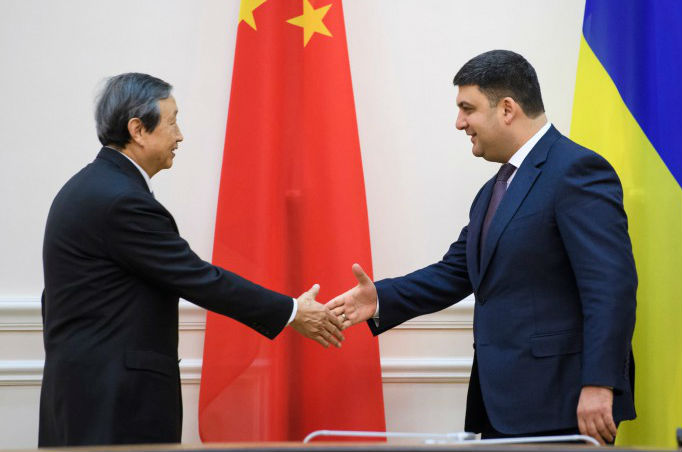 On Ukraine's Black Sea coast, the most active foreign actor is not Russia. It's China.
On the Danube, Chinese investors are mulling buying a Ukrainian river shipping company that could insert Chinese products deep into Eastern Europe. At the two big ports flanking Odesa, China Harbor Engineering Company just finished dredging Yuzhny and now is bidding to dredge Chornomorsk and to build a rail-to-ferry terminal.
On land, one Chinese company starts work shortly on a 200-kilometer cement coastal highway, built to take the pounding of overladen grain trucks. At Mykolaiv, another Chinese company has built modern grain silos and port elevators. Further east, Chinese companies study dredging ports in Mariupol and Berdyansk.
And herein lies the geopolitical rub.
The two ports are on the Sea of Azov, a body of water that, after the 2014 annexation of Crimea, the Kremlin would like to turn into a Russian lake. If, as expected, a Chinese company wins the contracts, the Russians would have to watch Chinese dredgers sail under the new Russian bridge connecting Crimea with Russia's mainland.
In Ukraine, China carefully avoids public conflict with its "strategic partner," Russia.
Last month, when Ma Kai, a Chinese vice premier, visited Kyiv to review investment projects, his public statements were few and bland. Few people noticed when he announced $7 billion in Chinese investment projects for Ukraine.
Quietly but determinedly, China pursues its own interests in Ukraine.
Not only is a Chinese company expected to upgrade Ukraine's two commercial ports on the Sea of Azov, but another Chinese company wants to capitalize on the wind coming off the Azov. It wants to build a 500 megawatt wind farm—right in the path of where Russia threatened to open a "land bridge" from Donetsk to Crimea.
In Ukraine, Chinese self-interest means two things: guaranteeing access to Ukraine's abundant food crops, and building a lesser route for its multi-strand Silk Road to Europe. Aiming for the world's richest consumer market, this route would go from Kazakhstan, across the Caspian to Azerbaijan, on to Georgia, and then across the Black Sea to Chornomorsk.
For Ukraine, China is a welcome investor, moving where Western companies often fear to tread.
"Ukraine needs the money, China has the money," said Radu Magdin, a political consultant visiting from Romania. "Also, Chinese investments are not values related. There are no conditionalities."
At the same time, China introduces to Ukraine a welcome geopolitical diversification from the old choice, Russia or Europe. This spring, China is to start regular freight service from Western China through Ukraine to Europe. Few people worry that Russia will block the trains.
Many of China's projects are related to guaranteeing food exports—port modernizations, dockside silos, highways, a new bridge over the Dnipro, and an offer to build railroad locomotives in Ukraine. The dredging and deepening of Yuzhny port is part of a larger $150 million, Cargill-Ukrainian project which will increase Ukraine's grain export capacity by 15 percent.
Two projects seem designed to win friends and influence. In November, two Chinese companies signed a contract to build Kyiv's fourth metro line, a $2 billion arcing line designed to ease crowding in the city center. Other projects under negotiation by Chinese companies are guaranteed crowd-pleasers for the political and media elite in the capital: a ring road highway and a fast light rail from central Kyiv to Boryspil, the city's busiest airport.
Some analysts fear that China eventually will form an unholy partnership with Russia, dragging Ukraine back under Russia-oriented authoritarian rule.
"China has a very aggressive economic strategy in Europe," Jack Keane, retired US Army general and chairman of the Institute for the Study of War, warned in an interview last month in Kyiv. "What will follow is geopolitical influence to move Ukraine away from the West."
In Greece, billions of dollars of Chinese investment, notably in the port of Piraeus, has led to pro-Chinese stances by Athens. But China's rise seems to be helping China, not Russia.
In Ukraine, one French banker in Kyiv argues, China may be happy to have Russia tied up in an expensive, pointless war on its Western end. This makes the Kremlin more open to Chinese demands in its east. Since 2014, Chinese investment in the Russian Far East has grown in what China wants: oil, gas, iron, and farmland.
With Russia ejected from Ukraine's investment scene, China makes its moves. Last fall, in a move to facilitate public and private investment, China's Bohai Commodity Exchange acquired the Ukrainian Bank for Reconstruction and Development.
In Ukraine, the understandable obsession with Russia is so great, that China's recent investment push is passing largely unnoticed.
In Odesa, the talk is about Russia's control of Crimea, not about a proposed Chinese-built fast train from Kyiv to Odesa.
In Odesa, China's three-story consulate, the largest diplomatic mission there, stands two kilometers from Mechnikov National University, the city's leading institute of higher learning.
But a two-week search for a China-Ukraine expert came up empty. An international relations professor asked around, then emailed back: "Turns out that none of them have ever done any studies of Ukraine-China relations…This is not something on my radar."
James Brooke, a former New York Times foreign correspondent, lives in Kyiv where he reports and writes UBJ.am, a weekday morning email summary of Ukraine business news.