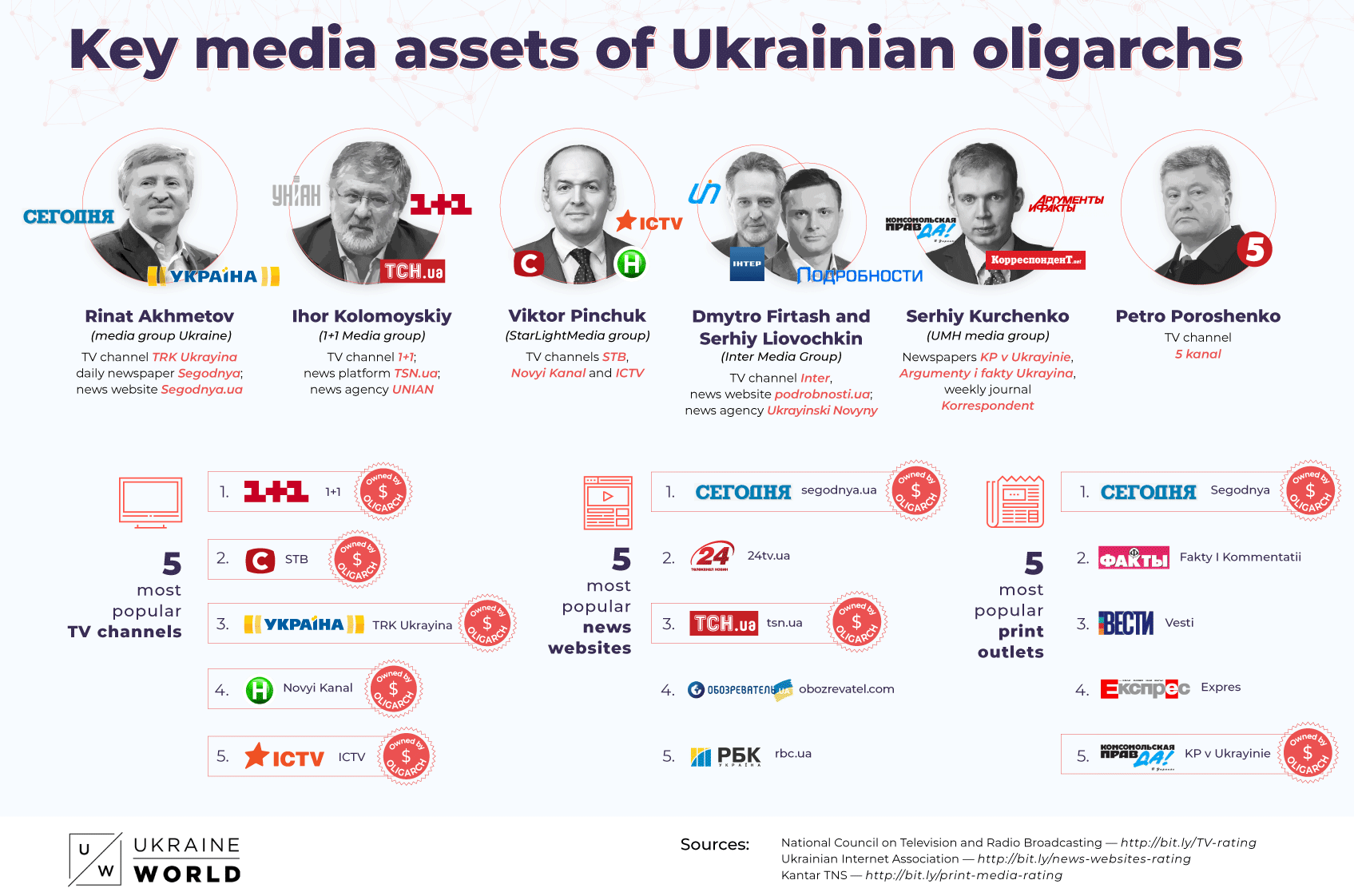 Oligarchs own the airwaves in Ukraine. More than 75 percent of Ukrainians regularly watch TV channels owned by Ukrainian oligarchs Viktor Pinchuk, Ihor Kolomoisky, Dmytro Firtash, and Rinat Akhmetov. But this is hardly news since TV serves as the primary source of information for 58 percent of Ukrainians.
While these oligarchs are the biggest media owners, they are not the only ones. A disturbing trend is that most newly established media are also linked to politicians. Espreso.tv has been linked to former Prime Minister Arseniy Yatseniuk and Interior Minister Arsen Avakov, and the NewsOne TV channel is linked to MP Vadym Rabinovych (also an oligarch) and his business partner MP Yevhen Murayev. The media watchdog Reporters Without Borders notes that Channel 112 "often broadcast[s] pro-Russian interpretation of events" and many regard the station as connected to the funds of former President Viktor Yanukovych's close entourage. However, the channel's official ownership documents show no such links and the channel denies any relationship to any political party.
Yet the picture isn't entirely hopeless. While oligarchs may dominate television, the numbers of viewers is declining and so is trust in television news. Oligarchs do not dominate ownership of top newspapers or online news, and trust in online news is on the rise. In fact, only two of the five top news websites are owned by oligarchs; the same figure is true for print outlets. Outside of television, there is real competition, and a growing number of people get their news online. One poll put the figure at 30 percent, and Ukraine's independent media is scrappy, reliable, and breaking real stories. Media like Ukrayinska Pravda, Hromadske.ua, Hromadske Radio, Novoe Vremya, Krayina, and Tyzhden, as well as media projects like Detektor Media and StopFake, are truly independent, and one should expect their numbers to only increase. Some analysts describe Ukraine's media as free but not independent, which is a good summary, but not entirely accurate when it comes to online news.
Most Ukrainians are aware of the backers behind the major television stations and how this ownership shades coverage. This knowledge has been strengthened by recent legislative changes, which obliged television and radio broadcasting companies to make their ownership structure public. But as the 2019 presidential and parliamentary elections begin to shape political debates now, and as long as television remains the most important source of news, it's worth recalling who owns what in Ukraine.
Here are the major Ukrainian media owners:
Rinat Akhmetov

Rinat Akhmetov, the country's richest man, owns the Ukraine Media Group, which includes TRK Ukrayina, one of the most popular Ukrainian TV channels, as well as several other sports-oriented and leisure-oriented TV channels. He also owns the country's most popular newspaper Segodnya and the country's most read news website Segodnya.ua.
Ihor Kolomoisky

The second wealthiest Ukrainian—Ihor Kolomoisky—owns the 1+1 Media Group, which includes several major television channels—1+1, 2+2, TET, and UNIAN TV, as well as the online news platforms TSN.ua and UNIAN. The 1+1 channel is the most popular television station in Ukraine.
Viktor Pinchuk

Pinchuk, who sits in fourth place on the Focus list, owns StarLightMedia Group. Its major assets are three television channels: STB, Novyi Kanal, and ICTV. All three are in the top ten of the most viewed channels in Ukraine.
Dmytro Firtash and Serhiy Liovochkin
The Inter Mediа Group is owned by Ukrainian businessman Dmytro Firtash who resides in Austria as a result of a criminal investigation, and Serhiy Liovochkin, former head of Viktor Yanukovych's presidential administration. Both have business and political links to Russia.
The group owns 61 percent of the Inter TV channel, one of the most popular channels, as well as K1, K2, MEGA, and NTN. Firtash and Liovochkin also own the news website podrobnosti.ua and the news agency Ukrayinski Novyny.
Serhiy Kurchenko

Even though Serhiy Kurchenko, a business tycoon close to Yanukovych, fled the country in February 2014, he remains the owner of the UMH Media Group. The group's large portfolio includes two major newspapers (Komsomolskaya Pravda v Ukrayinie, Argumenty i Fakty Ukrayina), business and political news magazines, sports newspapers and magazines, and radio stations.
Kurchenko operates through a decoy name, Bradley Matthew Adrian, who according to group's ownership documents, is a director in thirty-five offshore companies and resident of Belize. The Ukrainian government has tried to take away the holding from the runaway oligarch. The National Council on Television and Radio Broadcasting refused to renew licenses and stopped UMH from broadcasting on thirty-six regional FM stations. Ukrainian Prosecutor General Yuriy Lutsenko has threatened to confiscate UMH, as the prosecutor general's office did with Kurchenko's Odesa oil-refining plant and Kharkiv Metalist football club, so his media influence may soon wane.
Petro Poroshenko

Even though the media assets of Ukrainian President Petro Poroshenko are modest in comparison, his insistence on maintaining ownership of the Channel 5 television station shows how important media is for politicians.
In addition, the new Priamyi infotainment channel is rumored to be a project of Poroshenko as the 2019 parliamentary and presidential elections near.
Vitalii Rybak is an analyst at Internews Ukraine and UkraineWorld.