March 8 is international women's day. This year, the theme is to "press for progress" and one area women have been seeking—and making—progress is in representation in the workplace. Nowhere is this more in focus than in the Gulf countries, where the inclusion of women in the workforce is part of overall efforts to diversify economies away from hydrocarbon revenue.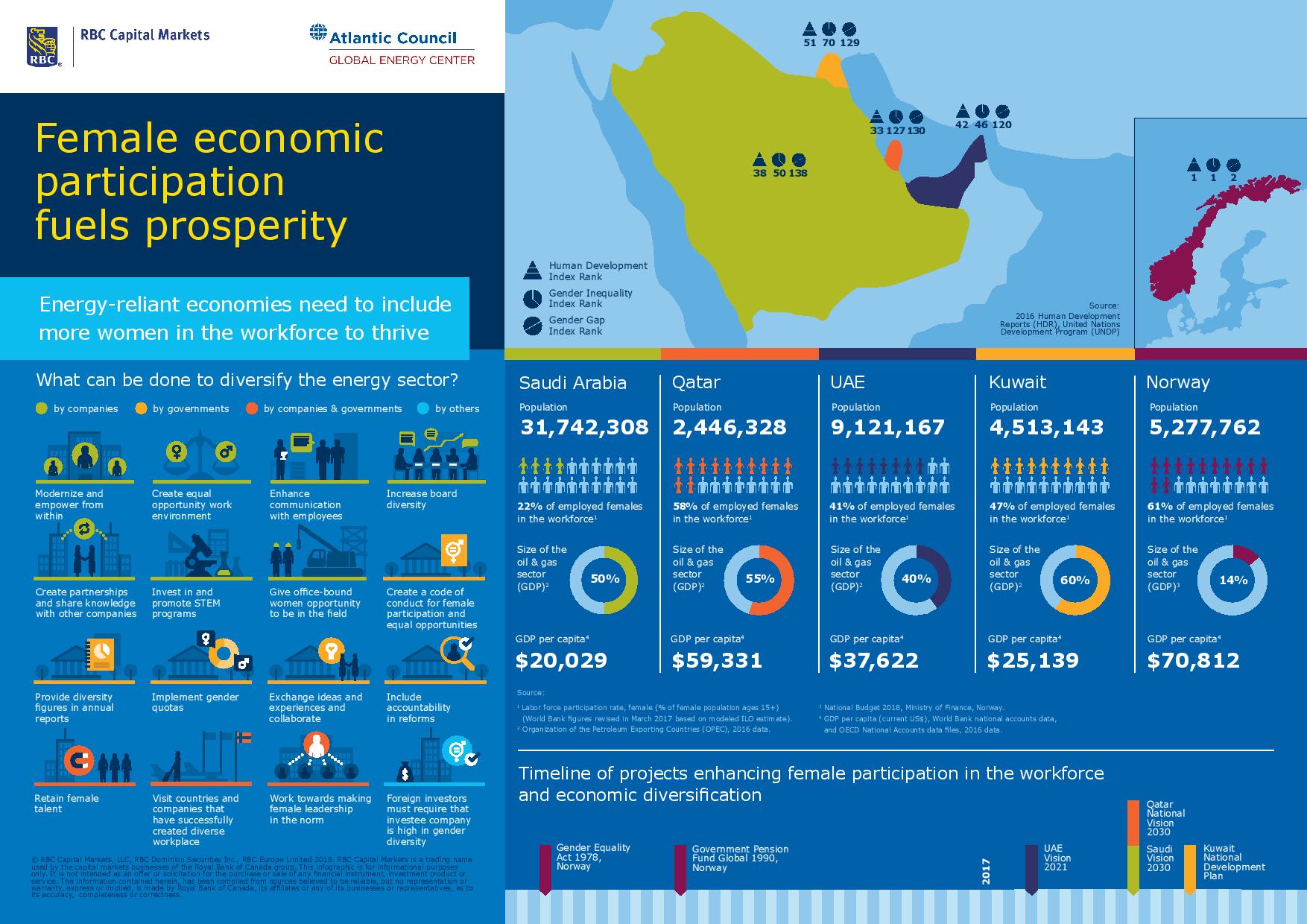 The Global Energy Center report Energy: Driving Force Behind Increasing Female Participation in the Gulf? examines the state and importance of female participation in the workforce in Saudi Arabia, Qatar, the United Arab Emirates, and Kuwait, as well as the economic reforms these nations are currently implementing and the role the energy sector could play in increasing female participation.
Energy-reliant economies need to include more women in the workforce to thrive. As the backbone of the economies of these four countries, the energy sector has the ability to increase and retain female participation in the workforce by investing in their education and skills and providing them with opportunities to grow, including into leadership positions.
Key challenges in the Gulf:
Women are more highly educated than men, but maintain a low participation rate in the workforce.
Lack of female leadership and role models across sectors
Lack of incentives, including through legislation, to increase female participation
Lack of transparency in both the process of implementing reforms and the metrics used to track and measure change

Bottom line:
In order for these nations to remain economically prosperous, women need to be included in the workforce. The energy sector, as it has the financial means to do so and is an integral part of the economy and diversification strategy, can lead by example for other industries and be the driver behind increasing participation.
This report was first launched at the Global Energy Forum in Abu Dhabi and is co-sponsored by RBC Capital Markets.
Bina Hussein is an associate director at the Atlantic Council's Global Energy Center. You can follow her on Twitter @BinaHussein