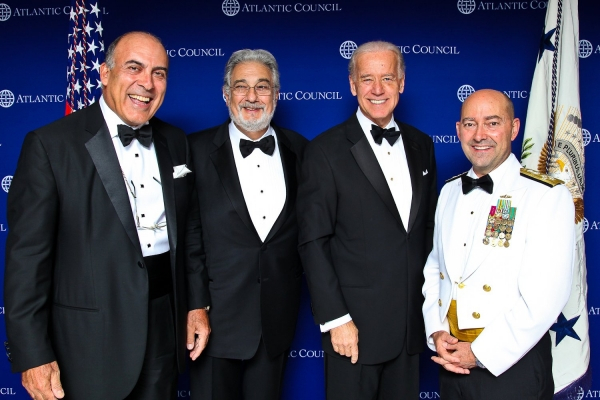 On May 3rd 2011, the Atlantic Council hosted its Annual Awards Dinner, which launched the Council's 50th anniversary celebrations. As in the previous years, we honored distinguished international leaders and their versatile contributions to the strengthening of the transatlantic relationship. Vice President Joe Biden provided the Distinguished International Leadership keynote address.
The Atlantic Council Distinguished Military Leadership Award was presented to Admiral James G. Stavridis, USN, Supreme Allied Commander Europe for the role he has played in service to our nation and his commitment to the security and promotion of the transatlantic alliance.
We presented our Distinguished Business Leadership Award to Chairman of the Board and CEO of Coca-Cola Muhtar Kent for the role he has played at one of the world's most respected global and philanthropic companies and throughout a career that included crucial jobs during the transition to free markets in the former Soviet bloc.
Our Distinguished Artistic Leadership Award was given to leading tenor, Placido Domingo, whose music and humanitarian accomplishments have resonated around the globe. The night will also commemorate his achievements as the General Director of the Washington National Opera in advance of his departure in June.
The evening also featured the launch of the Brent Scowcroft Center and the Rafik Hariri Center with Mr. Frederick Kempe, General James L. Jones, Mr. George Lund, General Brent Scowcroft, and Mr. Bahaa Hariri.
New Atlanticist Commentary:
Media Coverage:
Press Releases: