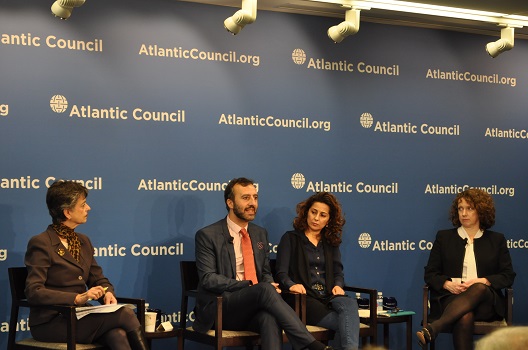 In the aftermath of demonstrations in more than 100 Iranian cities and towns in late December-early January, analysts have been divided over whether the Iranian system can profit from the protests to enact meaningful reforms or whether the system is too repressive and brittle to change through relatively peaceful evolution.
Speaking Feb. 12 at a discussion organized by the Atlantic Council's Future of Iran Initiative, Alireza Nader, an independent researcher on Iran and the Middle East, argued that the Iranian political and economic system is on the "verge of collapse" and mere reforms will not resolve its fundamental problems. Nader, who outlined his views in a new paper, Iran's Uncertain Political Future, said that Iranian President Hassan Rouhani "is positioning himself" to become Iran's Supreme Leader after the death of Ayatollah Ali Khamenei, but that the powerful Revolutionary Guards would block Rouhani's ascension.

Nader said that military rule was a possibility post-Khamenei but that Iranians would not tolerate prolonged military control. "People have expectations," Nader said. "They want accountability, they want more democracy, they want a functioning economy, they want a system that can govern Iran and nothing suggests that the Guard can govern Iran."
Nader touched on the possibility of holding a referendum on Iran's political system. Although the idea has been suggested for some time and was mentioned by Rouhani Feb. 11 during the annual commemoration of the 1979 revolution, Nader doubted that the current regime would allow it. "If the Islamic Republic has a referendum, it will be voting itself out of existence," Nader said.
Nazila Fathi, a journalist and author, presented a more sanguine forecast. She noted that the "economy in general is doing better" since the relief of sanctions under the Iran nuclear accord. The caveat, she said, is that "perhaps the ripple effects have not reached the people who were protesting, it may not reach them at all for other reasons." She attributed the mal-distribution of wealth to mismanagement, environmental degradation and high rates of unemployment.
While Fathi agreed with Nader that the situation, particularly in some rural areas and small cities, is dire, she disagreed that the Islamic Republic is on the verge of collapse. "Iranians are very much afraid of an institutional breakdown" in light of the bloodshed afflicting failed states in the region such as Syria, Libya and Yemen. She also cautioned that the Revolutionary Guards are not unified, adding "we don't know anything about the real leadership of the Guards." Fathi said that it was unlikely that a single individual would succeed Khamenei as supreme leader and that a council of individuals was more likely. That could dilute the power of the office in favor of directly elected institutions.
Suzanne Maloney, deputy director of the Foreign Policy program at the Brookings Institution and a senior fellow in the Brookings Center for Middle East Policy and Energy Security and Climate Initiative, agreed with moderator Barbara Slavin, director of the Future of Iran Initiative, that Iran has the bones of a constitutional democracy, but added that "it is surrounded by unelected institutions and unaccountable offices that fundamentally, are opposed to any real measure of reform to their own offices." Maloney called this a "structural trap." Maloney said that Iran is experiencing a "crisis of expectations" after the nuclear deal. The "fundamental legitimacy of the regime is in question and there is a power struggle at the top" between Rouhani and more hardline factions, she said. She also warned that if the regime falls, what succeeds it may not be an improvement. "It could get worse," Maloney said.
Asked whether the US government could have any impact on Iran's political future given Iranian hostility to many positions of the Trump administration, the panelists said the US should revoke an ill-advised travel ban, lift sanctions on the provision of communications technology to Iran, "name and shame" Iranian human rights abusers and remain within the Joint Comprehensive Plan of Action (JCPOA). "It is foolish to go after the JCPOA now," Maloney said. "The pressure the Trump Administration has built around that question should be leveraged for greater cooperation from our Allies, particularly from Europe, on challenges emanating from Iran."
Fathi added that the US government should put pressure on Iran to free jailed environmentalists and allow an independent autopsy of Iranian-Canadian environmentalist Kavous Seyed Emami, who died in detention under suspicious circumstances.