On Thursday, January 28, the Africa Center hosted a private virtual roundtable featuring H.E. Demeke Mekonnen Hassen, the deputy prime minister and minister of foreign affairs of the Federal Democratic Republic of Ethiopia, for a wide-ranging update on the security and humanitarian situation in the Tigray region of Ethiopia. Africa Center Senior Fellow Gabriel Negatu opened with introductions of the speakers, before ceding the floor to H.E. Demeke for an opening statement.
In his remarks, H.E. Demeke focused on the government's humanitarian response and the status of regional refugees, while providing an update on the government's law enforcement operation. He was joined for comments by H.E. Redwan Hussein, state minister for foreign affairs and state of emergency spokesperson, and H.E. Tesfahun Gobezay, director general of Ethiopia's Agency for Refugee and Returnee Affairs. Among other contributions, H.E. Tesfahun reported on the status of four key refugee camps near the border with Eritrea and the latest efforts to restore full access and services.
In the ensuing discussion, participants across government, the diplomatic corps, and relevant non-profit organizations engaged the Deputy Prime Minister on a variety of topics. These included issues related to humanitarian and journalistic access, the alleged role of Eritrean forces, the potential for border conflict with Sudan, and the timetable on restoring telecommunications to affected areas. Africa Center Director of Programs and Studies Bronwyn Bruton closed the session, thanking all speakers and participants for convening under the auspices of the Atlantic Council.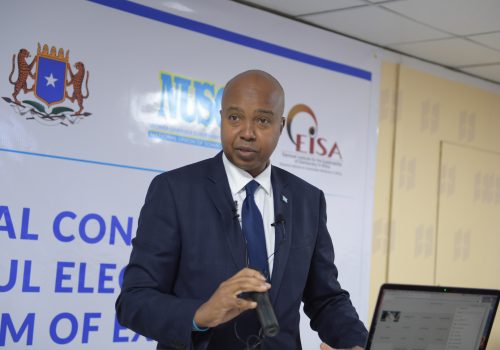 Fri, Jan 15, 2021
On Friday, January 15, the Africa Center and the Scowcroft Middle East Security Initiative co-hosted a private roundtable featuring H.E. Mohamed Abdirizak, the minister of foreign affairs and international cooperation of the Federal Republic of Somalia. In his remarks, Mr. Abdirizak addressed issues of security, governance, elections, and regional relationships from Somalia's perspective.
Event Recap by Africa Center

Mon, Dec 14, 2020
The announcement today that the forty-five day notification period to Congress had elapsed and Sudan was finally off the US State Sponsors of Terrorism list is historic. It validates the new direction of the country, which it was set upon nearly two years ago by nationwide, peaceful street protests. More importantly, it represents a definitive break with Sudan's troubled past—the true end of the Bashir era, which began more than thirty years ago—and holds out the hope for a more prosperous future for all Sudanese. The weight of the moment cannot be understated.
AfricaSource by Cameron Hudson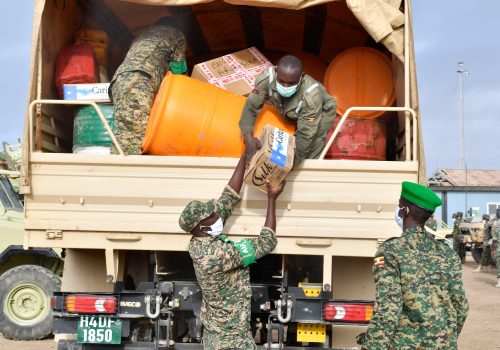 Tue, Dec 22, 2020
African nations have mostly escaped the heavy death toll and hospital bed shortages faced by Western countries, but the COVID-19 pandemic has dealt a disproportionately severe blow to the continent's economic ambitions. Fortunately, robust collaboration between African public and private sectors, and particularly innovative financing measures from African development institutions—including members of the Africa Center's […]
AfricaSource by Africa Center