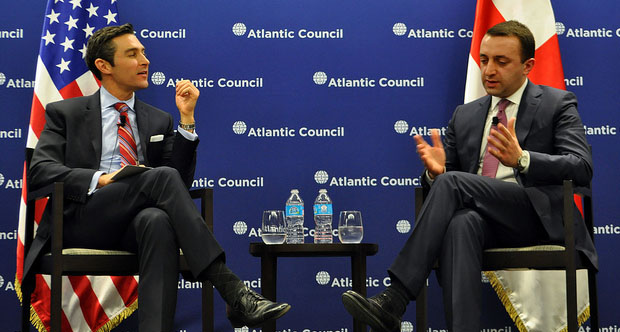 As Russia presses its former Soviet neighbors – Ukraine, Georgia and Moldova — to halt their integration with the European Union and NATO, the prime minister of Georgia urged the United States to sustain clear support for the right of ex-Soviet states to turn westward. Prime Minister Irakli Garibashvili spoke February 25 at the Atlantic Council following a meeting at the White House with President Obama.


Garibashvili made perhaps his clearest call yet for NATO to approve this year a formal plan for Georgia's membership. And he made clear he expects the US government to lead in achieving that. "We look to the United States as our gateway to the North Atlantic alliance," he said in his first public address in the United States since taking office.
Russia has escalated its pressures against Georgia following the close of the Winter Olympics in Sochi, notably by having its troops erect intrusive new fences along its occupation zones in Georgia, beginning on the day after the Olympics' closing ceremony, Garibashvili said. Georgia is prepared if this month's political setback for Russia in Ukraine leads the government of Russian President Vladimir Putin to continue stepping up its pressures, he said.
Garibashvili spoke to hundreds of policy specialists, government officials, Atlantic Council members and journalists, taking questions in a discussion moderated by the Council's executive vice president, Damon Wilson. He gave interviews to Georgian and US journalists, and met members of Congress, Atlantic Council directors and others at a dinner at the Council.
Key points from Garibashvili's remarks included these:
ON GEORGIA'S EARLY MEMBERSHIP IN NATO.
Garibashvili underscored Georgia's push for NATO to approve as early as possible – at the alliance's September summit conference in the United Kingdom – a formal "Membership Action Plan" that would lead to his country's full membership in the alliance.
"Six years ago, at the NATO summit in Bucharest, the allies decided that Georgia would become a member of NATO. And in Chicago, the alliance underlined the importance of holding free and fair parliamentary and presidential elections," Garibashvili said in his speech. With those elections having been held, "it puts us in a strong position to take [the] next step … forward in Georgia's NATO integration. For Georgia, the upcoming NATO summit in UK is the best opportunity to adequately reflect the progress made," he said. "It is essential to move forward and the realistic way to do it is to grant [a] Membership Action Plan to Georgia. We stress on that," he said.
ON THE UKRAINE CRISIS AND ITS IMPACT ON THE REGION.
"As you know, Ukraine is part of the Eastern Partnership project" by which the European Union has expanded eastward, Garibashvili said in an interview after the speech. The recent months' street demonstrations, police attacks and violence in Ukraine over the broad popular desire to continue that country's integration with the European Union has resonated strongly among Georgians, he said. "If Ukraine fails [to complete an EU Association Agreement], it will hurt this project, it will be big loss, I would say. …Of course, ideally, we would like to see Ukraine signing this agreement with Georgia and Moldova."
ON RUSSIAN PRESSURES AGAINST GEORGIA.
Russian troops occupying the Georgian regions of Abkhazia and South Ossetia have resumed building fences to separate those territories from the rest of Georgia, Garibashvili said. "They suspended these actions in December and they renewed [them] right after the Sochi games. … They are installing these fences and they are calling it a 'border' – well, there is no border within our territory."
ON GEORGIA'S ABILITY TO WITHSTAND RUSSIAN PRESSURES.
While Russia might try to further step up its pressures against Georgia, either to compensate for its setback in Ukraine or to prevent Georgia's signing of an Association Agreement with the European Union, Georgia will be able to hold its course, Garibashvili said. "Georgia has already experienced that pressure from Russia, when we had this war in 2008. Twenty percent of our territory is occupied. What else can be done? Now Russia doesn't have too many economic leverages" against Georgia. "We are less dependent on them [than is Ukraine]. We don't depend on them in energy or economically. Therefore it's a different situation compared to Ukraine."
ON GEORGIA'S PLAN TO GRADUALLY RESOLVE THE OSSETIA AND ABKHAZIA CONFLICTS.
Garibashvili underlined that Georgia will not seek to re-unite its territory by force. The ethnic Ossetian and Abkhazian communities that may now support secession from Georgia "should understand that they have a better future with us. … What we are offering to them, and what is my vision is that we are going to move forward with the European Union, and one day we will become a member of the European Union. We will have a strong economy, we will have much better social conditions" – "better education, better health care, and people will benefit." He said: "We will offer to our brothers, Abkhazians and Ossetians, to share with us all these benefits. … and they will have to decide whether they want to live in the darkness or live in a brighter future." Garibashvili said Georgia is prepared to see its reunification efforts take as long as five or ten years.
{flickr set=72157641535842234 photo=primary}