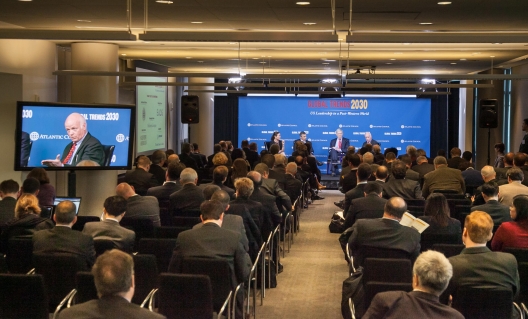 The Atlantic Council's Strategic Foresight Initiative hosted more than 200 people at the Global Trends 2030: US Leadership in a Post-Western World conference held over two days at the Newseum on December 10 and 11, 2012.
For summaries of each session, links to video and transcripts, check out the
conference agenda
.
The conference began immediately following the December 10 release of the US National Intelligence Council's (NIC) Global Trends 2030: Alternative Worlds report and the Atlantic Council's companion report, Envisioning 2030: US Strategy for a Post-Western World. This event was a unique opportunity for policymakers, international business leaders, media figures, and noted global thinkers to come together and discuss how the United States should respond to game-changing trends and identify critical areas in which US policy is currently failing to meet the challenges of the future.
Welcoming the participants to the day's proceedings were Atlantic Council President and CEO Frederick Kempe and Chairman of the US National intelligence Council Christopher A. Kojm. Atlantic Council Chairman Senator Chuck Hagel delivered a strategic address focused on not only the need to rebuild American political consensus and the domestic economy, but also international engagement, as a way to lay out the foundations of US leadership in a complex, combustible world. The first day of the conference centered on the presentation of the four scenarios projected by the NIC's report by its chief author, Dr. Mathew J. Burrows, and an exploration of emerging technologies that could change the world moving forward. The second day was organized around five high-level panel discussions and a luncheon conversation with Lieutenant General Brent Scowcroft.
For summaries of each session, links to video and transcripts, check out the conference agenda.
Programming around the themes discussed at the conference will continue into 2013, including online discussions via social media. Join in the conversation by following the accounts listed here and tweeting with the hashtag #gt2030.
MEDIA MENTIONS