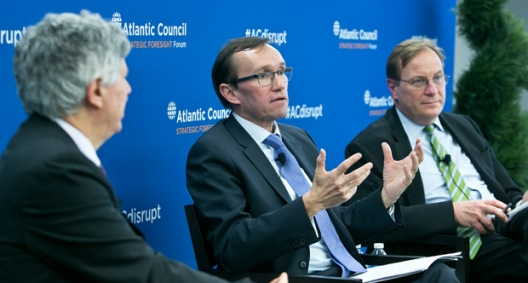 A new report and two days of dynamic discussion — in the room and online — explored the challenges and opportunites the US and the world face in the upcoming technology revolution. The opening debate and each session were recorded. You can watch via the playlist below. Council experts weighed in with their initial reactions to panels throughout the two days. Those links are below as well.
Entitled Harnessing Disruption, the Forum highlighed ways the technology revolution is shaping government, business, and civil society. Many panelists focused on the effects of technology on individual empowerment and globalization, and the need by both public and private sectors to better adapt to coming change. Quick blogs were written by staff following each session:
Some of the more memorable quotes from the Forum included:
To wrap up the Forum, Fred Kempe asked the last panel to each name the one thing they thought was most important to our long-term global success. The answers were profound in their simplicity. Peter Schwartz said learning to live with uncertainty, while Peter Ho named good governance. General Scowcroft summed up the whole forum in one word: Judgement. "But," he went on to say, "I don't know how you teach judgement."
You can watch each of the panels in the player below or on our YouTube channel, and the conversation is still going on online using the hashtag #ACdisrupt.
Twitter Favorites
#ACdisrupt: Gen Scowcroft says govt has "huge power" based on unprecendented ability for widespread surveillance
— Jason Healey (@Jason_Healey) December 10, 2013
.@peterschwartz2: Leaders need to have humility. Leaders who believe they can control complexity are dangerous. Harness instead. #ACdisrupt

— John Hanacek (@johnhanacek) December 10, 2013
Scowcroft: The answer is judgement, I don't know how you teach judgement #ACdisrupt

— Strategic Foresight (@ACforesight) December 10, 2013
#ACdisrupt end thought: the future is immensely unsure, but it is ours to build.

— John Hanacek (@johnhanacek) December 10, 2013
The technology & big data are only enablers in finding solutions to future challenges. #FPTrends #ACdisrupt

— POLITACT (@POLITACT) December 11, 2013
At @ACforesight, great panels on opportunities for technological breakthroughs, but also deep concern about rising inequalities. #ACdisrupt

— Espen Barth Eide (@EspenBarthEide) December 10, 2013
Tyrannical states are facing a shift in power driven by the technological tools now in the hands of individuals #ACdisrupt

— Daniel Puls (@DanielPuls) December 10, 2013