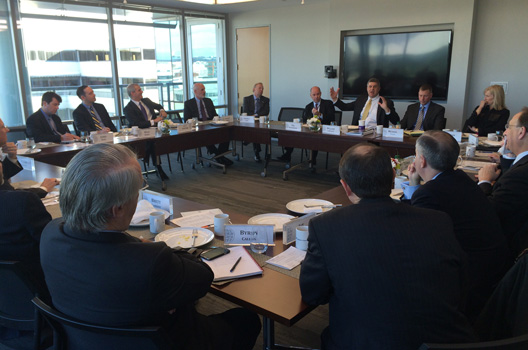 On Thursday, December 11, 2014, the Brent Scowcroft Center on International Security welcomed William LaPlante, assistant secretary of the Air Force for acquisition, and Ted Harshberger, vice president and director of Project AIR FORCE at the Rand Corporation. The topic of conversation was on "Innovation in Air Force Acquisition." This was the latest event of the Corporate Strategy Forum series, and was moderated by Steven Grundman, the M.A. and George Lund fellow.

Innovation is back in vogue at the Pentagon. Last month, Secretary of Defense Hagel announced the Defense Innovation Initiative, which challenges the defense enterprise to "pursue innovative ways to sustain and advance our military superiority for the 21st Century and improve business operations throughout the Department." Earlier this fall, Under Secretary Frank Kendall made clear that the aim of Better Buying Power 3.0 was to "deliver the innovation, technical excellence and speed to market to ensure our technological superiority." Much of the weight of these expectations and directions in the Air Force rests on William LaPlante, who in his address to the Council's Defense-Industrial Policy Series last June emphasized that understanding how technology will shape the future of air dominance is among his highest priorities. The discussion focused on what the Air Force is doing to respond to this innovation challenge.
The Corporate Strategy Forum convenes chief strategists of transatlantic companies in aerospace, defense, security, and government services for a private roundtable discussion about issues confronting the long-term health of these industries.