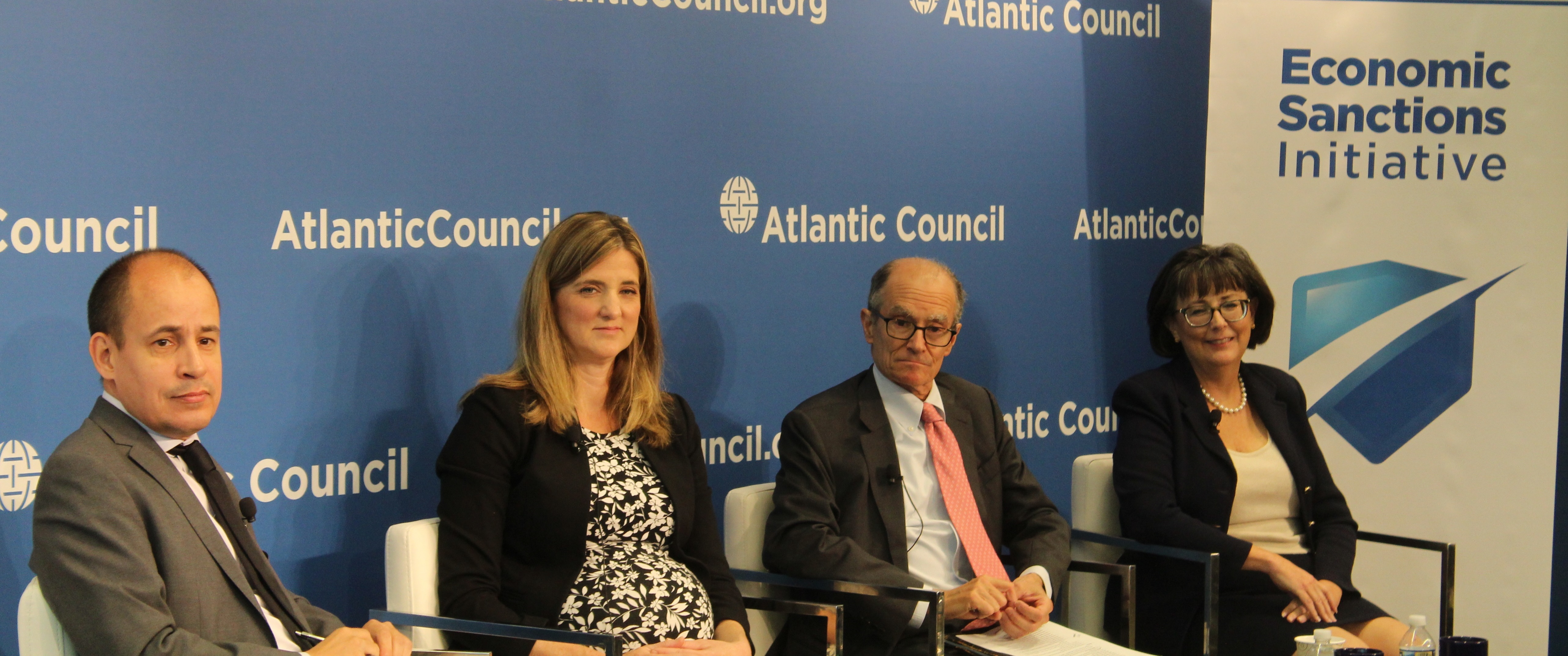 Facebook has disclosed its plans to launch the ambitious new digital currency, Libra, in the first half of 2020. Operating on a version of blockchain, Libra hopes to become a widely adopted payment method, supported by Facebook's 2.4 bn users and a coalition of global corporations including Uber, Visa, and Spotify that form the Libra Association.
Libra: Balancing Risks & Opportunities
July 11, 2019, Economic Sanctions Initiative
Global Business & Economics Program
Discussants:
Jennifer Fowler, Director, Brunswick Group LLP
Ambassador Daniel Fried, Distinguished Fellow, Future Europe Initiative and Eurasia Center, Atlantic Council
Barbara C. Matthews, Nonresident Senior Fellow, Atlantic Council; Founder and CEO, BCMstrategy, Inc.
Moderator:
Bart Oosterveld, C. Boyden Gray Fellow on Global Finance and Growth; Director, Global Business & Economics Program, Atlantic Council
Ambassador Daniel Fried argued that Libra's backers make a strong case for using modern internet technology to extend banking services to those who do not have access to traditional financial institutions. A global currency that boosts financial inclusion is a compelling prospect.
Ms. Barbara Matthews noted that Libra is not the first cryptocurrency to be introduced. In addition to decentralized cryptocurrencies, including Bitcoin, central banks as well as commercial banks, such as JP Morgan Chase, have introduced their own coins. Ms. Matthews was most optimistic regarding the healthy competition that the introduction of Libra might bring about in the financial system.
Participants discussed the cultivation of a regulatory landscape that is still conducive to innovation. Ms. Matthews emphasized that the launch of this cryptocurrency constitutes a cultural paradigm shift. The government, she argued, exists to ensure public safety. Libra, which both Amb. Fried and Ms. Matthews characterized as a 'post-sovereign' initiative, has the potential to redefine the balance of power between people and the government. Ms. Matthews added that the jumping-off point for any discussion on regulatory landscapes must start with a conversation on the basic principles of public safety.
The introduction of this currency poses significant challenges to the global economy such as potential international spillover effects and the enforcement of sanctions regimes. Instant payments through Libra will likely, as Ms. Matthews warned, set off chain reactions affecting financial stability. What sets Libra apart from other cryptocurrencies, such as Bitcoin, is that Libra is linked to a currency basket. Ms. Matthews also touched on the risks of data breaches of customer identities and their individual banking habits.
On the other hand, Ms. Jennifer Fowler underscored the increased user authentication that this type of financial system could offer. Historically, risks are perceived greater when financial systems are more opaque, and several US government officials have expressed skepticism of cryptocurrencies. However, as Ms. Fowler emphasized, shell companies and similar entities pose comparable risks to the current financial system Ms. Fowler pointed to controls established by the Financial Action Task Force (FATF) as the best way to prevent bad actors from exploiting cryptocurrencies.
The panel also briefly discussed how the decision to establish the Libra Association's headquarters in Switzerland might reflect on the system's transparency and approach to national sovereignty. Choosing Switzerland might speak in part to the Libra Association's wariness of government interference. However, as Ms. Fowler pointed out, regardless of where the headquarters are located, transactions will be subject to transparency regulations of the country in which the actors are operating.
Ambassador Fried outlined three basic options for the government to approach Libra – (1) to smother the initiative, (2) to embrace it, and (3) to craft a proper regulatory scheme. Amb. Fried suggested that the third option is the most likely. Ultimately, the panel agreed that Libra could severely disrupt the international financial system. Therefore, the Libra Association must work closely with regulators in the United States, Europe, and the rest of the world to ensure that Libra's negative side effects do not eclipse its benefits for greater financial inclusion.
If you missed it, you can watch the event here