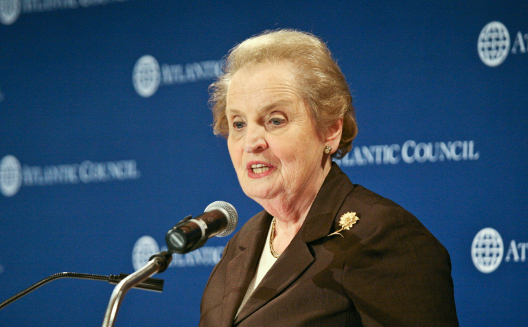 Former Secretary of State Dr. Madeleine K. Albright commemorated the legacy of Polish Solidarity adviser Bronislaw Geremek with the Atlantic Council.
The visionary democracy activist and former Foreign Affairs Minister of Poland passed suddenly in July 2008, and the Council quickly established an annual lecture series in his name to honor and preserve his democratic ideals. For the inaugural Bronislaw Geremek Lecture, Secretary Albright discussed Professor Geremek's commitment to Euro-Atlantic values in light of the pressing concerns facing Europe today.
Introductory remarks were provided by Robert Kupiecki, the Ambassador of Poland, and Paula Dobrianksy, former Under Secretary of State for Democracy and Global Affairs and a member of the Atlantic Council Board of Directors. Following Secretary Albright's lecture, a Q&A session was moderated by Atlantic Council President and CEO Fred Kempe.


New Atlanticist Analysis:
Bronislaw Geremek
Born in 1932 and smuggled out of the Warsaw Ghetto as a young boy, Professor Geremek was a leading figure in the Polish democracy movement and a prominent dissident by the 1970s. He actively supported the Gdansk trade union protests in 1980 and was interned for a year after martial law was declared in December 1981. Upon release, he worked alongside Lech Walesa in Solidarity and played a critical role in the movement's 1989 Polish Round Table Talks with the Communist Party, resulting in Poland's first free parliamentary elections. As the Polish Foreign Minister from 1997 to 2000, Geremek oversaw Poland's accession into NATO in March 1999, developing a close friendship with Dr. Albright throughout the process. He was a member of the European Parliament from 2004 until his passing.