On the day after an apparent military coup in Mali, Dana L. Banks, special assistant to the president and National Security Council senior director for Africa, said the White House is "deeply concerned of the reports coming out of Mali." Speaking at the Atlantic Council's Africa Day celebration, a series of signature conversations with US and African officials, Banks said the Biden administration is working with partners to "call for the unconditional and immediate release of the president and the prime minister, as well as the defense minister, who we understand was also illegally taken into custody."
Banks told the director of the Atlantic Council's Africa Center, Ambassador Rama Yade, that "Instability in Mali leads to greater instability in the Sahel. I think this makes the case for why we have to work together with like-minded partners in the region to ensure that stability is maintained."
Banks highlighted Africa's place in Biden administration foreign policy amid a broader strategy of global reengagement and relations rooted in mutual respect. She said that Africa's importance goes well beyond strategic competition with China, and instead put forth a vision of "Africa not as a continent or as a problem to be solved, but rather a partner engaging in mutual respect."
When asked about the pandemic and debt relief, Banks said "When you talk about economic recovery from the COVID-19 pandemic, we stand ready to partner with African countries to ensure that they are rebuilding their economies through various methods. One tool that we have in our toolbox is Prosper Africa," referring to the United States' existing flagship commercial policy. She went on to say that the administration is finding ways to give Prosper Africa "the teeth" it needs to succeed, while hinting at forthcoming US programs in support of Africa's digital economy and the African Continental Free Trade Area.
Ambassador of the African Union to the United States Hilda Suka-Mafudze sounded similar notes of collaboration in her remarks, pointing to the US government's strong bipartisan support for Africa. "I strongly believe that all the stars are aligned today to take US-Africa relations to a higher and strategic level of engagement for the best interests of both sides," she said. Suka-Mafudze highlighted the African Union's 2021 theme of "Arts, Culture, and Heritage," affirming the creative industries' ability to support sustainable job creation and social inclusion.
Banks, too, underlined how "culture has always been a wonderful way to connect" and that cultural connections "will continue and have always been one of the bedrocks of our engagement with Africa."
Atlantic Council Executive Chairman Emeritus Gen. James L. Jones Jr. opened the session by saying Africa Day—which commemorates the founding of the African Union's predecessor in 1963—represents a moment of optimism as well as reflection. He added that, "We are reminded of the importance of multilateral institutions and the important role that the African Union has played in the continent's political and economic development and its global relationships." Also joining the conversation with Banks were Africa Center fellows Didier Acouetey, Abdoul Salam Bello, Cameron Hudson, and Aubrey Hruby, as well as Africa Center partner Admassu Tadesse, the group managing director and CEO of the Eastern and Southern African Trade and Development Bank.
The session closed with Yade bringing the conversation back to Banks' personal ties to the continent, for a discussion of building bridges between cultures and diasporas. Reflecting on her connection and fascination with the continent, Banks said "I know that there are many other African Americans who feel the same and that's who we would like to work with, the diaspora, to get them to become more engaged economically as well as culturally with the continent because it makes for stronger policy."
Missed the event? Watch the webcast below and engage us @ACAfricaCenter with any questions, comments, or feedback.
Further reading: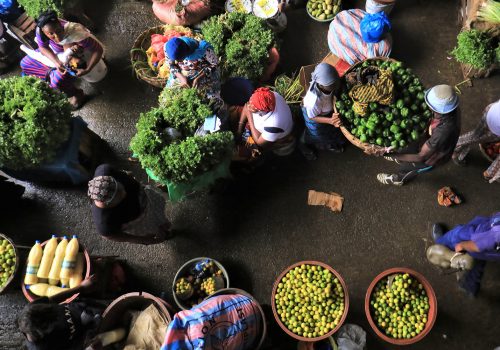 Tue, May 25, 2021
Biden can further build ties with Africa: He should do so not only because these countries have long been underrepresented within leading multilateral organizations, but also because they offer innovative solutions to global challenges including terrorism, climate change, migration, debt, and COVID-19.
AfricaSource by Rama Yade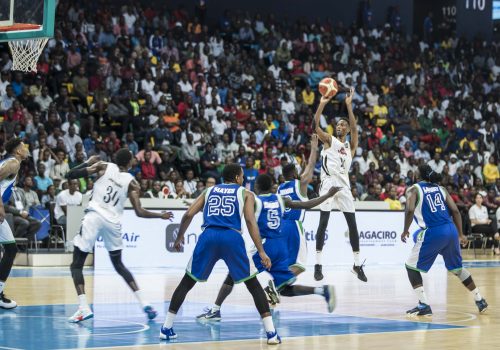 Tue, May 11, 2021
With the Basketball Africa League set to launch, the Atlantic Council's Africa Center reached out to sports stakeholders across the BAL's inaugural countries to hear their perspective on why the BAL represents a historic moment. Their feedback provides a compelling case for the developmental, diplomatic, and economic potential of African basketball.
AfricaSource by Luke Tyburski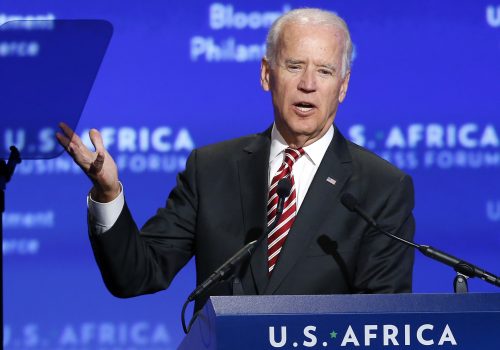 Mon, Apr 19, 2021
This new decade has created a unique moment for the Biden administration to reset US-Africa policy. A more multifaceted and nuanced engagement with African states will set a foundation for stronger US-Africa partnerships, support mutual economic growth, and contribute to strengthening US global leadership.
Report by Aubrey Hruby