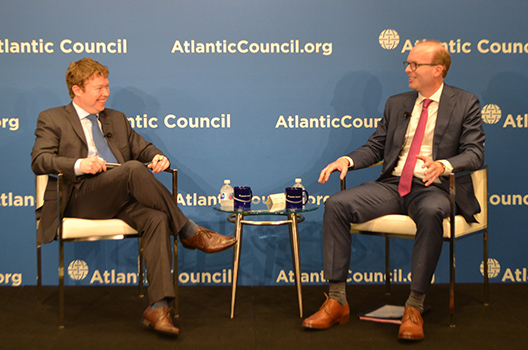 On July 17, the Adrienne Arsht Center for Resilience hosted Dr. Daniel Kaniewski, deputy administrator for resilience at the Federal Emergency Management Agency (FEMA), for a public event to discuss FEMA's response to the 2017 hurricane season, its four-year strategic plan, and its new FEMA Resilience organization – a major new initiative aimed at better integrating the Agency's insurance, mitigation, preparedness, continuity, and grant program.
Reflecting on the challenges of responding to one of the most active and costliest hurricane seasons in recent history, Dr. Kaniewski began by discussing FEMA's 2017 Hurricane Season After-Action report, which was released publicly a few days before the event. He described the After-Action Report as FEMA's effort "to identify what went right and what can be improved before the next disaster strikes."
Dr. Kaniewski, who is currently serving as FEMA's second highest-ranking official, discussed how lessons from the 2017 season had heavily influenced FEMA's 2018-2022 Strategic Plan. The plan, which is comprised of three primary goals – build a culture of preparedness, ready the nation for catastrophic disasters, and reduce the complexity of FEMA – provides a roadmap for implementing many of FEMA's top priorities in the coming year.
Dr. Kaniewski articulated concrete steps the agency is taking to build a culture of preparedness across the United States. To develop more resilient communities, he highlighted FEMA's hazard mitigation grant program, which aims to quadruple the nation's investment in mitigation by 2023. To ready the nation for catastrophic disasters, he underscored the importance of closing the insurance gap nationwide. More than half of disaster losses in the United States are not covered by insurance currently, so FEMA is aiming to double the number of flood insurance policies nationwide to 10 million by 2022. Finally, to make individuals more prepared for disaster, Dr. Kaniewski cited FEMA's work with organizations focused on financial literacy, helping more Americans plan for emergency expenses from disasters.
After concluding his opening remarks, Dr. Kaniewski participated in a moderated conversation with Adrienne Arsht Center for Resilience Acting Director Eric Ridge, before taking questions from the audience. Responding to comments that chef José Andrés' made at an Adrienne Arsht Center for Resilience event last November, in which Andrés lauded some of the federal government's relief efforts in Puerto Rico, but also emphasized the need for FEMA to "break away from red tape," Dr. Kaniewski emphasized FEMA's commitment to work better with non-governmental organizations in relief efforts, especially where organizations – like chef Andrés' World Central Kitchen – had resources or expertise unavailable to FEMA.