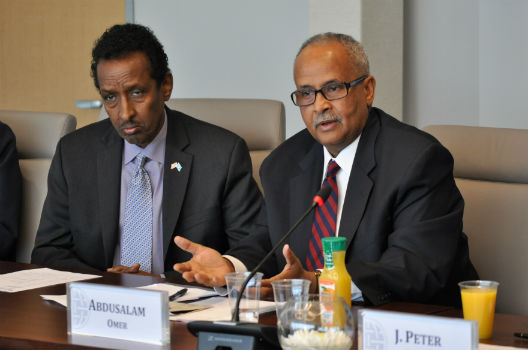 On Wednesday, March 23, the Africa Center hosted a roundtable discussion with His Excellency Dr. Abdusalam H. Omer, Minister of Foreign Affairs and Investment Promotion of the Federal Republic of Somalia.

Africa Center Director J. Peter Pham welcomed participants, introduced Omer, and, following the Minister's remarks, moderated the discussion.
After drawing attention to the drafting of Somalia's first new foreign policy strategy since independence in 1960, Omer focused on the evolving security situation within the country, including providing an updated on the fight against Al-Shabaab, the status of border security efforts, and the efforts to enhance maritime policing. In particular, Omer underscored the importance of harnessing Somalia's natural resources—including the longest coastline in Africa, 8.9 million hectares of arable land, and a young and increasing education workforce—to protect livelihoods and foster economic growth, a process which is essential for the long-term security and stability of the country. Finally, Omer highlighted the increased burden that the influx of refugees from Yemen has placed on the country in recent months.
A full transcript of Omer's remarks can be found below.

Other participants in the event included H.E. Ahmed Isse Awad, Ambassador to the United States of the Federal Republic of Somalia; the Honorable David Shinn, US Ambassador to the Federal Democratic Republic of Ethiopia (1996-1999); LTG William E. Ward, Commander of US Africa Command (2007-2011); current and former senior US and foreign officials; and representatives of think tanks and non-governmental organizations.