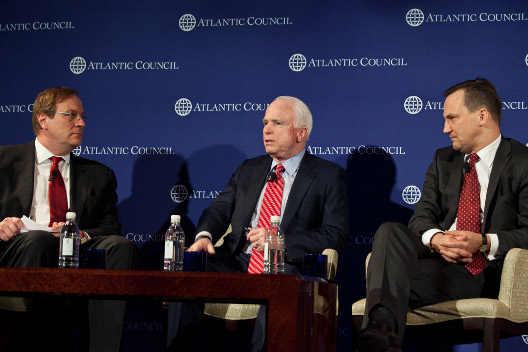 On March 1, the Atlantic Council hosted the Second Annual Bronislaw Geremek Lecture at the Ritz Carlton in Washington, DC. The event featured a conversation with United States Senator John McCain and Polish Minister of Foreign Affairs Radoslaw Sikorski. In light of Senator McCain's recent trip to the Middle East, the lecture touched on global democracy movements and their connection to and inspiration by the Solidarity Movement, led in part by Professor Bronislaw Geremek. Senator McCain was also awarded the Commander's Cross with Star of the Order of Merit of the Republic of Poland which is awarded to foreigners or Poles resident abroad who have rendered great service to the Polish state. The Council's Chairman, Senator Chuck Hagel, and Polish Ambassador to the US, Robert Kupiecki, provided welcoming remarks. Atlantic Council President and CEO Frederick Kempe moderated the conversation. Launched in 2009 with former Secretary of State Madeleine Albright, the lecture series was founded as a tribute to Professor Geremek, a legendary leader of the Solidarity movement and former Polish Minister of Foreign Affairs. Professor Geremek was an architect and founding father of a modern and democratic Poland and Europe.
Atlantic Council Blog Analysis:
Media Coverage:
John McCain:
Senator John McCain is one of the most outspoken advocates for democracy and human rights. A graduate of the U.S. Naval Academy, Senator McCain served 22 years as a naval aviator, including five-and-half years as a Prisoner of War at the "Hanoi Hilton." First elected to the House of Representatives in 1982 and the U.S. Senate in 1986, Senator McCain is the Ranking Member of the Senate Armed Services Committee where he has been a strong supporter of NATO enlargement. He has been a consistent and forceful voice speaking up for justice, democratic values, and individual rights for those who aspire to freedom across the globe, and particularly in Russia and Europe's East.
Radoslaw Sikorski:
Chairman of the Students' Strike Committee in 1981, former political refugee and reporter covering the wars in Afghanistan and Angola, Sikorski has played key roles in securing Poland's democracy, guiding Poland into NATO, and transforming Poland into a leader within the European Union. Today, he is a strong and articulate advocate for democratic movements and human rights, which are still inspired by a strong message and unwavering commitment of Solidarity.
Bronislaw Geremek:
Born in 1932 and smuggled out of the Warsaw Ghetto as a young boy, Professor Geremek was a leading figure in the Polish democracy movement and a prominent dissident by the 1970s. He actively supported the Gdansk trade union protests in 1980 and was interned for a year after martial law was declared in December 1981. Upon release, he worked alongside Lech Walesa in Solidarity and played a critical role in the movement's 1989 Polish Round Table Talks with the Communist Party, resulting in Poland's first free parliamentary elections. As the Polish Foreign Minister from 1997 to 2000, Geremek oversaw Poland's accession into NATO in March 1999, developing a close friendship with Dr. Albright throughout the process. He was a member of the European Parliament from 2004 until his passing.
The Atlantic Council wishes to thank the Government of Poland and Ambassador Victor Ashe for their generous support of the Bronislaw Geremek Lecture Series.