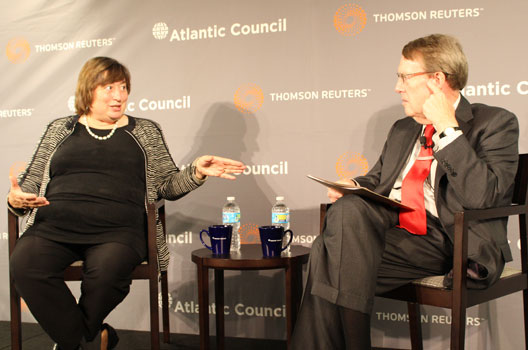 On July 20th, Catherine Novelli, Under Secretary of State for Economic Growth, Energy, and the Environment at the US Department of State, joined the Atlantic Council to discuss transparency and economic growth (see transcript of remarks). Novelli was the second speaker in the Power of Transparency Speaker Series, a collaboration between the Atlantic Council and Thomson Reuters that seeks to highlight how government leaders can leverage transparency to achieve policy ends.

· Novelli outlined three types of transparency: fiscal, bureaucratic, and stakeholder. Fiscal transparency is making data on government revenue and spending available to the public. Bureaucratic transparency is ensuring that regulations are clear, accessible, and consistently applied. Stakeholder transparency is the process of consulting with stakeholders when crafting regulations.
· Transparency has concrete economic benefits. The World Bank notes a correlation between government accountability and the ease of doing business. Businesses, both domestic and foreign, are more likely to succeed in a system with clear, transparent, and predictable rules.
· To promote transparency, the State Department is helping countries to develop online business registration portals. Additionally, they have created Business Information Databases to allow US business to have access to data on foreign business opportunities. The State Department also promotes transparency in extractive sectors though the Extractive Industry Transparency Initiative.
· Open access to large government datasets can create opportunities for economic growth. GPS data, when made available to the public, created an industry in the US worth 100 billion that employs 3.3 million people.