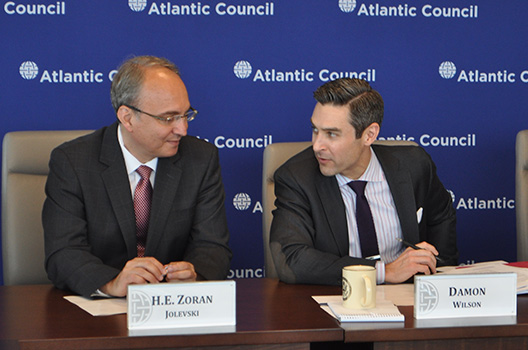 As Russia continues to destabilize Ukraine, many of NATO's European partners are anxious to walk through NATO's 'open-door' to Alliance membership to guarantee their security and further integrate with the Euro-Atlantic community. But NATO has recently hinted that the Alliance will not be adding any new members at its upcoming summit in Wales this September.

Among those countries aspiring for NATO membership is the Republic of Macedonia. The Balkan country joined Partnership for Peace in 1995 and received a Membership Action Plan in 1999. While it has energetically implemented political and defense reforms to bring its military and political institutions up to NATO standards governance standards, movement towards Macedonian membership in NATO has since stalled. On July 11, 2014, the Atlantic Council hosted Macedonia's newly appointed minister of defense, Dr. Zoran Jolevski, for an in-depth transition seminar focused on paths forward for Macedonia's defense relationship with NATO. This off-the-record seminar included discussions of the strategic and political obstacles to Macedonian NATO membership and took stock of Macedonia's defense reforms.
Minister Jolevski's career as a diplomat and transatlanticist has spanned decades of distinguished service for his government, including most recently his posting as ambassador to the United States since 2007. From January 2000 to June 2004, Dr. Jolevski was the secretary general of the cabinet of the President of the Republic of Macedonia.