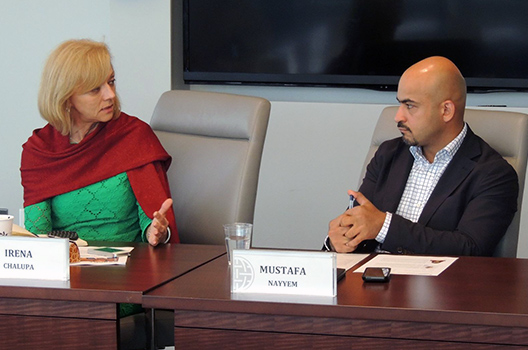 Ukrainian Journalist Urges West: Don't Press Kyiv to Halt Advance
Four months into their battle with Russia over southeast Ukraine, Ukrainians will not allow their government to compromise Ukraine's sovereignty in the region, and the international community should not press it to do so, prominent Ukrainian journalist Mustafa Nayyem said at the Atlantic Council. Ukraine should continue its war to defeat the Russian-sponsored separatist militias, but should avoid a frontal assault on the main cities, Lugansk and Donetsk, to which they are retreating, Nayyem said.

In particular, the United States and its allies should not accede to the Kremlin's pressure for Ukraine to halt its fight against the Russian-backed rebels in southeast Ukraine's Donbas region, or to negotiate a political deal with them, Nayyem told journalists and policy specialists. He voiced concern that the West – which repeatedly has accepted demands for compromise by Russia's government or its allies in Ukraine in the crisis – might do so again.
The government of Russian President Vladimir Putin, having fomented the war, is seeking a cease-fire to prevent the defeat of its separatist militias in Donetsk and Lugansk provinces, Nayyem said. Such an unresolved, or "frozen," conflict would let the Kremlin maintain a separatist enclave within Ukraine, as it has done for years with Moldova and Georgia, Nayyem told journalists and policy specialists at the Council August 12.
Nayyem, a journalist with the independent website Ukrainska Pravda ("Ukrainian Truth"), also was one of the founders of Hromadske ("Public") Television. He came to prominence in recent years for his reporting on corruption under former President Viktor Yanukovych and was involved in the creation of the mass public protests in Kyiv last winter that forced Yanukovych from office.
'We Are a Real Country'
"We are a real country," Nayyem said. Ukrainians, galvanized by the war, "will not allow [Ukrainian President Petro] Poroshenko to accept Russian military forces in Ukraine or a frozen conflict," he said. "This situation is being decided in Kyiv and Donetsk, not in Washington or Berlin," he said. And the political pressures against compromise by Poroshenko will only grow as Ukrainians who have fought in the war return to their communities. "People back from the front lines will push Poroshenko" not to accept Russian domination through its sponsorship of separatism in Donbas, he said.
Ukraine did compromise in February when it withdrew from Crimea in the face of Russia's armed seizure of the peninsula. "But during Crimea we didn't have military forces; now we have them," Nayyem said. Ukraine's military, was hollowed out and weakened by previous governments' policies, Nayyem has written. In the months since then, national conscription, emergency spending by the government and private, independent fundraising by Ukrainians has created new army and national guard units able to fight.
As Ukrainian forces push toward Lugansk and Donetsk cities, they should avoid direct assaults there that would multiply civilian casualties, Nayyem said. Instead, they should surround and control the cities to prevent the entry of further arms and fighters, and seek to have non-violent resistance by Lugansk and Donetsk residents force the surrender of the rebels.
How the West Has Undermined Ukraine
While the US and its allies have imposed economic sanctions against Russia over its attacks on Ukraine, the West also has repeatedly undermined Ukrainians' choice to fight for their full independence, Nayyem said.
"The international community lost credibility with me" in February, when foreign ministers of Poland, France and Germany tried to mediate between then-President Viktor Yanukovych and the massed pro-democracy demonstrators of Kyiv's Maidan movement, who demanded Yanukovych's ouster for his Russian-backed forces' killing of scores of demonstrators. The European delegation negotiated a deal with Yanukovych that would have let him remain in power for months, pending a new election. "It was not our deal," Nayyem said. "You pushed our opposition to make a deal with this criminal?"
European and US diplomats again pressed Poroshenko for compromise in June, asking him to extend his unilateral, ten-day ceasefire in southeast Ukraine, even though Russia had used that truce to re-arm and reinforce its proxy forces in the war there. In mid-July, Germany and France again joined Russia in calling on Ukraine to halt its advance against the Russian-sponsored separatist militias in Donbas.
In his discussion at the Council, Nayyem's points included these:
The war against Russia has reinforced Ukraine's national identity, and reduced domestic divisions over language. "These three months have changed us very deeply," he said. Ukraine's two decades of independence have been marked by a political divide between the mostly Ukrainian-speaking west and the mainly Russian-speaking east. "We made a mistake," Nayyem said. "In the western part of Ukraine, people used to think that if you spoke Russian, not Ukrainian, you were" not authentically Ukrainian. "We thought the Russian language was a tool of Russia to steal our sovereignty." With the war, Ukrainians have changed their definition of patriotism. "Now, you're Ukrainian if you're defending this land."
The war has solidified Ukrainian national identity in the Donbas region. The heavily industrialized Donbas region has, and will retain, a strong local identity, Nayyem said. But the war has forced people there to clarify their sense of national identity, between Ukraine and Russia. "They have been forced to choose who they are. … Do they feel Ukrainian or not?" The war also has forced a coalescence in the Donbas provinces, Lugansk and Donetsk, of a pro-Ukrainian civil society with its calls for greater Ukrainian independence from Russia and an end to corruption.
Parliament elections this year will bring significant, but not radical, change. "We will not see a much better parliament," because there has been no time for the development of new political parties, Nayyem said. But a new parliament will remove a block to policy-making and reform, which is the large number of legislators now in office from the Party of Regions, which under Yanukovych dominated eastern Ukraine. The war has discredited that party and its former leaders, and new political leadership in the east will take time to coalesce, he said.