Below are the remarks of White House Coordinator for the Middle East and North Africa Brett McGurk as delivered at the Atlantic Council's inaugural Rafik Hariri Awards, celebrating the tenth anniversary of the Rafik Hariri Center for the Middle East, in Washington on February 14, 2023.
Thank you so much, Will [Wechsler], and thank you, Fred [Kempe], and the Atlantic Council for your hospitality. And of course, for the Hariri Center for the extraordinary work that has been achieved over this past decade. For a decade, the Hariri Center has brought people together through its remarkable team of experts; many of them, of course, are here today. Those of us who work on Iraq and what we do with Abbas Kadhim, who I'm sure is here. The extensive reach in Washington and throughout the Middle East region. The center has expanded opportunities for entrepreneurs, fostered reforms, strengthened the transformative role of women, and helped forge coalitions to really unleash the region's human potential, in the spirit of Rafik Hariri.
The center advocates for progress to interconnectedness, moderation, and building ecosystems for mutual prosperity. And its vision, the vision that we've heard discussed tonight, for a more peaceful Middle East region forged through mutual interests, including wherever possible between historic rivals and adversaries, with a keen focus, and this is important, on practical, realistic, and implementable policy recommendations inspires the work that we do every day in the Biden administration. And it's why we consider the Atlantic Council, and the Hariri Center in particular, such an important partner.
If you think about it, over the past couple of years, from the historic maritime-boundary deal between Israel and Lebanon, a now ten-month-long ceasefire in Yemen, initial rapprochement and now strengthening relations between Turkey and UAE, Turkey and Israel, Qatar and Bahrain, UAE and Qatar, the rivalries that had polarized the Middle East region for so many years now being bridged through diplomacy, overlapping interests; all examples of initiatives in the spirit of the experts we deal with all the time from the Atlantic [Council] and the Hariri Center.
And of course, we're grateful for the broader work of the Atlantic Council, which supports the expansion and deepening of the Abraham Accords, or new formats such as the Negev Forum, which recently brought together the largest gathering of Israelis and Arabs in decades to discuss cooperation in fields ranging from security to climate, commerce, tourism, promoting tolerance, and education. So, this is really a moment of tremendous, we were just talking at our table, tremendous opportunity in the Middle East, opportunities that have not been seen in decades, albeit together with tremendous risk and tremendous challenges. I have to say up top, I'm honored to be seated next to the Turkish ambassador, and we are working literally around the clock, and one of the reasons I was late here tonight, on the earthquake response in Turkey and Syria. And our heart goes out to everybody who has been affected by this horrific tragedy.
The framework that we're working to implement has five declaratory principles. It is effectively a Biden doctrine, and it now guides US engagement in the region.
So, with that backdrop and gratitude for the work of the Atlantic Council and the Rafik Hariri Center, I want to turn to US policy in the region. And forgive me, but I rarely get a captive audience with many of our critics and many of our supporters, so I thought I'd just go through what we're trying to do in some depth, but I'll be as brief as possible. President Biden's Middle East policy is clear-principled, realistic, and pragmatic, yet ambitious about what US engagement and partners can achieve together. This policy, it's a new framework for the region, was set forth by the president at the GCC+3 Summit in Jeddah earlier last summer and later incorporated into our National Security Strategy released a couple months later. And it's based on America's unparalleled comparative advantage in building partnerships that strengthen deterrence, while using diplomacy wherever possible to deescalate tensions, reduce risks of new conflicts, and set a long-term foundation for stability with a sustainable, proactive, and permanent US military and diplomatic presence.
The framework that we're working to implement has five declaratory principles. It is effectively a Biden doctrine, and it now guides US engagement in the region. So, let me run through each of them and I'll quote from the National Security Strategy. I just want to make sure that you all understand what we're trying to do. These five principles.
First principle is partnerships. The United States will support and strengthen partnerships with countries that subscribe to the rules-based international order, and we will make sure that those countries can defend themselves against foreign threats. Partnerships guides everything we do.
The second principle is deterrence. The United States will not allow foreign or regional powers to jeopardize freedom of navigation through the Middle East waterways, including the Strait of Hormuz, Bab al Mandab, nor tolerate efforts by any country to dominate another or the region through military buildups, incursions, or threats. The third principle is diplomacy. We will not just aim to deter threats to regional stability, we will work to reduce tensions wherever we can, to de-escalate, and end conflicts wherever possible through diplomacy.
Fourth and importantly, and I think again, the spirit of the Hariri Center and the Atlantic Council, is integration. We are working to build political, economic, security connections between US partners, wherever possible, while respecting each country's sovereignty and independent choices.
And the fifth principle is important to any American diplomat, and it's values. And I think this also speaks to the life and principles of Rafik Hariri. But we will always promote human rights and the values enshrined in the UN Charter. And these principles—partnerships, deterrence, diplomacy, integration, and values—they're not slogans. They are mutually reinforcing elements of national policy that is delivering results, even in the face of significant risk and uncertainty.
So, let me just provide some examples of partnerships. In the last two years, the United States has strengthened relations with long-standing partners in the region, from Morocco to Egypt to Israel, the GCC, through two hundred military exercises, strategic dialogues, high-level visits, including now two presidential visits, exchanges, constant engagement, albeit often behind the scenes, counterpart to counterpart. And we're working to build new partnerships in new formats, such as one called I2U2; it's India, Israel, UAE, and the US, or the Negev Forum, bringing together Abraham Accord countries and treaty partners of Israel, which I mentioned earlier, working to tackle the pressing challenges, from food security to climate change to regional security architecture.
Second principle, deterrence. And just some examples. In the last two years, the United States has acted militarily against threats from Iran and its proxies. We've enhanced the deterrent capacity of our partners, established new and innovative maritime-domain-awareness networks, and at times, through close cooperation, exposed and deterred imminent threats to the region, which could have sparked a far broader conflict, such as one in the Gulf just last November, when Iran was preparing for an attack against Saudi Arabia. And that attack likely did not occur because of the close security cooperation between Saudi Arabia and the United States, which is ongoing and continuous. And just last month in the eastern Mediterranean, as many of you know, we held the largest joint military exercise ever in that part of the world, something that our adversaries certainly noticed. And we do that not looking for a conflict, but also to set the conditions to deter, contain, and to allow diplomacy to flourish.
In the area of diplomacy, US diplomacy over the last two years has focused on healing the unnecessary Gulf rift with the GCC now more united than it has ever been. Encouraged rapprochement wherever possible between rival capitals, as I noted earlier. Helped enable the most sustained de-escalation we've seen yet in Yemen, and we are working in that war. Established for the first time in history, as I noted, an agreed maritime boundary between Israel and Lebanon that we believe presents tremendous opportunities and potential for Lebanon. Reunited the US and Europe and much of the world against Iran with respect to its nuclear activities, treatment of its own people, and the proliferation of weapons from Yemen to Ukraine. There's more to come in the area of diplomacy, as our instructions from President Biden are to pursue diplomatic opportunities wherever they might arise, often patiently and quietly, of course, as many of you know, which remains essential.
In the area of integration, the United States is now actively building and enabling an integrated air and maritime defense architecture in the region, something long talked about, which is now happening through innovative partnerships, new technologies. And beyond security, we're supporting infrastructure connections through Iraq, the Gulf, and Jordan, supporting new free trade agreements across the region, opening airspace, including for Israeli planes flying over Saudi Arabia; all essential elements for a more interconnected, prosperous, and stable region over the medium and longer term.
Values. Just as we are always striving to perfect our own imperfect democracy here at home, we will always raise concerns regarding basic rights in our engagement, here and elsewhere. The president did that in his visits to the region last year. It's who he is. It's who we are as Americans and American diplomats. The United States, of course, is the largest bilateral donor of humanitarian assistance to the region. And we are now actively involved, as I mentioned, in the earthquake relief both in Turkey and Syria. And we urge partners to act in words and deeds in line with the essential principles of the UN Charter, which is why it's notable that nearly every US partner in the region has twice voted in the UN General Assembly to condemn Russia's illegal invasion of Ukraine.
[The] future of the Middle East region may be defined as much by climate, technological, and demographic change as by traditional security matters.
So, just in closing, I want to turn to the principle of partnerships. It's the first principle for US policy in the Middle East region, both strengthening those that already exist, developing new ones, and through these partnerships, building new coalitions and alliances to address specific challenges from Iran, to food and energy security, to the energy transition, pandemic, and climate change. Because as the work of the Hariri Center exemplifies, the future of the Middle East region may be defined as much by climate, technological, and demographic change as by traditional security matters. And in all of those areas, the United States is and will remain an essential partner of choice, we firmly believe. This is a unique comparative advantage of ours, and it is one we are determined to sharpen and enhance over the coming months and years as we increase our own resilience and strength at home, which I can't emphasize enough.
So, just in closing, I want to thank Fred, Will, the Atlantic Council, and most importantly, the dedicated professionals from the Hariri Center working every day to forge a more peaceful, integrated, prosperous Middle East region, and to invest in the transformative power of individuals in this extraordinary region of the world. And on behalf of President Biden, we are proud to partner with all of you. Thank you so much.
Further reading
Fri, Nov 18, 2022
Report By Karim Mezran, Chiara Lovotti, Alissa Pavia, Gerald M. Feierstein, Stefano Marcuzzi, Petr Tůma
The Atlantic Council North Africa Program and the Institute for International Political Studies is pleased to publish its latest dossier focusing on a selected number of conflict-case studies (Libya, Yemen, Mali and Russia).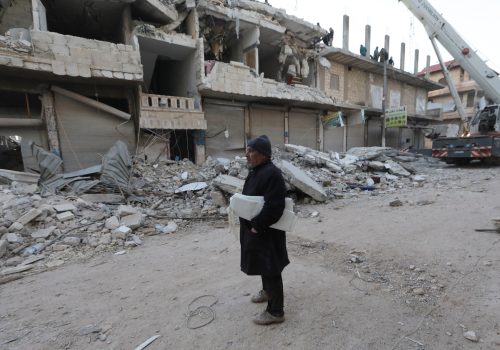 Thu, Feb 9, 2023
MENASource By Arwa Damon
While aid increasingly flows into Turkey from around the world by air, land, and sea, areas on the other side of the border in Syria's rebel-controlled areas are seeing none of that.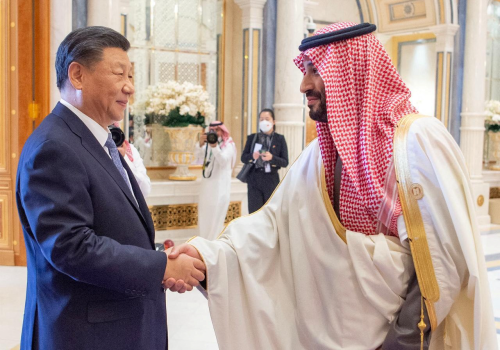 Wed, Feb 15, 2023
Issue Brief By Tuvia Gering
This report addresses two widely held beliefs about the nature of China's engagement in the Middle East and North Africa (MENA) that ought to be revisited in light of notable developments. First, while it is widely assumed that Beijing's interests in the region are limited to energy security and economic ties, this report will show how cooperation has […]